Suhasini
Auroville Design Consultants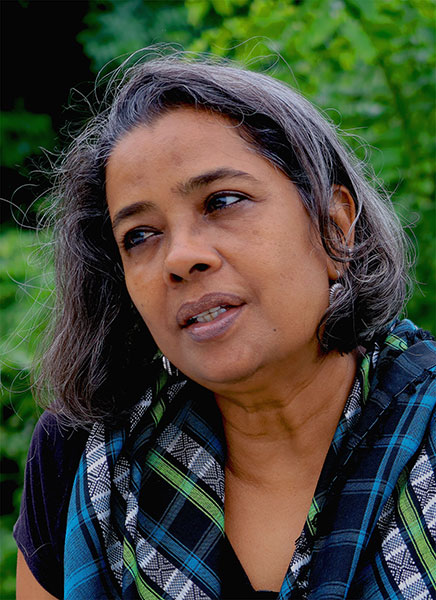 Suhasini Ayer–Guigan, is a graduate of "Delhi School of Planning and Architecture"; living in Auroville since 1985 and one of the co-founders of the Auroville Centre for Scientific Research; an organisation dedicated to research and experimentation in the field of appropriate building materials and technologies, water management, renewable energy and solar passive / climatic architecture and sustainable urban planning.
Projects
As head of the Auroville Design Consultants, the Planning and Design wing of this organization, she has designed and implemented over 50+ projects in India in the last 25+ years. She was co-recipient of the Hassan Fathy Award for 'Architecture for the Poor' in 1992, co-nominated for the Aga khan in 1992 and recipient of the Design Share Award for educational buildings in 2003 and 2005.
Institutional buildings like exhibition spaces, information centres, international and CBSE schools, hospitals and office buildings.
Hospitality projects – eco-resorts and spas
Mixed and gated housing projects, multi-family homes, apartments and private homes
Planning for sustainable land-use and urban planning for townships, housing and rehabilitation projects.
Guiding principles of the Auroville Design Consultants
Beauty and aesthetics in the built and natural environment is essential for a healthy living. Minimalism is an integral part of designing to create simple and elegant forms in keeping with the sustainable and green building practices.
The user/developer is part of the design team and not just a client. We seek active and informed participation with our clients.
The planning and design should be most appropriate to the context – site conditions, function, climate, building materials and technology, ease of execution, cost effectiveness and environment responsibility.


Auroville Design Consultant – CSR, Auroshilpam / Auroville, Tamil Nadu 605 101
Aurovilian awarded Green Solutions Awards
Funded by Ministry of Education
Inaugurated by Prime Minister Narendra Modi on 50th Anniversary of Auroville, 2018
Suhasini Ayer, a renowned architect from Auroville, received the Green Solutions awards during the COP26 summit in Glasgow November 10th, 2021.
(see details here https://auroville.org/page/suhasini-gets-award-at-glasgow)