Solar Kitchen Complex
Collective Kitchen for the Auroville Community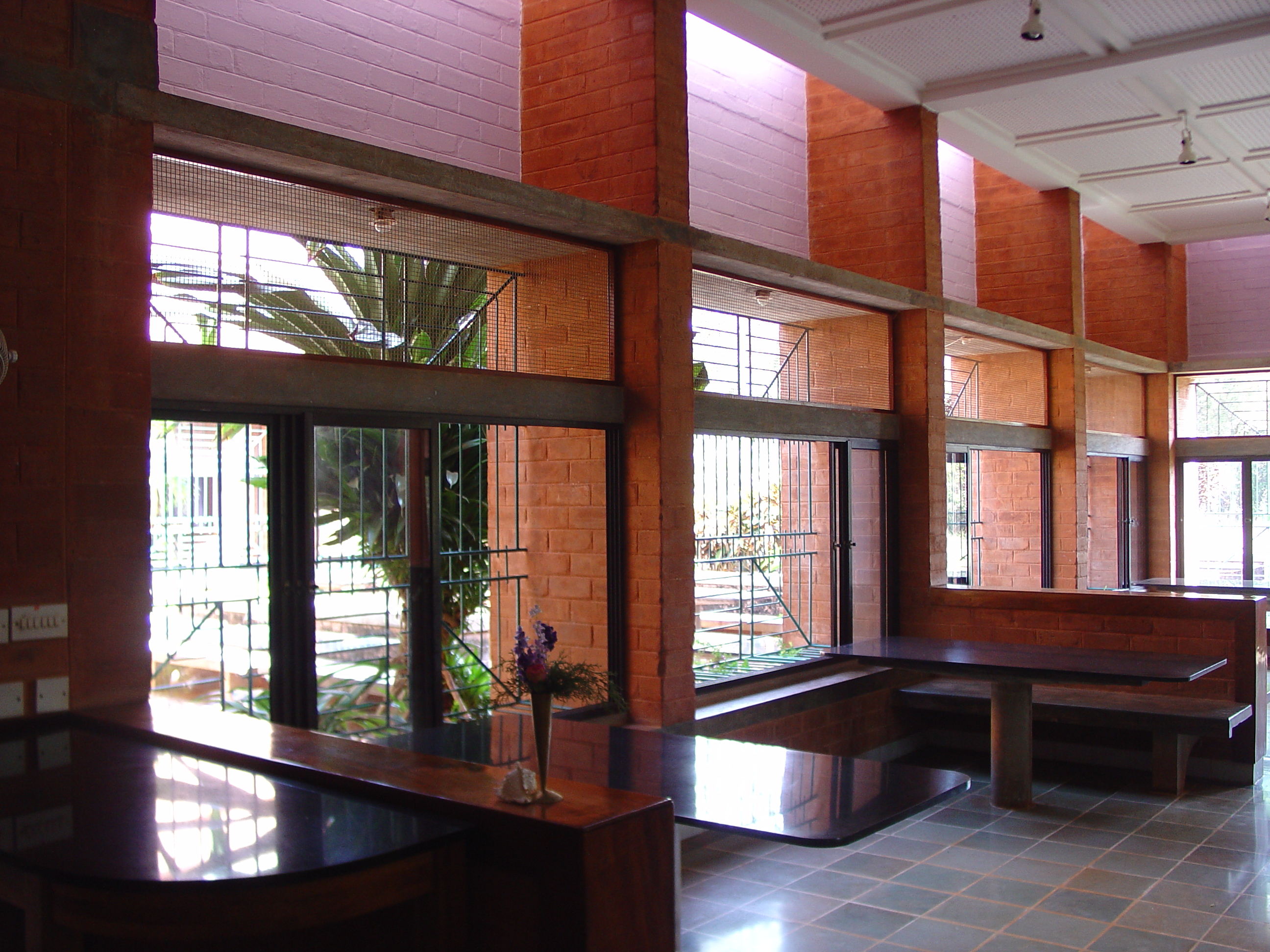 Located to the west of the Certitude Matrimandir road, opp. the Kailash building, with seating capacity for 380, the Solar Kitchen, which was completed in 1998, is designed to provide meals for up to 1,000 Aurovilians and guests. The most interesting technological feature of the building is its roof-mounted 15-metre diameter (fixed spherical) solar concentrator.
The Auroville Guest Service office, an Auronet internet facility and a café are located on the roof. The recently functional Prosperity Pour Tous facility, completed in 2006, is located close by, in the same compound.
Architect: Suhasini Ayer-Guigan
Contact: Tel: 0413-2622197 solarkitchen@auroville.org.in
Catering to Auroville's Needs
The Solar Kitchen building has been designed as a major collective kitchen for the Auroville community and was finalized in December 1997. Since then it has served lunches in its Dining Hall and at the same time sent lunches to different outlets like schools or individuals.
It derives its name from the big Solar Bowl on its roof, which provides part of the steam for cooking on all the sunny days of the year. The other part of the steam needed, is provided by a diesel fired boiler.
Throughout the year approximately 1000 lunches are prepared daily, of which 540 go to the schools, 200 go out by tiffins and 260 to 300 are consumed in the Dining Hall.
Since September 2006 also on Sundays lunch is served in the Dining Hall between 12.15 and 1 pm.
Menu
The Solar Kitchen is providing a vegetarian and kind of cosmopolitan menu, prepared largely of the vegetables and grains grown organically in and around Auroville. There is a choice between western items like pasta, mashed potato or fresh salads and eastern items like idli/dosai, dal or chutneys. Daily curd and freshly made juices are available.
300 Meals in Outlying Communities
Besides the 300 or so who come to eat in it, the Kitchen also feeds around 200 people in outlying communities. These remote diners supply the Kitchen with a 'tiffin', a collection of interlocking cylindrical stainless steel containers designed to carry many different dishes simultaneously, which they collect and take home filled with food.
540 Meals in Schools and Services
The kitchen delivers a further 540 meals to Auroville's various schools and service centres, including the main grocery and domestic 'shop' Pour Tous. After 45 Solar Kitchen staff have also eaten, the average number of meals served daily by the Kitchen rises to over 1000.
https://www.youtube.com/watch?v=F8-Hwb3qfm8
Enter the video url