Probiotics MG EcoDuties
'Natural' soap 'muffins', bars, and laundry powder detergent are stacked on the demonstration table of the Pour Tous Distribution Centre (PTDC). A notice board explains what 'natural' is all about: they are free of palm oil, additives, parabens, phthalates, phosphates, preservatives, sodium laureth sulphate, animal products, and synthetic colors.
Our Products
For Aurovilians without a chemistry degree, a three-page explanatory leaflet gives detailed information. Margarita summarizes: "They are environment-friendly, free from genetic engineering, and, because of their probiotics content, have regenerative effects wherever they are applied." To those showing more interest, she explains how palm oil plantations destroy the tropical forests in countries such as Malaysia, Indonesia, and Brazil and that India is following suit by indiscriminatingly cultivating soap nut plantations across the country, destroying forests. "Soap nut is the new rage in Europe, but it isn't part of our products. We forgot to include that on the notice board."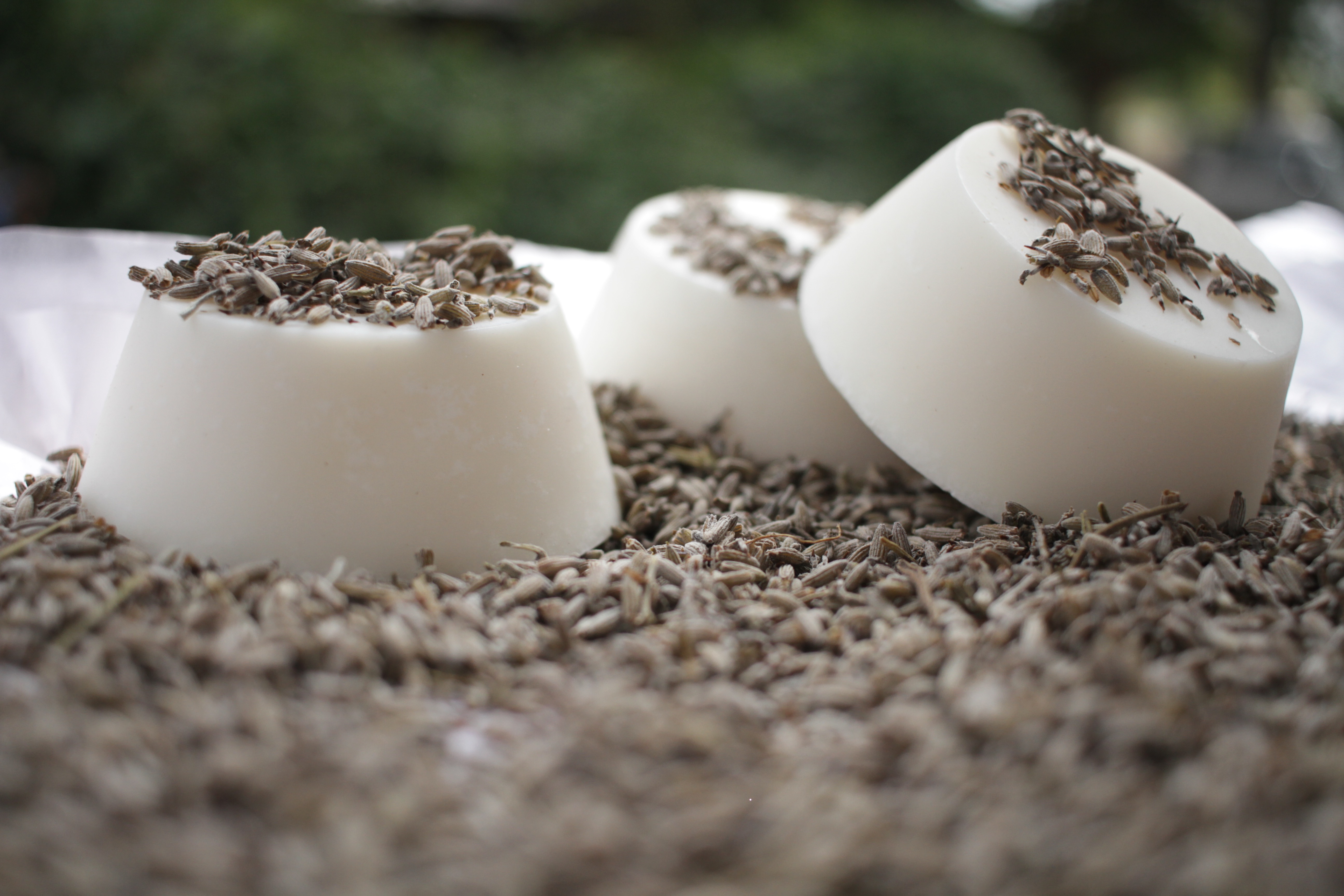 Range of Products
Margarita, jointly with Guidelma, runs MG EcoDuties, an activity under Auroville Activities Trusts. MG EcoDuties researches and manufactures All Natural, Biodegradable, Non-Toxic Cleaning and Well Being products that are 100% eco-friendly ("this means truly 100% and not just a bit," says Margarita), economical ("especially for Aurovilians who live on a low maintenance"); do not add to the landfills ("as people can fill-up their own bags and bottles"); are not damaging washing machines, fabrics, and pipelines or are clogging septic tanks; and are beneficial for human health. The unit started in 2011 with liquid household products such as multi-purpose cleaning fluids, grease busters, and laundry cleaning enhancers, followed by fruits and vegetable wash, and hand and body liquid soaps, all containing probiotics. Now it has added hand and body solid soaps, dishwashing solid loaves, composter, and washing powder containing probiotics in two forms, liquid and ceramic powder.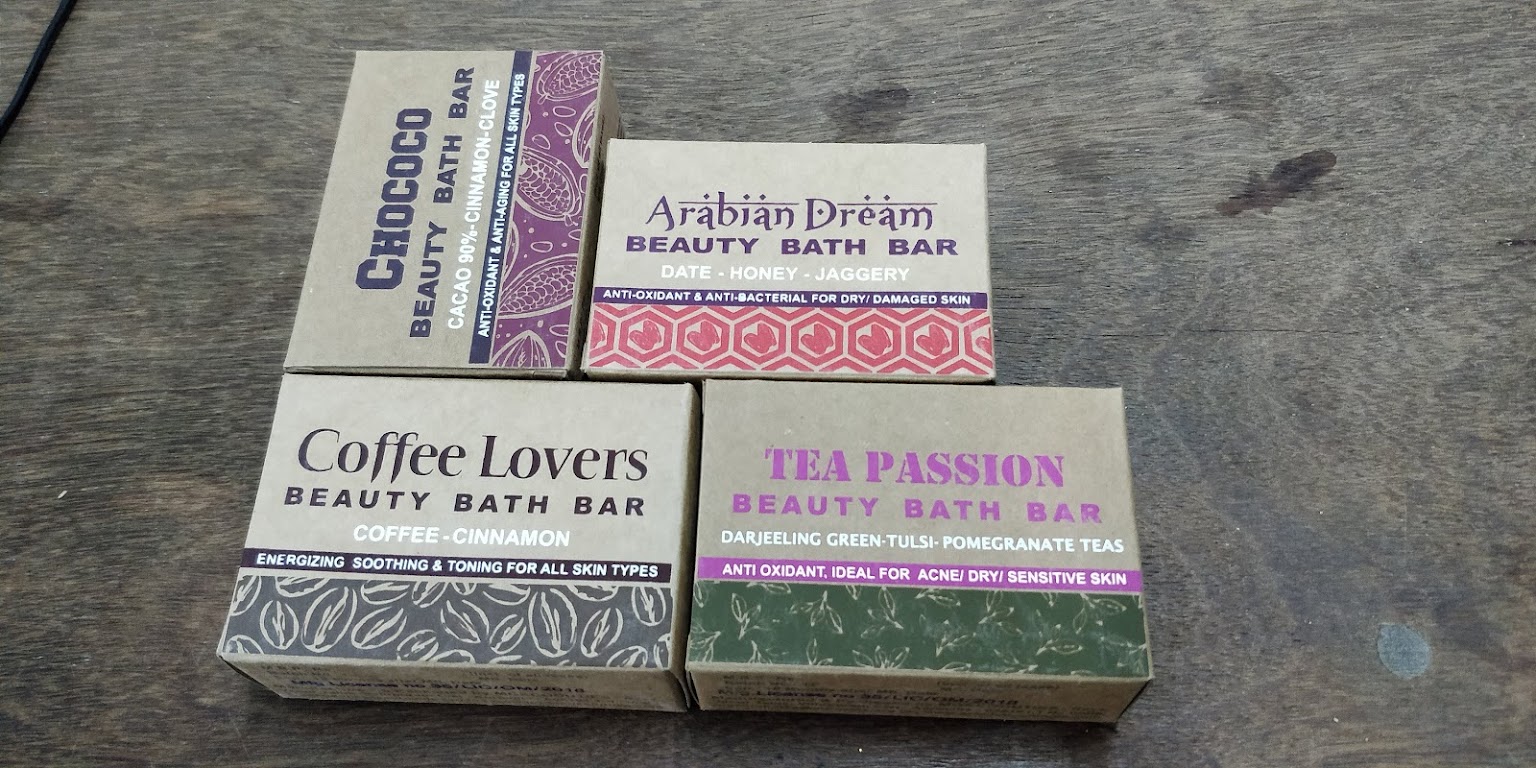 "I am a chemical engineer by profession and have been working with probiotics for 17 years in 56 countries," says Margarita. "Nowadays, the big wave in Europe is using probiotics in cosmetics and household products. In Poland, I came to know about a product made with probiotic ceramic powder which, mixed with algae, is used in face masks. I got inspired to develop our own probiotic ceramics."
- Margarita
Research & Analysis
Together with Guidelma, she set about researching probiotics ceramics. "If clay can be mixed with probiotics before it is fired, then the ultrasonic benefits of the probiotics can indefinitely be incorporated into the ceramics. Ceramics have the unique ability to remove the pollution imprint from the memory of the water molecules. By removing the pollution memory from the purified water, the molecules revitalize it".
Their probiotic ceramics were tested by specialists from Missouri University in the USA who confirmed that the ceramics contained live probiotics. "Then we started to produce probiotic ceramic powders and extruded rings." More testing followed, with similar positive results. The rings are used to energize - revitalize - and improve the quality of the drinking water "("just add them to your water bottle and/or water filter"), and the structured water is used in manufacturing. The ceramic powder is added to the soaps, washing powder, and well-being products.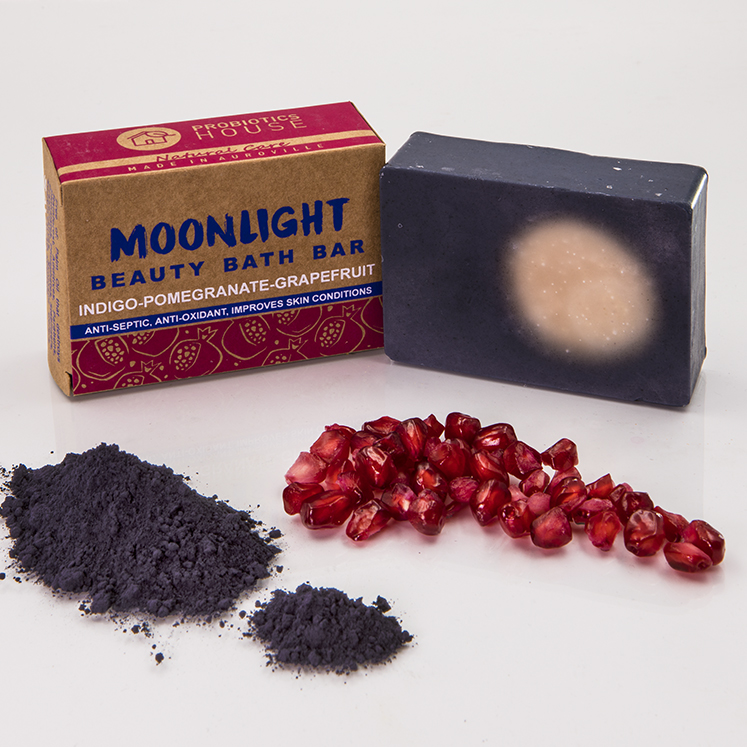 Asked for more details, Guidelma explains that "for making soaps and washing powder, coconut oil is saponified with our structured water. This saponified coconut oil is then mixed with baking soda, borax, probiotic ceramic powder, and, for fragrance, certified essential oils. That's all". The natural products are beneficial for human health, she says, as all soaps and washing powders leave a residue on the skin or in the clothes. "Many of the commonly available soaps contain ingredients that are on the cosmetics red list. Some people are allergic to them and develop skin problems. But our products embrace your skin.
"Because of all their additives, ordinary washing powders are amongst the main pollutants of groundwater," explains Margarita. "Ours are beneficial. The probiotics in our products remain active even after having been washed off. They are good for your washing machine and water pipes as they prevent calcification, and good for your septic tank as they limit clogging, so that there is no need to de-sludge every two years because of the use of polluting products."
The Matrimandir laundry department, which washes the socks all visitors use in the Inner Chamber, serves as the team's testing grounds. "We use our washing powder detergents in the pre-and main wash. You never have a smell".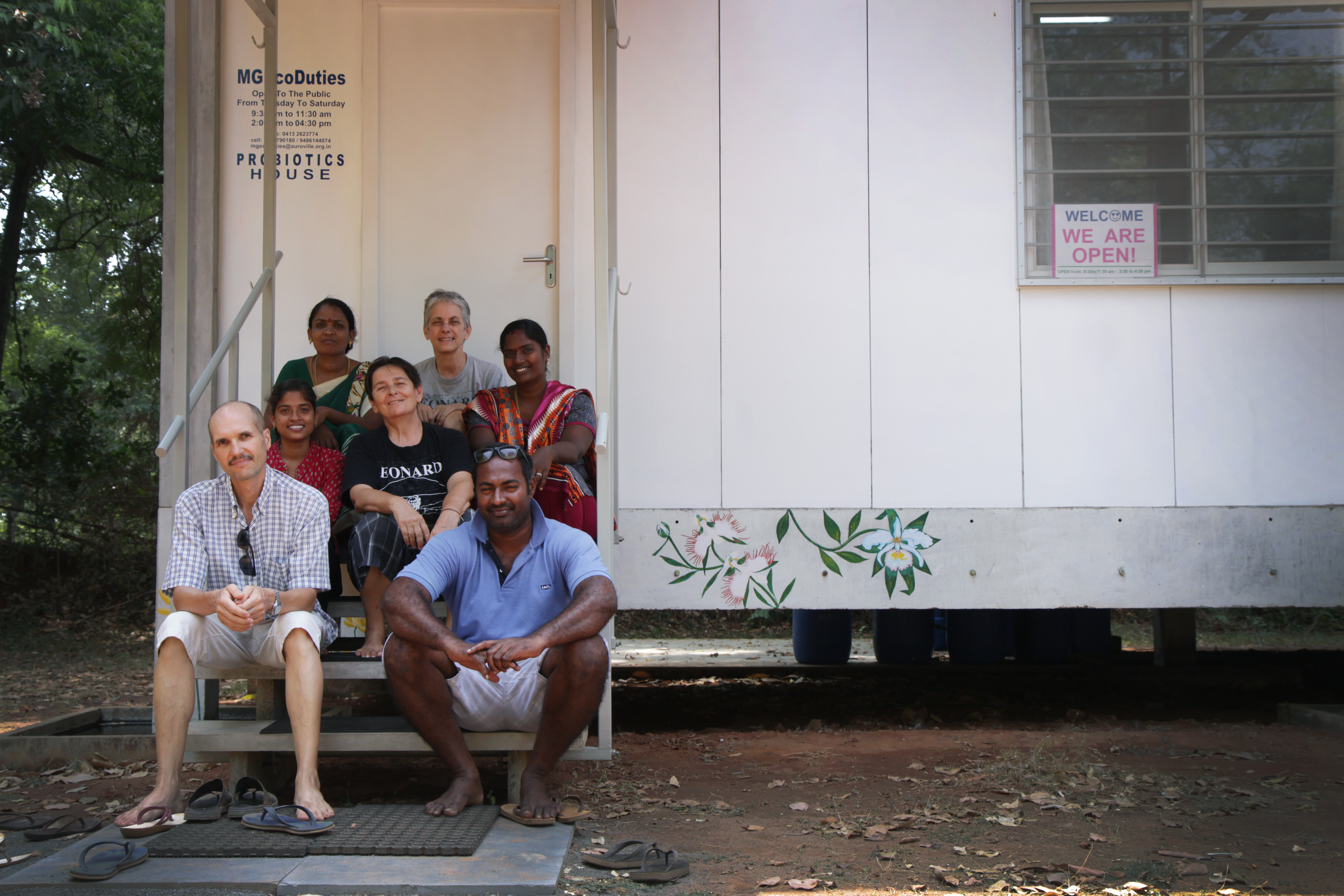 Way Forward
For the time being, MG EcoDuties' products are only available at the PTDC. The reception of the new products ranges from 'mixed' to 'enthusiastic', with a few critical notes on the fragrance ("this stinks - do you have lavender?"), questions about if the soap bars turn soggy at the end ("it depends on the water quality, the harder the water, the longer the soap's lifetime") and about the soap's shelf life without preservatives ("6 months, probably up to a year, we are still testing."). Requests for well-being and cosmetic products including shampoos, shaving cream and aftershave, are coming in. "We can do it, but not in our present set-up, which is the kitchen of our apartment in Creativity," says Guidelma. "We'll need to expand."
Their thoughts in that direction are slowly developing. Requests from Auroville guesthouses, schools and restaurants are coming in but are still on hold. "We are not yet ready," says Margarita. "We'll have our hands full with research for the next few years and we are not business people." But the increased demand and the enthusiastic and positive feedback, says Guidelma, has reaffirmed their vision and mission to become a unit to support Auroville financially, and involve more Aurovilians. A capital injection and marketing strategy would be required to make this dream reality. "Indian society is changing a lot, and consumers go increasingly for natural products. We do have the responsibility to provide products that are natural and labeled with honesty and integrity. It would be good if more of these types of products could be provided by Auroville."
In conversation with Carel
Courtesy of AV Today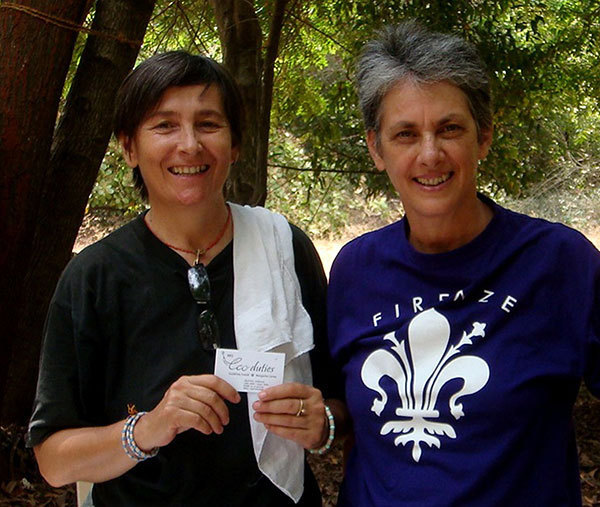 Awards
Probiotics House was selected to receive the BID Award at Paris in 2018.
This award was the outcome of the research and analysis carried out by quality hunters, leaders, entrepreneurs and Quality experts, directed by Business Initiative Directions (BID) and BID Group One, which recognizes the contribution of MGecoDuties - Probiotics House in terms of leadership, quality, innovation and excellence.