Last updated: 3 Jun, 2015
Poetry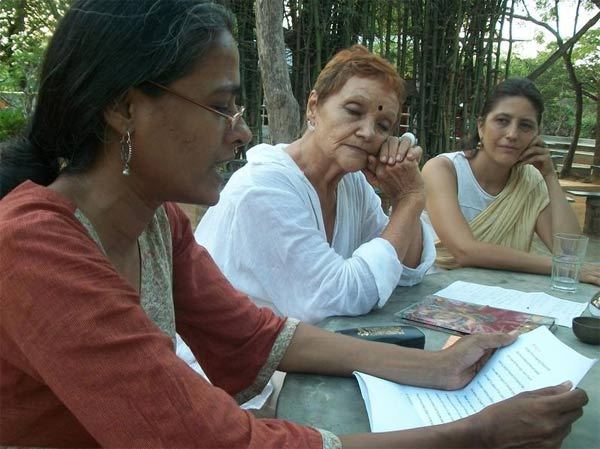 Reading poetry
Auroville is paradise for poets who seek natural quietude; though Auroville and the Aurovilians are on the move. Spirituality combined with down to earth 'building up' creates an atmosphere of closeness. The poet can be quiet and write, but does not sit on an island. Much of the early movement in Auroville found its way into writing, one of the few things one might do by oil lamps and candles. Besides, one of the most read books in Auroville is Sri Aurobindo's 'Savitri'.

Early days
The first Auroville poetry anthology: 'Poems from Auroville', was published in 1977. It was followed in 1983 by: 'Seeds of Flame' and in 1985 by: 'Dust and Dreams'. Poems, letters and other musings were often printed in the Auroville journals of the time, and they still are. Individual publications of tales or poetry appear from time to time, and the more so as Auroville grows. Writings by Auroville poets have been printed by Indian publishers, such as Amity House, Banyan Books, Writers Workshop and Penguin. The Tamil/Auroville poetess Meenakshi was praised in 'Woman Writers in India' (Penguin) as one of the great modern poets of India.
India, land of epics
India is the land chosen by Poetry itself - the land of the Vedas, the Upanishads, the Gita, the Mahabharatha and the Ramayana. The range of languages in which poems are written in Auroville, as well as the diversity of the community giving shape to their subject matter, mirror the international aims and aspirations of Auroville. In many cases you will find an 'Indianness' to the the poems, an air of reflection and meditation.