Pitchandikulam Forest
Providing models of sustainable ecological practices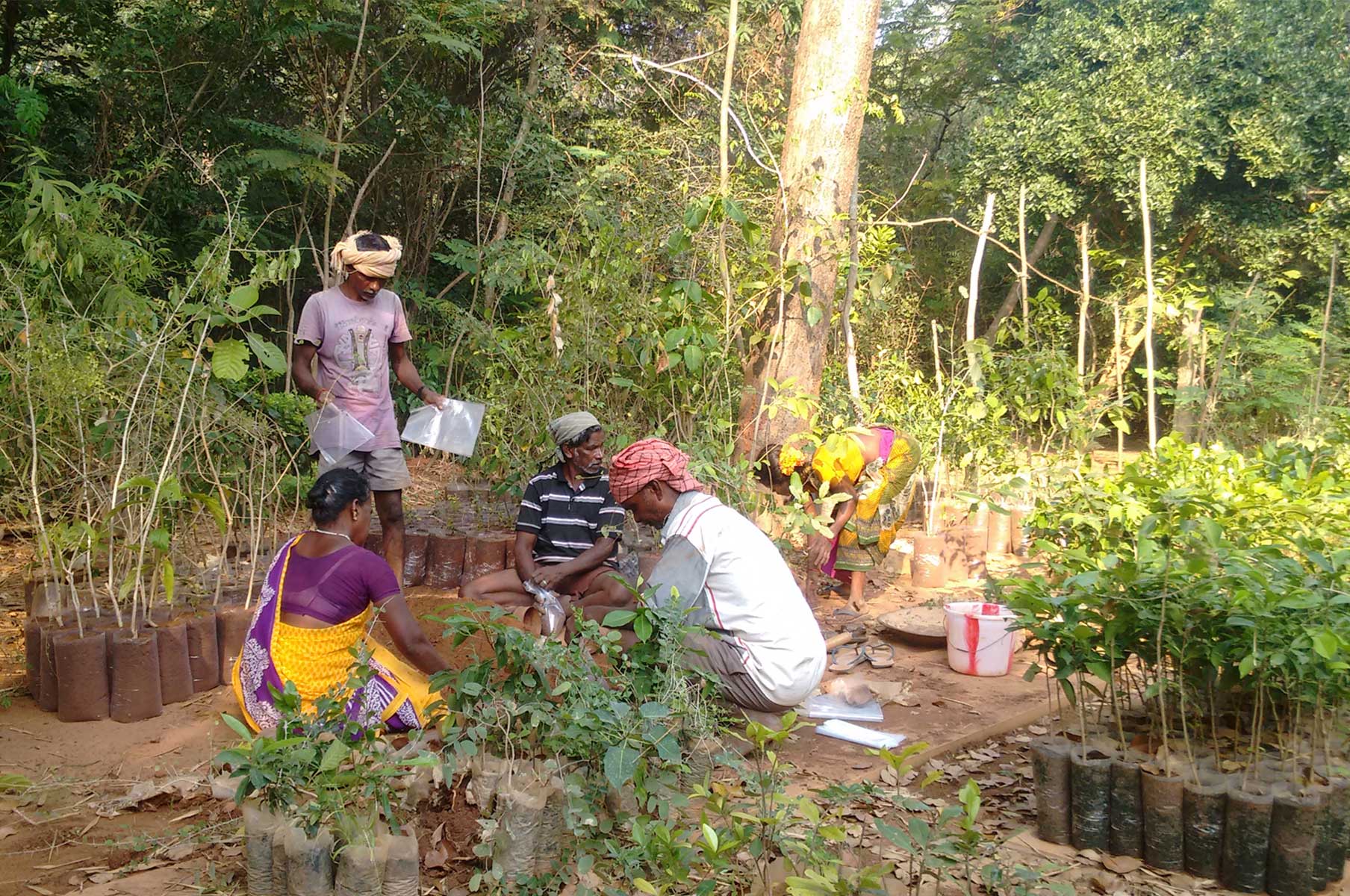 Pitchandikulam Forest is an environmental organisation and community based in the green belt of Auroville in coastal Tamil Nadu, South India. It was founded in the early days of Auroville when the land was dry and desolate. In 1973, restoration practices were set into motion using green manures to rebuild the soil. Live fences were created to protect the land from goats and cows, and pioneer species of acacia, leucaena, gliricidia, and eucalyptus were planted to provide windbreaks and shade.
Acreage: 63 I Stewards: Joss, Kannyappan
About Pitchandikulam Forest
The name Pitchandikulam means "Pitchandi's Pond" in Tamil, named after a local traditional healer (vaidya) called Pitchandi who practised healing at the pond (kulam) in the heart of our forest many centuries ago. Here you can find:
a seventy-acre forest
our social outreach and external consultancy offices
a bio-resource education centre
classrooms and meeting rooms (both indoors and outdoors)
an art studio
a bio-resource display centre
a medicinal plant garden
a museum of rural Tamil life
an architecture and structural design practice
volunteer accommodation and communal kitchen
private housing for the Pitchandikulam community
Our mature forest, and much of our restoration and reforestation work, celebrates the indigenous vegetation of our bioregion – the Tropical Dry Evergreen Forest (TDEF) – which is one of the rarest and most diverse wild ecosystems in India. It is a peaceful sanctuary with over 800 species of plants in the grasslands, nursery and in our ethnomedicinal forest.
https://www.youtube.com/watch?v=S1jBThHIG9w
Enter the video url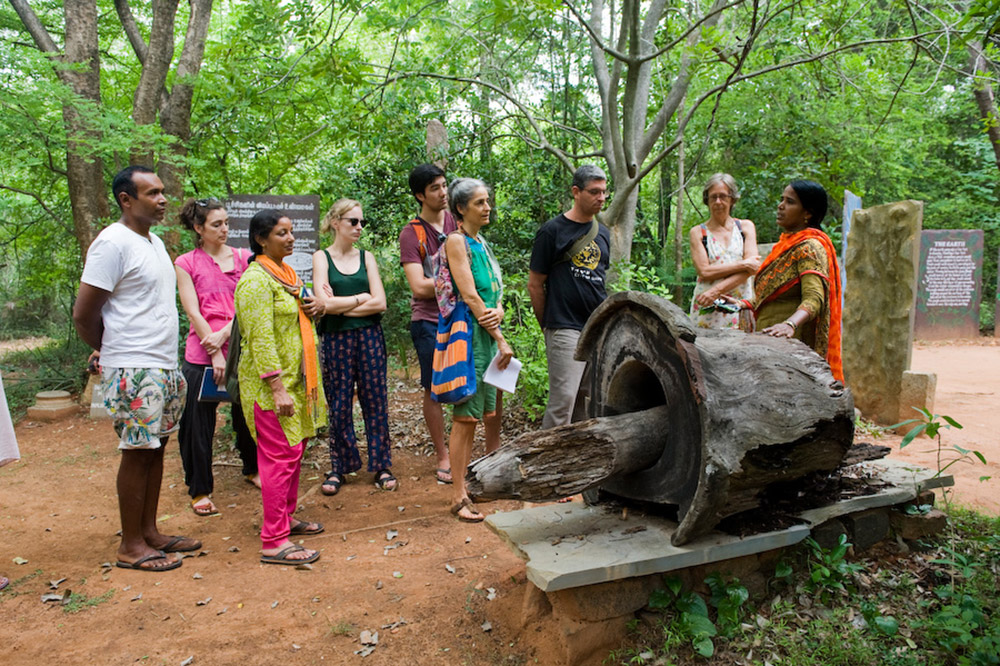 Medicinal Plant Conservation Park & Ethno-Medicinal Forest
The Centre is a teaching and training place for the protection, propagation, and use of medicinal plants. It is one of a network of 16 Medicinal Plant Conservation Parks (together with Shakti) funded by The Foundation for the Revitalisation of Local Health Traditions. Housed in its solar-powered admin and museum building are photo displays of 240 of the 400 medicinal plants found in the region, a collection of 350 seeds from the local area, a variety of rural artifacts, and a Tamil and English reference library and computer base for research.
Surrounding the Centre is the 50-acre Pitchandikulam self-regenerating forest sanctuary, containing more than 600 plant species (nearly 340 medicinal) and a wide diversity of fauna. Prior to the first planting in 1973, the area, like most of Auroville's land, was a dry eroded plateau, the main vegetation being scattered palmyra trees. Erosion control, watershed management, and extensive reforestation work have continued since that time. Many of the TDEF species have not been propagated in nurseries before, and techniques are tried in order to develop standard methods of germination for more than 180 species grown in Pitchandikulam. Live hedges of more than 50 species are grown around the EMF, forming a protective, productive edge and providing a faunal habitat and corridor. From the seed propagation nursery, endangered medicinal plants are established in the sanctuary and other locations as a gene bank.
A medicinal plant demonstration garden with nearly 300 species is there along with a herbal garden with nearly 100 species under cultivation for supply to herbal practitioners. In 1992 Pitchandikulam began its collaboration with the Foundation for Revitalisation of Local Health Traditions (FRLHT) and has since developed training, documentation and demonstration programmes for the re-establishment of the TDEF and Local Health Traditions of the region.
BioResource Centre
An environmental education facility for the local community with a focus on conservation, identification, and use of indigenous medicinal plants.
The Centre, situated in the Pitchandikulam, Ethno-Medicinal Forest with its demonstration and thematic gardens, provides:
a library and database to help with sustainable community planning
documentation on the knowledge of more than 200 local healers
the publishing of a bio-regional newsletter and teaching materials
a display of photos, seeds, posters, herbarium sheets, raw drugs, and traditional technologies
an environmental video production facility.
Bioregional Outreach
Documentation of bio-resources with the village communities
Facilitating traditional healers to pass on their knowledge to others through meetings and visits to remnant forest areas
Conserving and regenerating sacred groves in collaboration with local communities
Involving village school children in plant surveys, mapping, seed collection, exhibitions, and classes
Painting murals on village school buildings depicting bio-resource maps and information about local medicinal plants
Planting of village herbal gardens with women and children and the reintroduction of TDEF species to remnant forests, sacred groves, village tank bunds, and Auroville sanctuaries
Training of women's groups, school children, teachers, youth clubs, other NGOs and government departments in all aspects of eco-restoration work, with emphasis on revitalizing local health traditions
Classes in the preparation of herbal remedies to cure common ailments using plant material from the Pitchandikulam nurseries and gardens.
A well-established outreach project is based at a government school in Nadukuppam, and collaborative projects are currently covering 25 villages throughout the Kaluveli bioregion.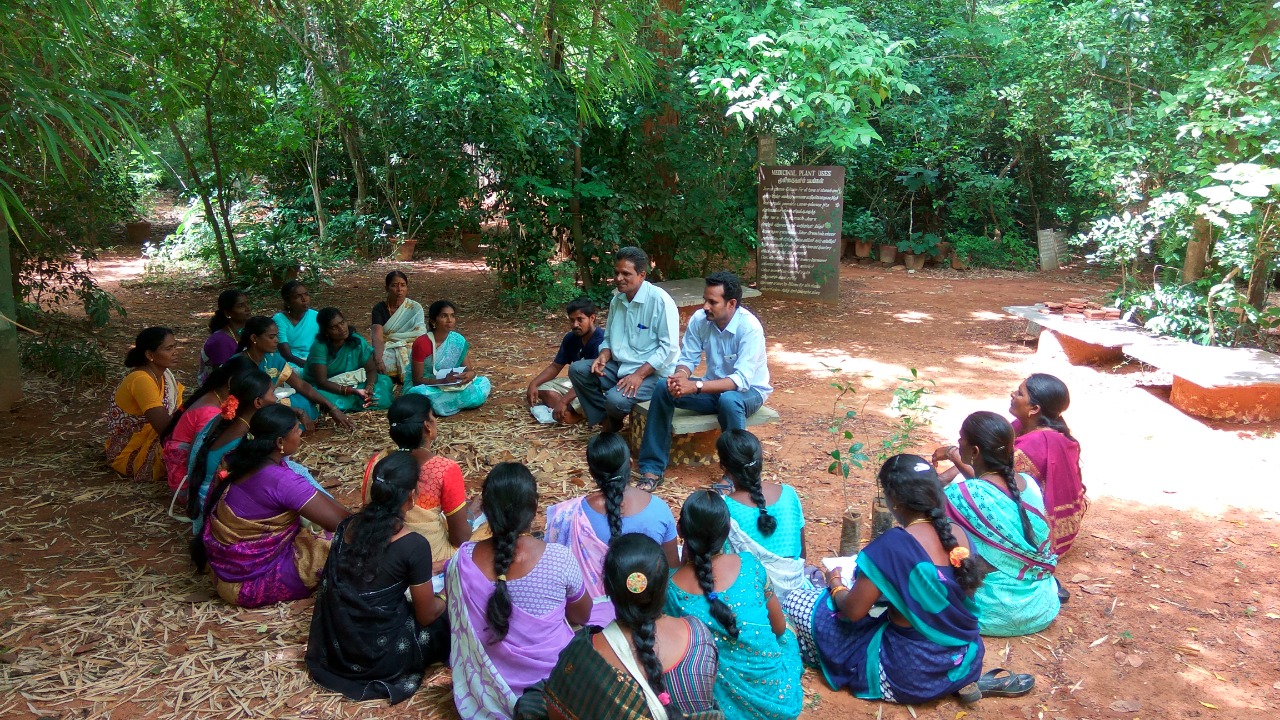 Why Conserve Pitchandikulam?
The Kaluveli Tank Bioregion on the Coromandel Coast of South India covers a triangle between Pondicherry, Marakannam, and Tindivanam. The indigenous vegetation of the area extending in a coastal belt from Ramanathapuram in the south of Tamil Nadu to Visakhapatanam in Andhra Pradesh, is known as Tropical Dry Evergreen Forest (TDEF). This forest type is found only in South India and Sri Lanka, and provides a rare biological richness due to its very high species abundance, but is now close to extinction as only 0.01% survives. Only a few isolated fragments of TDEF exist, with many of its species - trees, shrubs and lianas - listed by Meher-Homji (1989) on the verge of extinction. Surveys carried out by Auroville have managed to identify an additional 70 species, seemingly indigenous, but often in small numbers. The bioregion is home to at least 735 species, including 400 plants that have medicinal properties, many of which have been used for centuries by traditional practitioners.
Way Forward
Today, Pitchandikulam is a self-generating forest with a wide diversity of flora and fauna. There has always been a strong emphasis on conservation of indigenous plant species with a particular focus on medicinal plants and the people who use them. Documenting and celebrating the traditional knowledge systems and technologies of local people has always been central, as well as education activities in the schools of the bioregion. Pitchandikulam helps to provide models of sustainable ecological practices for the next generation.