Last updated: 24 Jan, 2023
Pebble Garden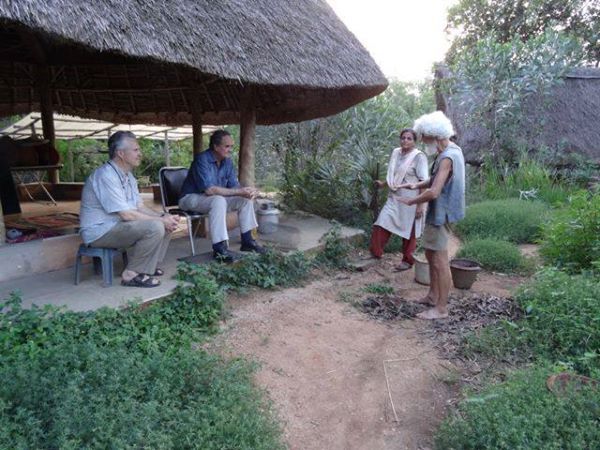 Bernard and Dipika with guests in Pebble Garden
8 acres of severely eroded, barren land in the West of Auroville, along the Kootroad, have been successfully regenerated since 1994, without external inputs – no soil or organic matter from outside – and no hired labour. Pebble Garden has today a vibrant indigenous forest with returning wildlife, a productive bio-diverse garden and a fledgling fruit tree area.
A garden area of a quarter acre is devoted to Seed Conservation. It was created by an intensive process of soil building, using select pioneer species to create biomass in-situ in raised beds, and today supports a plant collection of more than 100 endangered traditional vegetable varieties from all over India - root crops, herbs, perennial and wild food crops, medicinal plants and flowers. These varieties are ideal for home use and home gardens. 'A Garden for Everyone' is an outreach initiative to share these hardy plant varieties, which have performed well on this wasteland, with home gardeners and subsistence farmers throughout India. They are shared within known organic farmers' collectives via organic fairs, seed melas and through personal contacts and references. A place of continuous learning, Pebble Garden also has a charcoal/wood vinegar production plant, and conducts research on in terra preta.
A guided tour is offered every Friday at 4 pm.
For more info, see various articles on the internet.
Facebook Group : https://www.facebook.com/groups/109362432429880
Ph. 413-2677792
E-mail: pebblegardenforest@gmail.com