Last updated: 16 May, 2020
Nadaka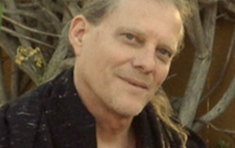 "In the mid 1970's, as a young musician with a desire for adventure and fascination for spirituality, I was presented with the book "Sri Aurobindo ou l'Aventure de la Conscience" written by Satprem.
This quite instantly changed my view on life, at least my view of the world as I knew it then. Further readings of Sri Aurobindo's letters on yoga gave me a deeper insight to his integral yoga, and the Mother's 1968 charter for Auroville made it clear and simple - That is where I need to be. I left by ship from my hometown of Quebec City to Europe, then overland through Central Asia, often walking through borders. I finally reached India that became my adopted country.
Along with others who had come from around the globe motivated by similar aspiration, In these early Auroville days, I lived the life of a young pioneer, building the Matrimandir, transforming eroded lands into a forested oasis, constructing simple bamboo dwellings, learning Tamil in the local dialects.
I became enthralled by all things Indian; Especially Indian music.
I studied the Veena (ancestor to the Sitar) and Vocal and became familiar with the art of Ragas. I also learned woodwork and first experimented in transforming the acoustic guitar to become a more Indianised string instrument.
In music as in life a true fusion comes when different cultures, multiple voices organically merge into one."
Nadaka was born in Canada. and began playing guitar when he was 11. He decided to travel around the world when he was 16 and settled in Auroville where he lived for the next 35 years, He designed and crafted a unique instrument of his own, a guitar specially designed to play the subtle tones of Indian music that he likes to call the "Geet-Taar" (singing strings).
From the early days of Indian fusion, he was an active member of the contemporary musical scene in India, recording and performing with many recognised Indian musicians. He also has a number of successful albums to his credit. Inspired by traditional Indian Ragas and rhythms, Nadaka plays his own distinct style of east-west fusion Music rooted in the cultural traditions of India; Raga (music), Mantra (chants) and Tala (rhythm),
combined with World sounds and enlivened by a distinctively fresh, modern approach.
https:player.vimeo.com/video/106656230
Enter the video url
https:player.vimeo.com/video/219188107
Enter the video url