Meera Prajapati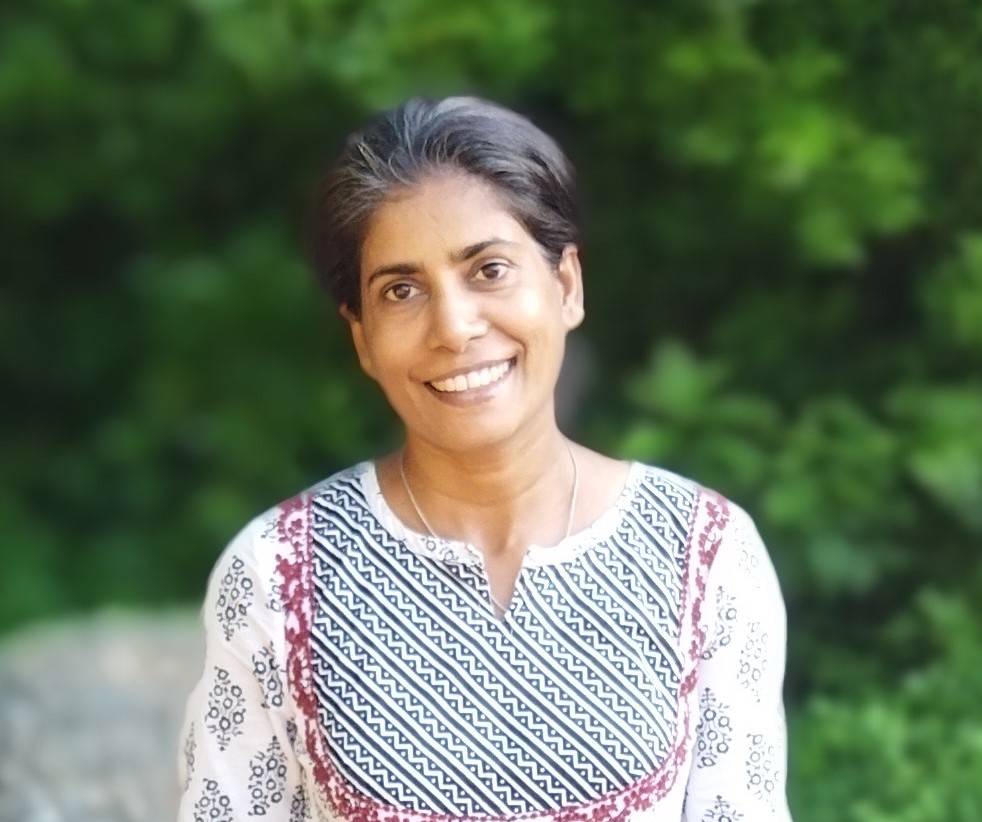 Graduated as an architect from TVB School of Habitat Studies, New Delhi in 2003 and after having worked as an architect in a multinational Dutch company, CSO, Pvt Ltd., Gurgaon, for a year, I came to Auroville in October 2004 as my second visit, when the magic of this place also bound me to it for good.
Auroville is a place that has a living aspiration towards perfection and refinement and one absorbs this aspiration by being in its atmosphere. This aspiration of perfection in every detail of life has touched me as well. During the sixteen years of my Auroville adventure, I worked on different architectural, landscaping, interiors, product development, and research projects within Auroville and outside.
Holistic sustainability has been the key interest in my explorations. Harmony of built forms and nature, materials and techniques in their true potential, the functionality of forms, cost-effectiveness, simplicity, and interpretation of cultural continuity of tropical architecture are some facets that have repeatedly found expression in my works.
Earthweavers
Our design practice umbrella called Earthweavers came into existence in 2012. Its core strength is Architecture, Landscaping, Interiors, Furniture, and Product design along with material and structural researches.
For us design is a weaving of different modalities to bring appropriate solutions in physical and practical life with beauty and simplicity. Our values lie in integrating the traditional techniques, materials, and forms and interpreting them into a contemporary context.
Work Experience
Auroville Earth institute: where the material researches find its expression in a very special way. The Auroville Charter says "Auroville is a place of Material and Spiritual researches". Earth Institute stands for the former.
INTACH Pondicherry: With INTACH Pondicherry came to the exposure of working with the renovation of a heritage building of Pondicherry and Tanquebar.
Matrimandir Architectural Archives, Auroville: this opened my sensitivity towards the sincerity and hard work of many people involved in the making of Matrimandir, "The symbol of human aspiration towards divine perfection" in the Mother's words.
Town planning body of Auroville: This opened my architectural domain to much wider perspectives of city planning and its challenges. 'Auroville's way forward', was the direction the team was focused on through community interactions, exhibitions and collaborative works with the renowned architect Mr. B.V Doshi and his office.
This was also the time I came in touch with Auroville's chief architect Roger Anger's studio and his creative works. Hundreds of his sketches and models of artworks gave me an insight to the intense passion in architecture he possessed.
Terminal 3, New Delhi International Airport: Being part of the building of this enormous project was both an honor and prestige for the architect in me, through the domain of Landscaping. At the same time, this project shook my definition of the Ecological and Green perspective intensely and made me more mindful in my own practice.
Matrimandir twelve Gardens design Auroville: This gave me the supreme opportunity to confront the integral yoga practice in me, as this was an intense involvement in exploring the deepest possible significance of these very specific twelve gardens in the words of Sri Aurobindo and The Mother. All the while that I thought I was designing the Gardens, it was another way round. Actually, it was the Gardens that were redesigning me.
More on:
Facebook: https://www.facebook.com/earthweavers.auroville/Instagram: https://www.instagram.com/earthweavers/
Get in Touch
Pony farm, Auroville, Tamilnadu. 605101
WhatsApp: 9442066836
Write to us