Last updated: 16 Nov, 2023
Matrimandir calendar 2024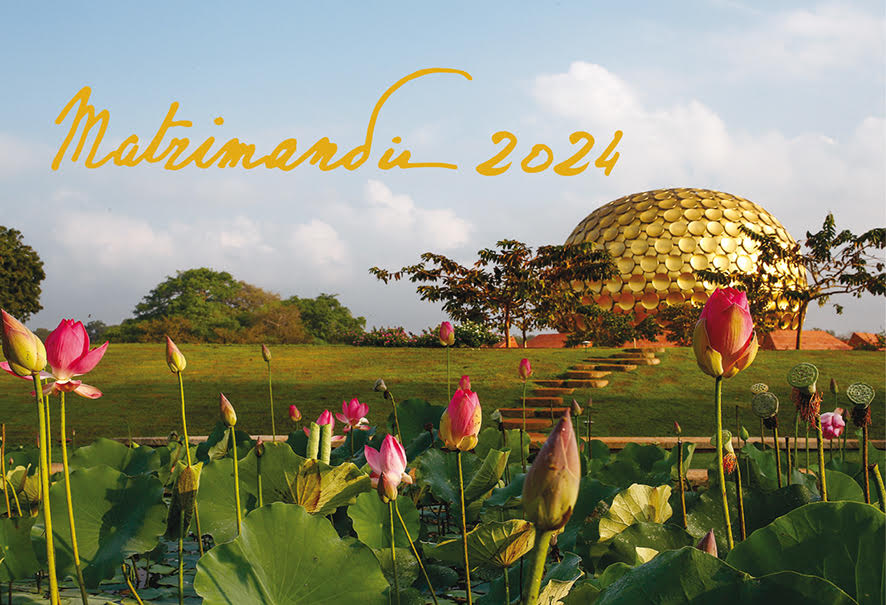 It is with great joy that I announce to you that the
Matrimandir Calendar 2024 is again available !
The 2024 edition emphasizes the beautiful Darshan decorations around the Banyan tree and the Amphitheatre. The Matrimandir Calendar 2024 is very colorful, it has 12 additional small photos on the calendar page with a quote from Sri Aurobindo's Savitri. Each page is printed in a different color according to the dominant color of the small photo.
On the cover Matrimandir 2024 in Mother's handwriting is gold-embossed.
The 2 short spirals on top give a new, elegant appearance (not shown in the picture).
The desk format has the usual 20 cm x 21 cm, the same as the years before.
On the calendar page, the months and days are printed in 4 languages: English, French, (spoken) Sanskrit, and Tamil.
Darshan days and other important days as well as moon days (full/new) are indicated.
The front and back cover and the sturdy stand are laminated.
The calendar is printed in 4 colors on foreign artboard, matt, and thickness of 250 GSM.
Each calendar is wrapped separately in a plastic cover.
The price is Rs. 170.— the same price as in years before (plus postage and taxes when applicable).
Shops will add taxes and commissions to this price.
All proceeds from the sale of the calendar are donated to the Matrimandir as usual.
The Chennai printing press will deliver the calendars to Auroville shortly. Kindly place your mailing orders soon so that the Calendars will reach you in time for the New Year.
Photos by Auroville photographers Piero Cefaloni, John Harper, and Tine. DTP work by Silky, Auroville.
Printed at Sudarsan Graphics, Chennai.
Distribution by
Tine, Aurogreen, for the Matrimandir
Auroville 605 101, TN, India
Email tine@auroville.org.in
mobile +91 9843 98 41 81 (*whats-app)
mobile +91 890 3938 649