Last updated: 10 Jan, 2023
Martuvam Healing Forest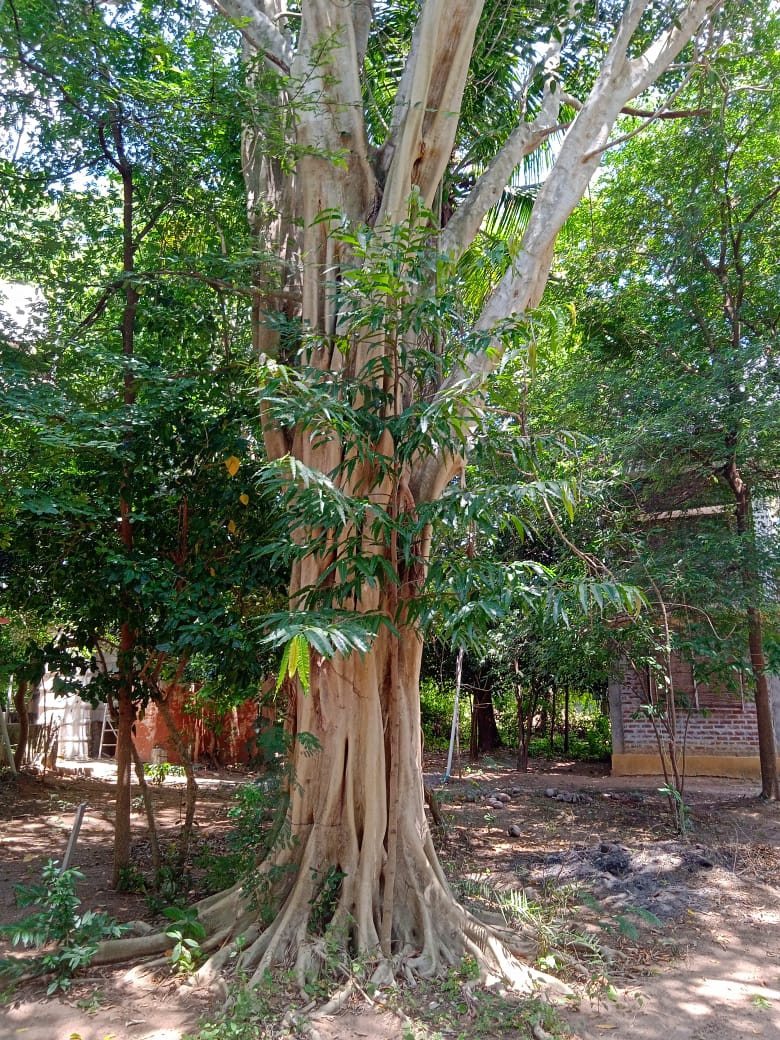 Martuvam Healing Forest is a 7 acre property of organically grown medicinal herbs, plants and trees located deep into the western periphery of Auroville, on the outskirts of the green belt, near the Tamil village of Annainagar.
Since our inception in 2002 we have been committed to recover and preserve our indigenous medicinal knowledge, which is our natural, holistic ancestral way of living and healing. Even though this tradition is very efficient, its knowledge has been slowly forgotten in our modern lifestyle and with the advent of modern medicine. As is the case in most of our planet, the general population of Tami Nadu has fallen prey to a system that uses harmful chemicals and toxic substances that infiltrate our everyday lives in the form of fossil fuels, packaged foods, commonly used drugs and medications and even fluoride water.
Among the Indian healing systems that currently incorporate this Ancient heritage are Ayurveda and Siddha.
"Nature is the all-round Healer."
(Collected Works of the Mother, talk of 1965/06/30)
Our main purpose is to grow, harvest, process the medicinal raw materials from the forest, prepare natural herbal remedies and products, offer preventive measures and alternative treatments, and share this knowledge with all, including Aurovilians, guests, visitors, the people in the local villages, the South-Indian region, the nation of India, and the whole world.
History
Martuvam Healing Forest is also the home of Shivaraj, his wife Malar and their three children Rajeshwari, Auroson, and Aavind, whom, together with many other friends of Auroville, have used traditional cultivation and harvesting techniques to lovingly transform the barren plot of land into a fertile and lush, natural forest. Friends from the Farm Group, Forest Group, Green Group and Pitchandikulam Bio Resource Centre in Auroville (where Sivaraj once worked) contributed enormously of information, seedlings, and moral support.
The property also houses Malar Healing Quilts, an initiative aimed at bringing together women from indigenous communities and neighbouring villages to create handmade quilts, bed covers, wall-hangings and other handicrafts carefully stitched using the potent herbal powders and materials infused with sacred intentions and healing energy. (Link to buy quilts)
During the Covid-19 pandemic we created various products, including the immunity boosting Kapasura herbal drink, Herbal Healing face masks, natural hand sanitisers (EMS proven), Triphala, herbal Kombucha and herbal snacks. (Link to video of Healing Masks)
Vision
We envision a multi-dimensional healing sanctuary and educational centre available to all, regardless of socioeconomic conditions. It will include a Siddha Plant Medicine Clinic that offers natural healthcare through individual consultations and group workshops. The Forest will provide the raw materials for the Clinic's herbal remedies.
The main purpose of the Centre will be to educate on the significance of afforestation, healing attributes of herbs and preservation of the indigenous medicine.
The Centre also aims to recover, preserve and share the sacred techniques used by the Siddhas to purify the mental, physical, emotional and spiritual aspects of our being in order to activate our innate healing abilities. We will conduct ongoing research for herbalism and plant medicine to study the relationship between certain sacred herbs and the human body and their nutritional advantages for cure of diseases and disabilities. We owe it to the future generations to protect this heritage entrusted to us by our ancestors to develop more ways of practicing a symbiotic bond between Nature and the Divine.
Furthermore, we seek to support Auroville, the local villages and the world to become sustainable by locally producing all the food and medicine we need.
There will also be lodging and work spaces where other healing arts practitioners can offer services aligned with our vision.
We also aspire to improve the livelihood of the people in the surrounding villages by providing jobs and skill building courses.
"Faith is the soul's witness to something not yet manifested, achieved or realised, but which yet the Knower within us, even in the absence of all indications, feels to be true or supremely worth following or achieving."
Sri Aurobindo
Martuvam Healing Forest and Herbal Garden
The word Martuvam translates in English as hospital, which comes from the word hospitable in latin. The unique energy held by the forest and herbal garden hold the capacity to activate our own healing powers. We strive to become hosts and vehicles for the healing of all who come here.
Martuvam Healing Forest is one of the many afforestation projects that have been happening in Auroville since it started in the 1960's. The forests are an active source of oxygen and control the water irrigation system of the region.
Martuvam Healing Forest is home to thousands of medicinal herbs, plants, bushes and trees of more than 100 varieties. The plants are grown organically without pesticides, herbicides or fungicides, which is very important for their use in medicinal treatments. Material from the forest and garden are used in our products and will be used in the remedies and medicines prepared at the Healing Center. The Healing Forest is a place where Aurovilians, local villagers, visitors and guests are welcome to come to learn about the healing qualities of the plants and to collect as they need. In this way we are supporting the restoration of healing practices that used to be part of our daily life.
Currently, we offer Heritage Forest Walks. Grounding and Earthing are among the simplest forms of healing rituals and rehabilitation measures that are widely recommended by health practitioners for patients dealing with high levels of stress, anxiety and depression and other mental disabilities. They are based on the scientific fact that the earth guides one to practice reverence, humility and reciprocity. Reconnecting with nature cleanses the mind, body and soul of the ill- effects of overwhelming external stimulants such as pollution levels, abuse, aggression and deepens our understanding of our bodies to help achieve emotional balance and stability.
About our Hosts
In 2009 Sivaraj received a Diploma in Herbal Siddha Medicine (DSMS or DHMS?), under the guidance of Dr. Salvarasu, a well known practitioner in Southern India. Siddha Medicine is a system that incorporates traditional South-Indian healing knowledge, similar to Ayurvedic herbal healing.
Using plants harvested from Martuvam and around Auroville, Sivaraj has been practicing ever since by providing consultations and treatments, and conducting workshops to educate people, including Aurovilians, guests, and women, young people, and students from the local villages, of the myriad benefits of herbalism and natural plant remedies, sharing herbal wellness practices and different alternative healing methods.
Malar is a qualified homeopath and runs a Herbal quilting studio on site. She offers assistance and clinical guidance to patients at the local clinic in collaboration with her mentor Ms. Sigrid.
Services are offered for free or for a low cost.
Volunteering
We are welcoming short and long term volunteers who can help us in any of the following:
Forestry
Pruning trees
Removing dead woods and debris
Creating paths for educational and recreational herbal walks
Gardening
Creating and maintaining garden beds (collection, seedling, planting, pruning, weeding, watering, etc.)
Identifying medicinal plants and researching their benefits
Prepare sign board with name, benefits, and medical usage
Re-start Preparation of Herbal Remedies
Harvesting/collecting herbal plants
Sun drying,
Preserving
Mixing and packing
Restart Production of herbal masks
Stitching/sewing
Collection of healing plants
Production of herbal powder
Packing of herbal refill packs
Labeling
Distribution
Restart Production of Herbal Kombucha, Natural Hand sanitizer, herbal remedies and snacks, and other products
Creating unique recipes
Production
Packaging/Labeling
Distribution
Create an indoor herbal garden or greenhouse
Creating educational materials
Manual and construction work
Marketing and Public relations work
We have some budget accommodations available for long term volunteers.
If you are interested in learning while helping, please send an email to martuvam@auroville.org.in. or sivaraj@auroville.org.in
Martuvam Healing Forest
Annai Nagar
Alankuppam Auroville 605 111
Email: Martuvam@auroville.org.in
Blog: https://martuvam.blogspot.com/
More on Siddha Medicine
One of the oldest medical systems known to mankind, this system originated in Tamil Nadu, south India as part of the trio Indian medicines- Ayurveda, Siddha and Unani. This system was extremely popular in ancient India and is considered to be one of the most ancient traditional medical systems in south India. Siddha is believed to be developed by the 18 siddhars of south India. Siddhars were spiritual adepts who possessed the ashta siddhis, or the eight supernatural powers. Sara Agathiyar, the first siddhar, is believed to have been given the Siddha system of healing by Lord Muruga, son of the Hindu God, Lord Shiva and Goddess Parvathi. Agathiyar and his 17 disciples contributed thousands of texts on Siddha, including but not limited to medicine, and established a system of healing that is still in practice today.
You are invited to help and support us
To purchase from us visit:
Download
fundraising_website_english.docx
Download
demande_de_fonds_sur_sit_web_french.docx