Lalit Kishor Bhati

PATH Architects & Planners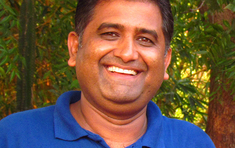 Lalit had an inherent interest in the unseen patterns that link different fields of experience and it was here in Auroville that his yearning for integrality was reciprocated. He first came to Auroville in 1998 to study the alternative model of Auroville Economy. He was deeply influenced by the effect that Auroville's Charter has on the people here and the active roles they play in giving form to this dream of Auroville.
Towards the end of 1998, he joined Auroville's Town Planning office as a consultant. During this period, along with other team members, he worked on Auroville's Perspective Master Plan. After being here for 2 years, it became evident to him that this was his home & he formally joined Auroville in 2001.
Coming from a conventional academic background, the encounter with Auroville initiated a transformative process of unlearning. His work as a planner helped him to develop insights about the dynamics of societal growth and the real-life challenges of collective organization. This experience also made him realize that planning, by definition and especially so in Auroville, embraces collectivization and necessitates a synthesis of diverse viewpoints. Inherently, planning is a field of intensive churning that requires a wide range of skill sets.
The experience of working with Roger Anger, and subsequently with B.V. Doshi, on the planning of Auroville helped him gain different perspectives & approaches in planning & developmental matters. He realized the relevance of an empowered and educated public participation and opted to channel his energy in creating awareness about Planning & allied activities. His facilitating work on Integral Sustainability Platform (ISP) was an initiative responding to this understanding. This gradually steered him towards the field of education and learning which led him to take steps towards developing the Auroville Integral Sustainability Institute (AISI).
Auroville has given him an opportunity to experience a wholesome living environment with interconnectedness of self & society and helped evolve a holistic perspective of life, offering him a wide canvas to explore, to learn & to be. His work is guided by the desire to communicate the need and relevance of the Auroville model as an example of integral society. Thus, he continues his quest for Integrality and acts as a facilitator of this insightful experience.
Read More: Lalit's article on Sustainable Campus Design published in the Times of India.
Professional Profile
Graduation in architecture (1995) with a Master's degree in Urban and Regional Planning. (1997)
Consultant Urban and Regional Planner in a Sri Mayapur Master Plan Office, Bangalore. (1997-1999)
PG Diploma in Urban Environmental Policies & Local Agenda 21 (2000)
Technical team member in the Planning Office (L'Avenir d'Auroville) (1999-2007), including serving as the Urban Planning Coordinator (2007-10). Initiated work on Integral Sustainability Platform, ISP, with Alon and Batel.
Core team member for the proposal formulation for Pondicherry Asia Urbs Project - 'Achieving Economic & Environmental Goals through Heritage Preservation Initiatives'. Also worked as Landscape Consultant. (2001- 04)
Coordinator for 40 panel Auroville Planning exhibition along with Vastu Shilpa Foundation, CEPT (Ahmedabad) & Artes (Chennai) in 2010. Click here to view.
Formed Planning and Architecture Towards Holistic development (PATH) – a studio engaged in the fields of Architecture, Planning, Interior and Sustainability with Shailaja Sudhalkar Bhati.
Established the Auroville Integral Sustainability Institute (AISI) in Auroville in 2012 which is a research and learning oriented setup. Apart from organising learning & educational visits to Auroville, hands on workshops & 'Holistic Sustainability' programmes for diverse background participants, few Study Abroad Programmes, in collaboration with Queens University, Canada have also been hosted.
Auroville Campus Initiative (ACI) came into existence in 2014, (one of the founding team members) ; a learning & long term capacity building initiative which has been hosting 'Joy of Learning Series,' an awareness programme for residents of Auroville covering different aspects of Auroville. ACI team was also instrumental in 'Auroville Retreat' organisation.
'Swadharma' – an Auroville Semester Programme is being offered by Auroville Campus Initiative (ACI). Engaged as faculty & programme coordination team member