Last updated: 2 Apr, 2021
L'Avenir d'Auroville (TDC Town Development Council)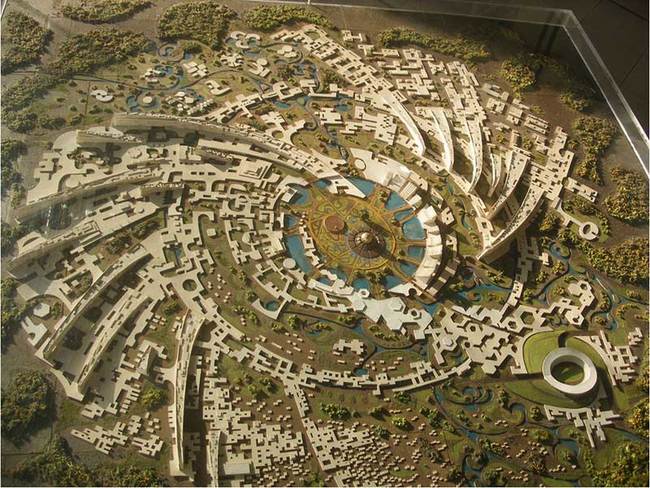 The Galaxy model for future Auroville
Leverage the elements of "unending education, material and spiritual researches and human unity" from the Charter to offer Auroville to the world as a Centre of Excellence in Innovation. This will help encourage research and experimentation, bring in related human resources, grants and trigger the knowledge economy which could form the fundamental ingredients to take the development of Auroville into the next phase.

Ph. 0413-262 3568/ 2622170
Email: avenir@auroville.org.in
The Auroville Township Planning and Development Research Organisation


Archive materials
Download
Report_of_the_Governing_Board-TDC_meeting_5-4-2013.pdf


August 2012
Final Report on the Selection Process
for L'Avenir d'Auroville/TDC 2012 - 2015
The RAS is happy to share with you that the Selection Committee (SC) for the team of L'Avenir d'Auroville / TDC 2012 - 2015 has completed their work.
The group started their work three weeks ago, on July 23rd 2012 after a two week period for submission of applications and nominations.
A total of 52 Aurovilians submitted applications or nominations.
The original list of applicants and nominees counted 36 individuals. After the RAS crosschecked with the nominees whether they confirmed their willingness to be proposed, a final list of 23applicants and nominees remained.
The Selection Committee started their work as a group of 13. The Town Development Council Advisory Committee (TDCAC) could not send their 2 representatives.
Andy decided to resign from the Selection Committee after the morning session of July 26th.
As defined in the RA approved selection process, three neutral facilitators worked with the team (Amy, Elvira and Jesse) and a consensus process was used for decision making. Pashi represented the Study Group as a resource person for clarifying questions on the proposal process. Partha and Selvam of the RAS joined the meetings from time to time.
The Selection Committee agreed on defining their consensus process as follows:
If and when a decision needs to be arrived at, a proposal is presented that was worked out by the group in a general discussion.
Each member of the team can choose their personal decision from within three options:

I consent: I agree

I stand aside: I do not agree because I have specific concerns or doubts but I am fine to go with the group decision.

I block: I do not agree because I cannot unite the proposal at hand with my innermost understanding of the Charter of Auroville.

If you stand aside you have the option to explain the nature of your concern and suggest changes or amendments that could turn your stand aside to consent.
If you block you have the responsibility to explain the nature of your concern and contribute to building an alternative proposal that could turn your block into a stand aside or consent.
Consensus is not reached if a total of 2 Selection Committee members block a specific proposal.
*
The mandate of the Selection Committee 2012 was to select a team for L'Avenir d'Auroville / TDC 2012 -2015.
On Saturday, 11th August 2012, the group arrived at a final consensus. Out of 11 people present, 10 consented and 1 stood aside. One member was absent due to health reasons and had given his consent for whatever consensus would be arrived at.
Their decision is two-fold:
1.) A team of 8 coordinators for L'Avenir d'Auroville / TDC.
2.) A set of Aspirations, Recommendations and Conditions, ARC.
While point 2.) was not part of the ratified mandate, the Selection Committee offers ARC to the Residents of Auroville as their result of an intense, inclusive and challenging selection process
As the SC is the designated monitoring body for the entire mandate of this coordinator team, the ARC paper can be considered as a foundation for the bi-annual monitoring process.
Team for L'Avenir d'Auroville / TDC 2012 – 2015

Sauro (Grace) - Overall Coordination and Facilitation

Nicole (Gaia) – Socio-economic Planning

Gilles (Samasti) - Town Planning

Jacqueline (Auromodele) - Urban Design

Toby (Aurogreen)- Township Development

Cristo (Revelation)- Regional Development

Jean-Francois (Sharnga)- Administration, Accounts and Reporting

Kalia (Shakti) - Fundraising and Networking

ARC
Aspirations

Focus on the spirit of unity in diversity while planning and developing Auroville.

Refer constantly to the "Twelve Qualities" both at the individual and group level.

Search for a progressive harmony between development and environment while accelerating the growth of Auroville.

Balance out processes and deliverables.

Recommendations

The team of coordinators should as a priority set themselves a time frame for a work plan and for the setting up of their support teams.

The team of coordinators should agree on how L'Avenir d'Auroville / TDC define "Conflict of Interest" and how they intend to manage the same.

Conditions

All team members of L'Avenir d'Auroville / TDC will comply with the policies and laws regulating commercial activities in Auroville and India and are accountable for this.

All team members of L'Avenir d'Auroville / TDC who own land in the master plan area will start immediately procedures to transfer this land to the Auroville Foundation.

All coordinator members in a decision making position will agree to not accept executive positions in a Pvt. Ltd. Company in India or abroad or resign immediately if they hold such a position at present.

The RAS and all team members of L'Avenir d'Auroville / TDC will collaborate to design and implement processes that enable a sustained exchange between the RA and L'Avenir d'Auroville / TDC with the goal to work out a unifying approach for the planning, development and building of the city the earth needs.