Last updated: 22 Sep, 2021
Integrated Animal Care Centre - IACC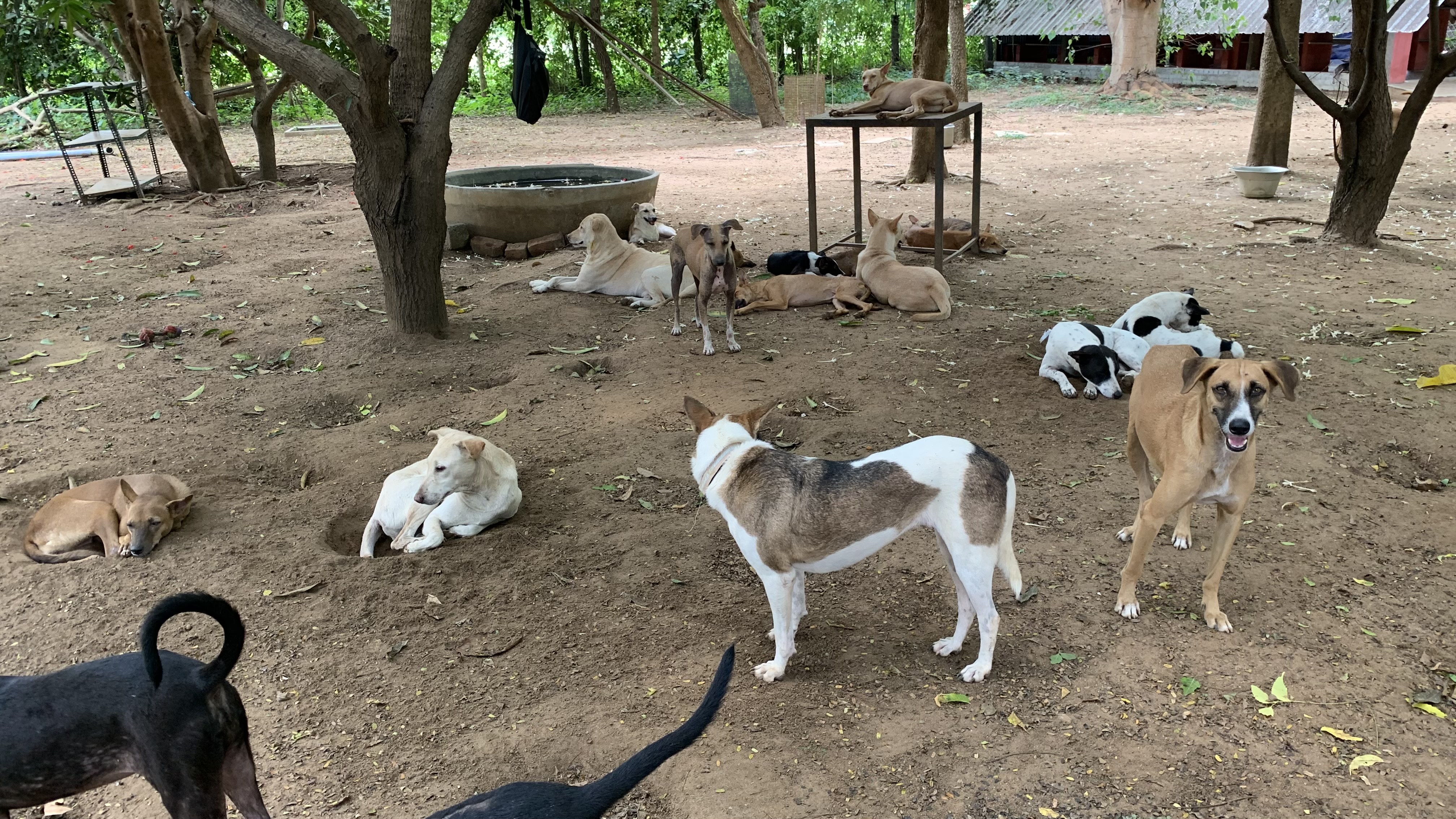 'Life is life - whether in a cat, or dog or man. There is no difference there between a cat or a man. The idea of difference is a human conception for man's own advantage.'
The IACC Dog Shelter strives to give dignity back to the abandoned and the voiceless needy. Because we believe we are all a part of the same soul.
Integrated Animal Care Centre - IACC - is Auroville's dog shelter, located in a 2 acre compound of tree-covered land in Auroville's Green Belt. It has nearly 150 resident dogs of all ages, colours, shapes and sizes; and each one has a name and a unique personality. All these animals are sterilised, vaccinated and dewormed and they are cared for on a daily basis by a dedicated team of amazing workers and volunteers. Most of our dogs are socialised and run free in big, happy packs.
IACC is a no-kill shelter and we do not euthanise an animal unless it is very sick or suffering from old age.
IACC Shelter is not a place to dump pups and dogs when homeowners don't sterilise their pets or relocate a community animal. Nor is it a place to abandon a pet in an 'ethical and moral' way to gain karma points. Emotional intelligence is nondiscriminatory and abandoned animals feel unwanted and pained as would a human child that has been set on the streets.
SHELTER / STERILIZATION / VACCINATION
Since its inception in 2005, IACC has looked after countless stray, unwanted and abandoned animals in and around Auroville. The work comprises shelter, community and street animals. It has organized (and in many cases, paid for) sterilizations of both male and female dogs from the bioregion, vaccinated countless animals against rabies, rehomed by adoption puppies and adult dogs in and around Auroville, surrounding villages and even beyond.
A large number of our resident dogs have come from puppy dumping outside our gate or are accident & rescue cases who have been abandoned by their families. Our resident dogs are of all ages: puppies who have not yet been adopted or dogs that cannot be rehomed (due to being too sick/aggressive/fearful/or simply too old), and will remain at the shelter where they will be cared for and fed for their lifetime.
AWARENESS
The aspect of widespread sensitisation and education of the general public has yet to be tackled as this requires a large number of resources on all levels. We are hoping to generate more resources to approach this task through education in the local schools, organised visits to the shelter, setting up a network of resource persons active in their home and local areas, and other ways of spreading awareness of animal care and public health.
BRINGING the PAST to the PRESENT
Much has happened and changed since the inception days. From grassland and a few keet roof structures, we have now more pucca roofs with strong reinforced walls and sheds. We have multiple sleeping areas with robust fencing. Lush trees and greenery give shade to the area.
After the damage done by heavy rains and cyclones in the past, and the pandemic ( when the work never stopped for even a single day in utmost difficulty), we are now in a position to move ahead with the work.
The shelter work is a very grounding work that connects souls to each other. One listens to one's self and reacts without ego.
'The only work that spiritually purifies us is that which is done without personal motives.'
If you are an animal lover or a tree lover,
If you like to help those who cannot word their feelings,
If you want to participate to bring a change in lives: theirs and yours,
If you want to contribute to a major societal shift towards compassion and courage,
If you want to get overwhelmed with the love and attention of over one hundred souls,
please visit the Integrated Animal Care Centre, IACC, the Dog Shelter of Auroville.
We are open to visitors and helpers ( best by prior appointment rather than drop-in.)
For adopting, please contact integratedanimalcare@auroville.org.in
For volunteering opportunities, please contact SAVI
email: study@auroville.org.in
For non-Indian volunteers, please read the SAVI Volunteering page and visa requirements.