Last updated: 16 May, 2016
Dance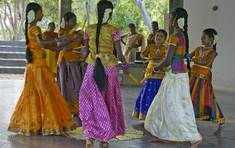 Searching for the new
In the seventies, Rolf Gelewski from Brazil came to give classes in the Auroville community called Aspiration, on creative dance and improvisation to music. Since then, dance here, even when it has leaned on known forms, has almost always followed an exploratory if not experimental turn. Trying to experience and touch something new or meaningful in oneself and then finding ways and forms of communicating that to others seems to have been the dancer's and choreographer's constant challenge.
How often did we succeed? That was hardly ever the preoccupation. The excitement of searching for the new and facing its challenges, the intensity of the work and the group process, is what makes dance worthwhile, whether in the studio or on stage. One can say that whenever the effort has been sincere from everyone involved, something has been touched and communicated. Through this process, dancers in Auroville are slowly finding their way to a truer or more relevant expression of the Auroville adventure.

Auroville Dance Group
During the last 30 years, several attempts were made to form dance groups. The last one, called the Auroville Dance Group, had for its choreographers Aurovilians Anu and Paulo, and for the first time Auroville's work was taken out to different cities of India in the context of either a dance festival or through separate invitation. These works were 'Cross Roads' and 'Mantra' by Anu, and 'Savitri' by Paulo.
In the early nineties we had the opportunity to work with a visiting
dancer and choreographer from the US called Peter Morin, who had managed to gather almost all the dancers available in Auroville at that time to stage 'Amaravati'. All these works were supported by music created by two Aurovilians, namely Igor and Holger.
Visiting artists
We have also had the opportunity of seeing many known Indian artists perform in Auroville, such as Chandralekha's group from Chennai, Sonal Mansingh, Astad Deboo, Madhavi Mudgal, to name only a few.
Variety of dance classes
Today, even though there are comparatively few performances happening in Auroville, dance classes are going on strong and steady. Currently, there are at least six different classes offered, such as Indian classical dances of Odissi, Bharat Natyam, Butoh, contemporary dance, and various forms of creative and exploratory dance. These classes are given in different settlements, at either the Pitanga Dance Hall, the New Creation Dance Studio, at Cripa, or at the Verite Hall. Although most of these classes are geared towards adults, young people are slowly picking up interest.
https:www.youtube.com/embed/gX-5OsL_6FY?rel=0
Enter the video url
https:www.youtube.com/embed/L4e8O2hjdjE?rel=0
Enter the video url
https:www.youtube.com/embed/O35ejm3wOKQ?rel=0
Enter the video url