Crops Cultivated in Auroville
Rich Diversity and Freedom to Experiment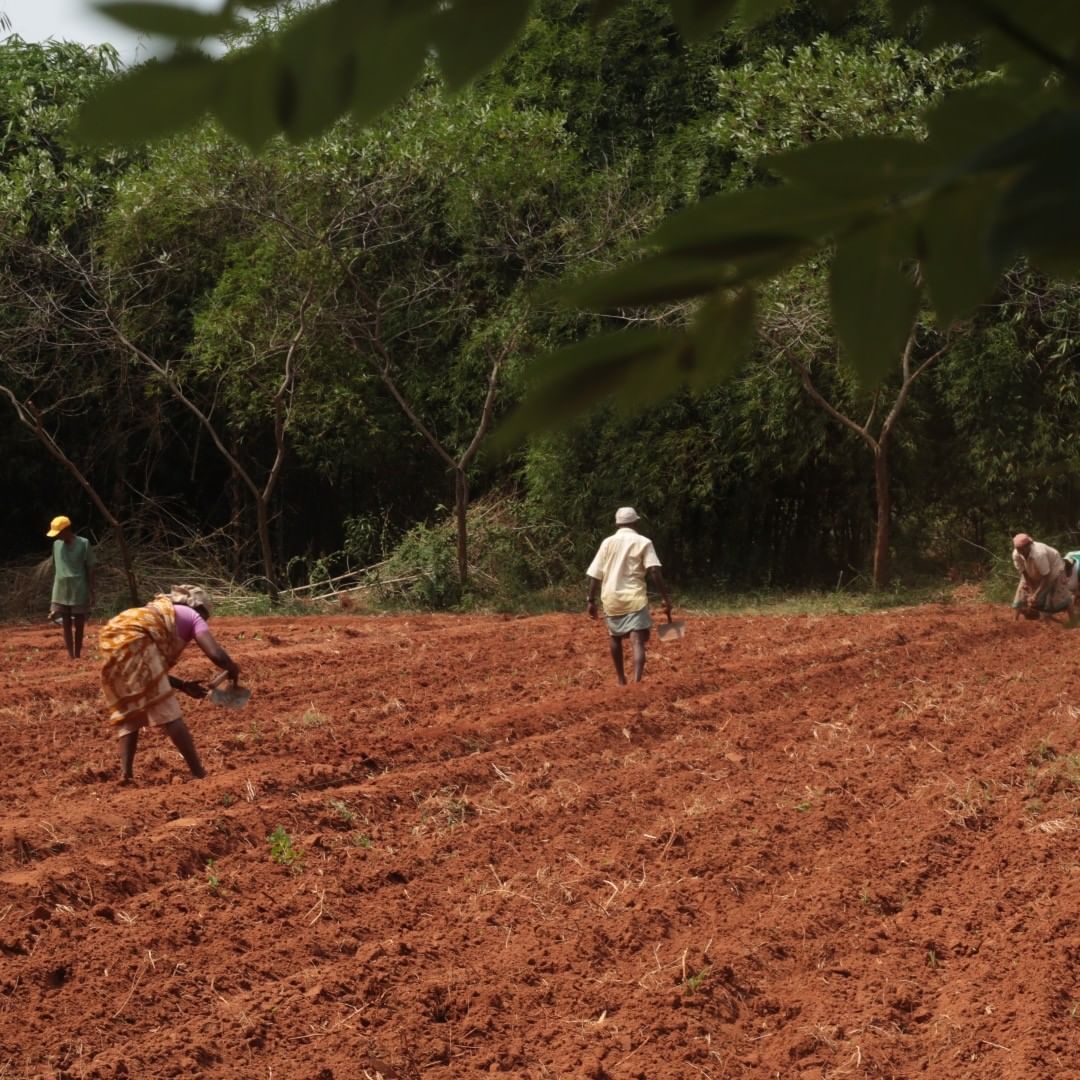 Farming has always remained an important activity in Auroville. Individuals coming from different parts of the world with different philosophies and backgrounds have experimented with the cultivation of food over the past few decades. While some were focused on large scale production, others were inclined to create regenerative and sustainable ecosystems. While a few pioneers experimented mainly with field crops, other farmers produced milk, vegetables, fruits and poultry.
While all farmers were united with a vision to produce organic food for the community in a sustainable way, farmers in Auroville have enjoyed the liberty to practice diverse techniques and philosophies.
Many local farmers within the Auroville community practice traditional mixed crop organic farming. There have been initiatives in permaculture, natural farming and biodynamic farming techniques as well. Farms that focus on field crops employ modern organic farming techniques. In the pursuit of ecological sustainability, many farmers have made progress in renewable energy, innovative water conservation techniques, soil regeneration and abundant crop yields.
Rice
Different varieties of rice are cultivated during the paddy season in Auroville. The crop is rainfed as well as dependent on irrigated water sources. Annapurna Farm, which happens to be the biggest farm in terms of acreage, is a major producer of rice along with Ayyaarpadi, Sidhartha, Kottakarai and Solitude. Auroville residents have the following options to choose from: Raw rice, Parboiled, Complete/Brown rice and Red Rice. 'Chinna ponni', 'Poovan Samba', 'Co43', 'Sona Malli', 'Sona Mahsuri' and a variant of 'Basmati' are some of the varieties that are cultivated by the grain-producing farms. In the year 2020-2021, approximately 8744 kgs of rice were distributed through the main distribution centres of Auroville.
Fruits
Auro-orchard, Brihaspati, Solitude, Kottakarai, Aurogreen, Siddhartha, Pazhamudir Cholai, Terrasoul and Annapurna are the main fruit-producing farms of AV. Fruits are cultivated and harvested through the year depending on their growing seasons.
Below are some of the fruits that are cultivated: papaya (12933 kg), avocado (1085 kg), banana (10356 kg), chikoo (805 kg), coconut, dragonfruit, jackfruit (919 kg) guava (1576kg) grapefruit, mango (4651 kg), citrus fruits, pomello, sweet lime, kumquat, passion fruit, pineapple, star fruit, sitaphal, ramphal, tangerine, watermelon and sweet melon.
Millets, Legumes & Seeds
Few grain-producing farmers also cultivate millets such as Ragi, Varagu, Tennai and Samai. Many of the grain-producing farms also produce leguminous crops such as corn, urad dal (Ulundu), mung beans, karamani, sesame and peanuts (942 kg) among others. Few farms also maintain cashew orchards where cashews are harvested every summer., processed and distributed both within and outside Auroville. Cashews cultivated in the Auroville bio-region are appreciated by many residents for their quality, taste and being pesticide-free.
Ayyarpardy, Siddhartha, Annapurna, Kottakarai and Kalpavruksha are the main farms producing such crops.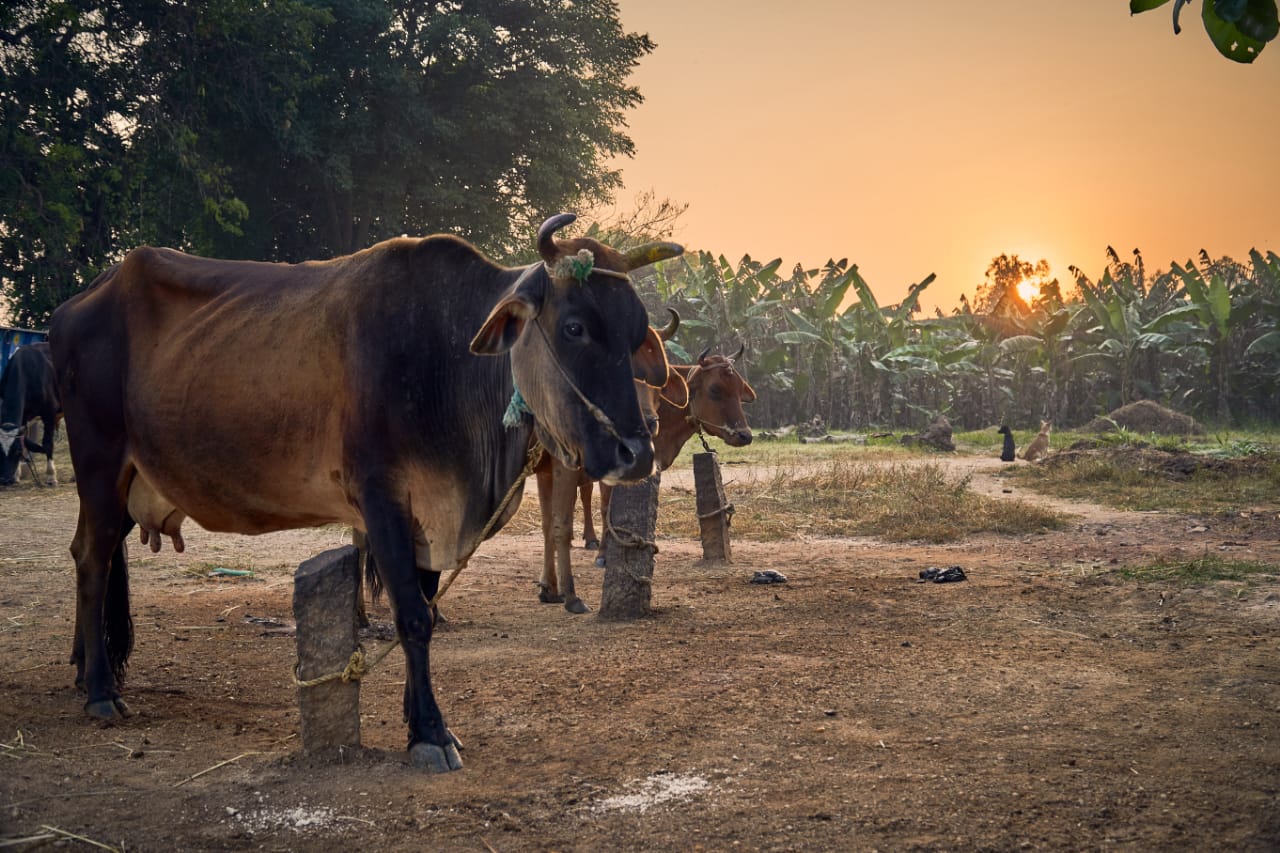 Dairy & Poultry
Most farms in Auroville today have a dairy producing organic cow milk. Milk and processed dairy products such as yoghurt and cheeses are in high demand in Auroville. While most farms have less than half a dozen cows, few farms such as Annapurna, Ayyarpardy and Brihasparti have a large herd of animals and supply a significant portion of Auroville's dairy requirements
A variety of fresh & aged cheeses along with fresh dairy products such as yoghurt, paneer and spreads are produced by some dairy farmers in Auroville. The main dairy producers of Auroville are Ayyarpardy, Brihaspati, Annapurna, Kottakarai, Pazhamudir, Manvasam, Boomadevi, Siddhartha, Aurogreen and Windarra.
While most farms have at least a small flock of chickens producing eggs, Auroorchard and Alipsa are the largest producers of eggs for the community. In the year 2020-2021, approximately 185707 eggs were distributed through the main distribution centres of Auroville.
Modalities Practiced
A sustainable use of natural resources and becoming a model for sustainable organic farming is one of the objectives of the Farming sector of Auroville. The primary focus has been on the production of quality healthy organic food for the Auroville community and on generating an awareness in the community on the benefits of the same. Training is also offered on these unique modalities for anyone who is interested.