Buddha Garden
A Space For Sustainable Organic Farming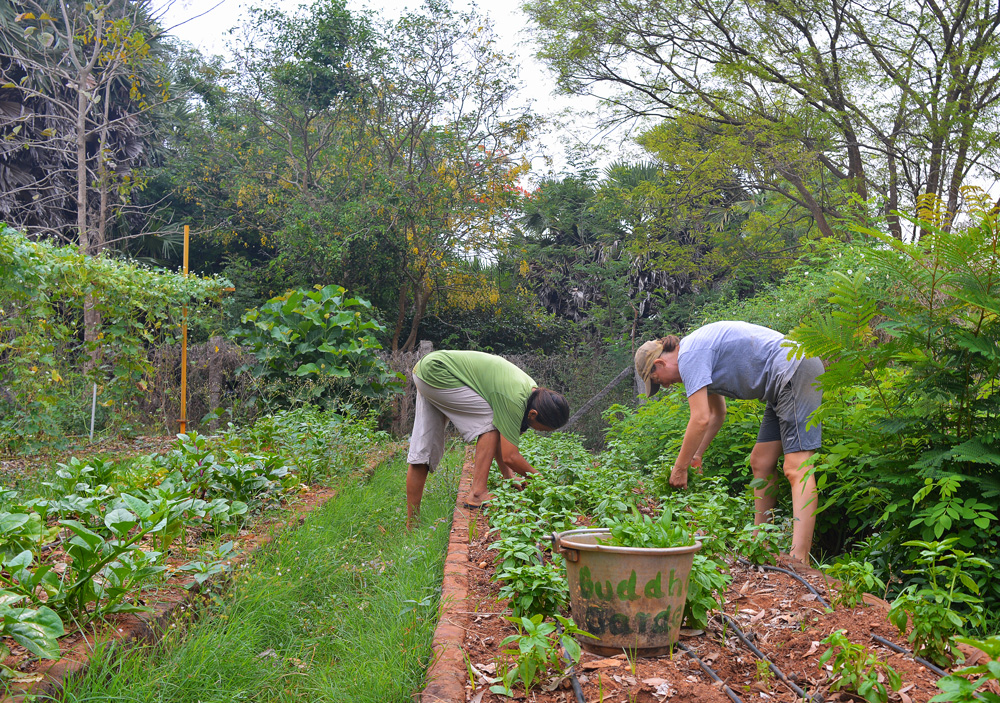 Nestled in the laps of the green belt of Auroville, Buddha Garden stands for demonstrating that a sustainable organic way of farming can be adopted even in the most difficult terrains. It shares the findings of its research and experimentation with volunteers and others through the courses and research projects it hosts regularly. The produce from Buddha Garden finds its way into the delectable dishes whipped up at various eateries in Auroville where organic food is offered.
"Always being in contact with nature. I realised that there's something about working with the soil, and working with nature… I actually feel it keeps me sane and it keeps me very rooted. It just gives me a lot of joy to grow food, and watch it go off into Auroville."
Buddha Garden, spanning 11.5 acres in Auroville, is a place for experimentation in organic farming, farming technology and seed saving. The seekers who stay or volunteer at Buddha Garden are exposed to the principles and techniques of organic farming and what it is to live lightly on the land in a spiritually integrated way. It has blossomed into a place of transformation and experiential education while also producing healthy organic food for the community. The farm engages with others by volunteering programs and other courses wherein they participate actively in the functioning of the farm. Through discussion and reflection during the morning work sessions, a lot is learnt from each other, providing scope for progress too.
Vision and Mission
Buddha Garden is an initiative to produce healthy food for Aurovilians in an environmentally, socially, and economically sustainable manner. It also provides an alive and vibrant learning environment for people to research, experience, share knowledge and be a source of inspiration to others. Buddha Garden aims:
To grow food with love and awareness that nourishes every part of the being for the community of Auroville.
To create a sustainable farm that is financially viable.
To provide a place where others can come to share this process with them and learn what it means to farm organically and to live lightly on the earth.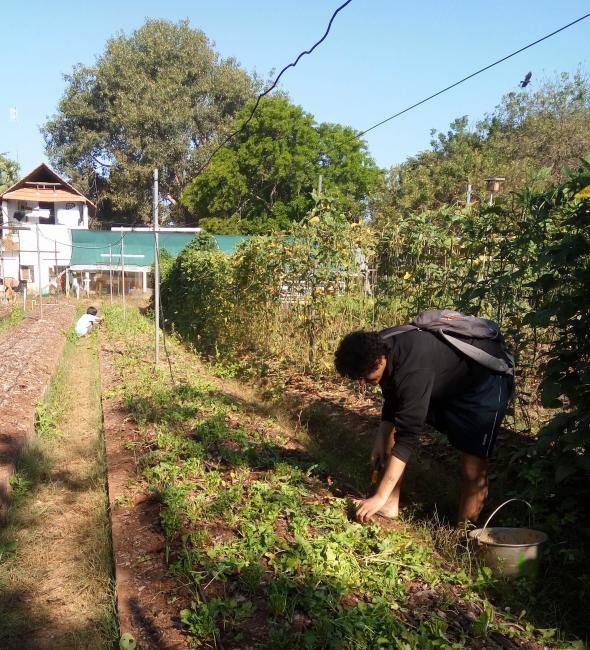 What Does Buddha Garden Offer?
Sustainable farming practices
Research Projects
Courses and Programs on organic farming techniques
Buddha Garden is about the creation of a live model of a sustainable organic farm including the usage of solar energy thus making the farm completely independent of the normal electricity grid. It aspires to create a space of progress towards a sustainable and eco-friendly future.
Some of the activities at Buddha Farm include:
Food Growing: This is the primary activity at the farm and ~ 4.5 acres of land is devoted to growing local seasonal produce, fruit, and cashews.
Volunteer Program: An active participation of volunteers is encouraged through this program where they can stay and work if interested or work on a daily basis. These volunteers learn about the nuances of organic farming experientially through interactions and discussions. A simple but sumptuous breakfast is available for all the volunteers at the farm.
Centre for Sustainable Farming: One of the highlights of Buddha Farm is this educational centre which conducts sustainable farming courses, facilitates research student programs and publication of books and internet material. Active community outreach by hosting activities in local schools have also been initiated. This centre initiated by Priya and Vivek, in collaboration with Heriot Watt University has also been researching smart automated watering systems using Artificial Intelligence, thus providing optimal irrigation, and ensuring optimal production. In addition, this initiative decreased the water usage and labor thereby making the farm more financially and ecologically sustainable especially with the growing concerns of drought and depletion of water from wells. Due to its immense success in improving the farm, it is planned to share this information and help farmers set up similar smart irrigation systems.
In addition to this, a holistic approach on organic farming has been initiated by Priya by working with the 6 elements of food growing: Soil, Water, Plants, Animals, Insects and Microbes. The unit plans to work with these elements in a way that supports the natural processes involved in growing food. People interested in organic farming practices get educated on these at Buddha Garden.
Research Projects: Buddha Garden functions as a Hub for Experimentation on efficient water usage especially using an Artificial Intelligence system to automatically irrigate the farm. Vivek was responsible for this project along with a research University. In addition, the farm has hosted research students from across the world to enable them to carry out their research projects.
To summarise, Buddha Garden offers:
Short courses for local people, organisations, and schools on sustainable organic farming practices
Available for consultancy work
Hosts research projects
Publishing organic farming manuals even in local languages
A farm walk with educational notice boards at strategic points
A farm resource centre for local and Aurovilian farmers
Soon to restart the apprentice training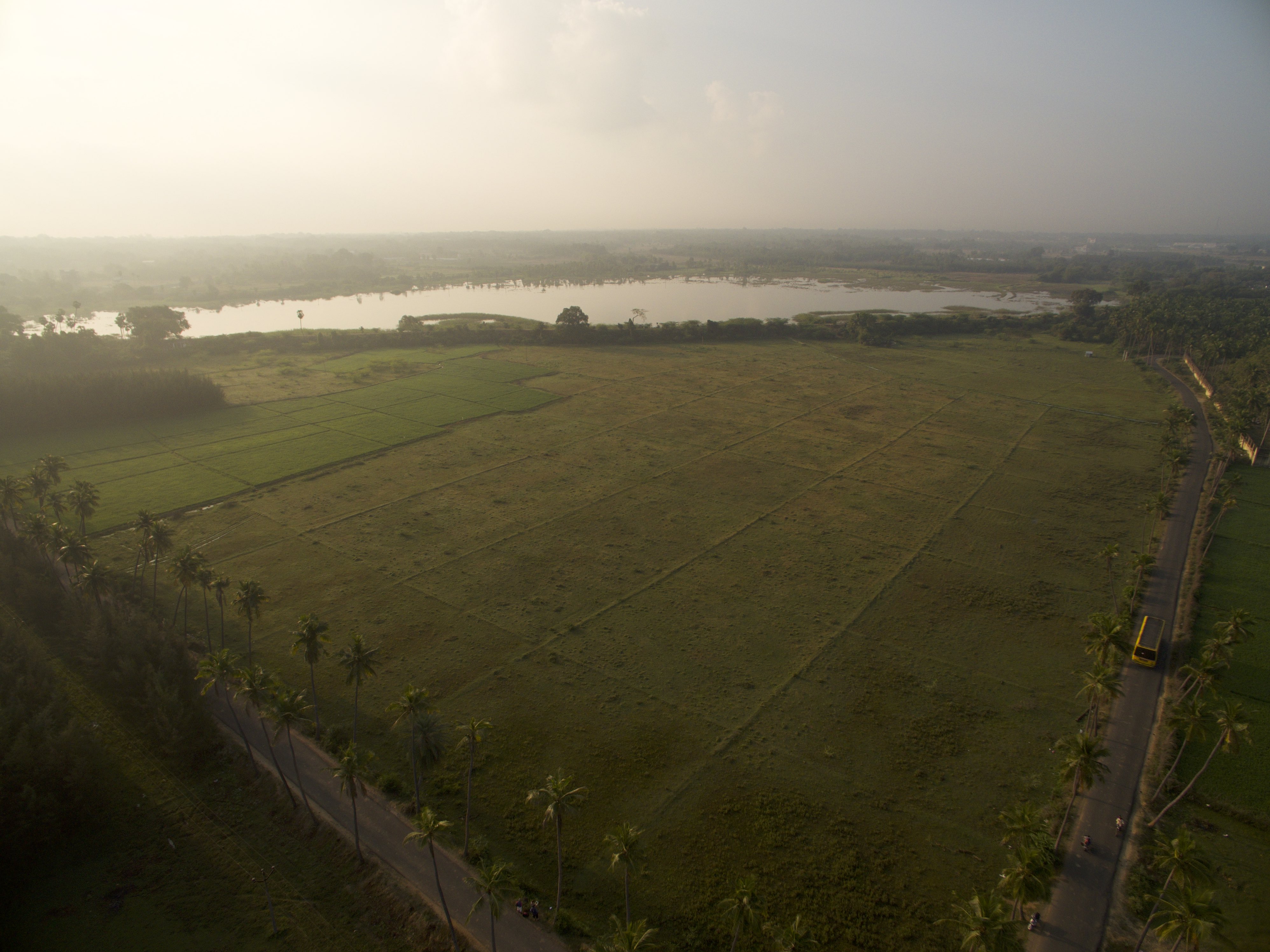 Practices at Buddha Garden
The soil has been organically maintained healthy by using composting, crop rotation and mulching practices. Plants grown in healthy soil have been demonstrated to be more pest and disease resistant. The soil at Buddha Garden was rated by farm assessment research to be one of the best soils on Auroville farms. Composting of leaves sourced from Auroville is done in-house in 4 specially built bins. A right balance of green and brown material with effective microorganisms is maintained to get the right type of compost. Special liquid fertilizers made in the farm are used for the plants and proven to be very beneficial for leafy vegetables.
Efficient watering practices including drip irrigation enable a stringent control over water usage in the farm which is important given that Auroville is in an area of water stress.
Locally adaptable varieties of vegetables are primarily grown in Buddha Garden including the development of a new strain of pumpkins that grow all year around, as well as beans and maize sourced from outside but adapted to local climatic conditions.
An integrated chicken house where the chickens take an active role in getting the land ready for planting, by scratching, de-weeding and providing manure was meticulously designed after a lot of research. There was a good demand for the organic eggs that the chickens provided.
Rice growing which involves a lot of labour was also attempted at Buddha Farms.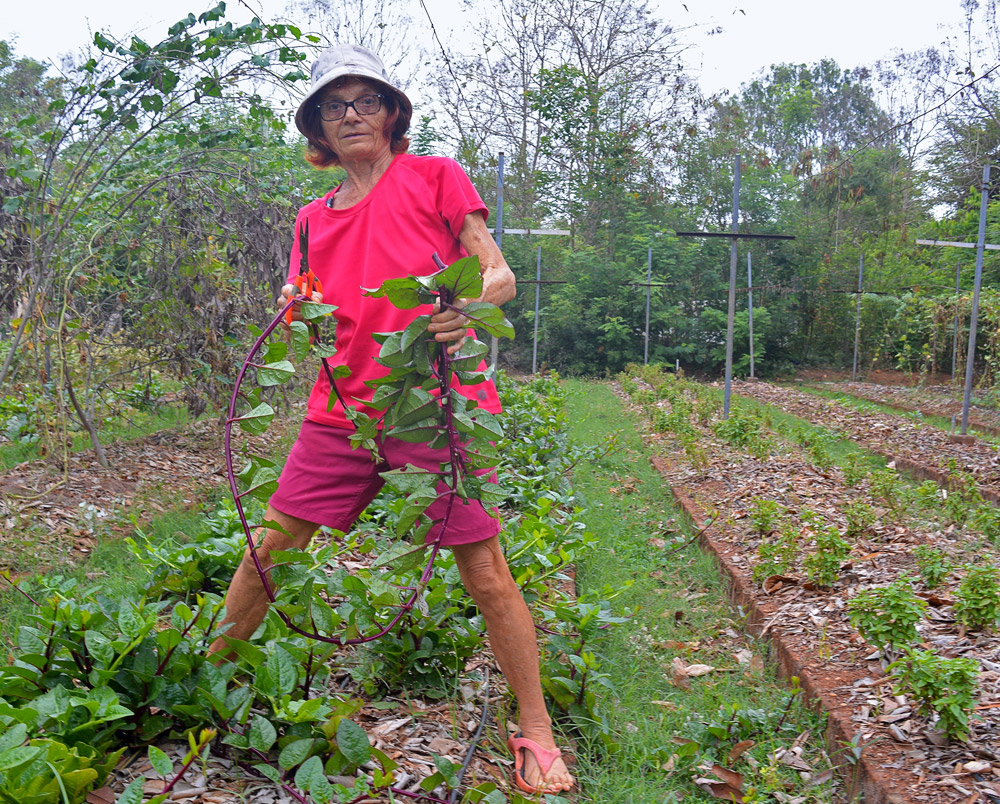 Layout of Buddha Garden
The garden is divided into zones based on the work done in each area.
1. The Vegetable Gardens: Located at the centre of Buddha Garden this is an area where most of the farm activities take place. Well protected from grazing animals, this section grows a lot of vegetables in 4 different gardens:
a. The Souryan (Sun) Garden: The first vegetable garden to be established where it has special raised beds with drip irrigation facility with mulching, permanent climbing frames for climbers. The stewards, volunteers and students carry out the regular work at Souryan Gardens and experiment to improve productivity.
b. The Pryog (Research) Garden: This unit grows a lot of vegetables and has the Pryog Orchard which has a wide variety of local food producing trees with information about them made available through boards. Interactive sessions are hosted for interested people.
c. Le Jardin (Le Jardin: The Garden in French): This section has many movable brick/granite pillar raised beds for growing vegetables. An irrigated orchard has also been set up in this zone.
d. The Seed Garden: Most of the seeds that are used in Buddha Garden are grown here along with a bed of pineapple plants.
2. Vaiyubhoomi, The Land of the Air: This is the section of Buddha Garden where cashews and a variety of other fruit trees and long-term crops are organically grown. The area was salvaged from a grove of eucalyptus trees, after regenerating the land with green manure. Fruit trees interplanted amongst the cashews increase the biodiversity of the region. The cashew harvest happens during the hot months of April and May and the discarded flesh of the fruits are used as manure to provide nutrients to the trees.
3. Jalabhoomi, The Land of Water: This zone has 3 water retention ponds, a stone circle, bonfire area and patches of forest. The water retention ponds spanning 1.5 acres of land was called the 'end field' which used to flood during the monsoons. With the advice of Kireet who had an interest in water conservation, it started as a single pond which soon attracted birds and wildlife during the summers. With the help of extra funds sourced by Kireet, two more ponds were added. A sacred stone circle where meditations and rituals are held, and a bonfire area called the fire circle is also part of this zone. A forest area has been created around the garden to serve as a buffer zone to enable water holding and to prevent soil erosion.
4. Shambala: Created in 2015 by Pierre, this zone has a large nursery and vegetable beds to grow lettuce, roccolla and other crops that he would process as part of his 'Taste of Nature activity'. The nursery helped increase the rate of germination and provided protection to the young delicate and vulnerable seedlings, till they are robust enough to hold out on their own in the vegetable beds.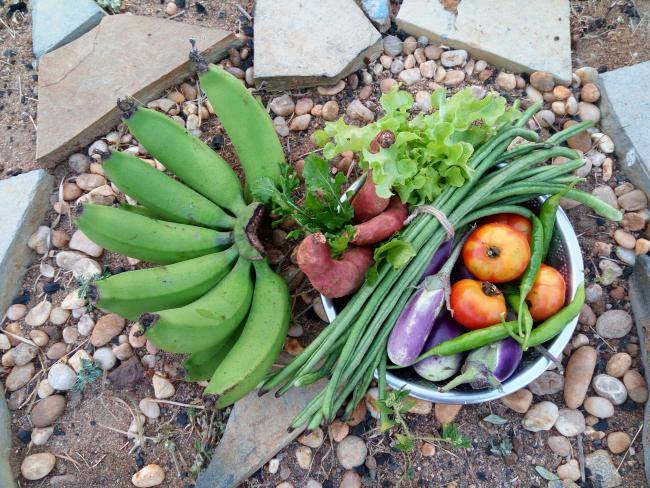 The Roadmap Ahead
Buddha Garden aspires to engage in more cutting-edge applied research and to disseminate the results to help local farmers. They also aim to improve their educational material and engage with people by means of various activities. This would be attempted by continuing the work in the farm to grow more food for the Auroville community. Buddha Garden wants to demonstrate that a sustainable and earth-friendly future is possible.
How can Your Participate?
Buddha Garden invites interested people to stay with them as part of their learning community. The volunteers can stay in the farm for varying durations and participate in all their farm activities as an experiential learning process. Volunteers who do not want to stay on the premises, can also stay elsewhere and come in daily. The farm offers the volunteers an inspirational integrated work and living experience and be part of the learning community to learn more about themselves and about Auroville. Modest accommodation is available for residential volunteers. They can choose from dormitories, cabins and cottages based on their convenience and availability.
Note to Visitors
Visitors can take advantage of the audio guide to learn more about Buddha Gardens and its functioning. The audio device can be picked up from the Farm Office between 10.00 and 11.30 am (Monday to Friday).
There is accommodation available for up to 20 residential volunteers.
Closed to casual visitors on Sundays
Volunteer team works from 6 to 9 am in the morning for anyone interested to participate. Breakfast is provided after this session. Large groups may have to inform the office in advance to organise breakfast for all.
Please refer to our website for further details on what to expect during your stay at Buddha Garden.
History
Priya, the founder of Buddha Garden moved to the New Creation community in Auroville with a passion to do farming and worked there for 5-6 years. She longed to have a farm and started with a plot of land in Siddhartha Forest. She and her friend Derek by hard work transformed the uncultivable land into a beautiful forest. The seed for Buddha Garden happened after a while. In Priya's own words: "I got this place because I used to come over and get milk for tea, and I would come across this plot of land. Even though I had a tiny vegetable garden in Siddhartha Forest, I knew that I couldn't grow enough vegetables there. So, I went to talk to Herbert, who was running Siddhartha Forest, and asked him if I could use this land to make a vegetable garden. I realized that if I was to run a farm, I would have to live there. It didn't work for me to treat it like a job. So, I moved with my two children in March 2000." Buddha Garden was thus born.
The soil, exhausted by the usage of chemical fertilizers and pesticides, could support only sparse vegetation then. A modest living space, a storeroom, cycle shed and raised beds for growing vegetables were built. A drip irrigation system was established with water coming from Siddhartha farm. Though the first crops at Buddha Garden did not thrive well, with the patient effort of the stewards, things improved.
Another Aurovilian, Arjunan joined the team as Buddha Garden faced the issues of poor soil, pests, relationship with local villagers and other financial issues. As the quantum of work grew, volunteers were invited to work and get educated on organic farming. Around February 2001, the farm expanded with the acquisition of new land and the addition of a proper storeroom, kitchen, 2 capsules, and bathroom as the residential volunteer program started. Later that year in Sep/October, an integrated chicken house was established. Cashews, orchards, and forest trees were planted on the land that was poor for horticulture. In January 2002 as more volunteers started coming in, 2 more capsules were built to generate more space.
John, a professional farmer from the UK joined Buddha Garden in March 2002 and his experience helped the farm become more productive by efficient water usage through a complete overhauling of the irrigation system. In early 2004, John briefly took over the farm and improved the production of vegetables and eggs and grew the first field crops of red rice, and millets like varaigu and kambu.
Two batches of apprentices, mainly the local youth, were trained in organic farming, practical and management skills to run a successful farm, from 2004 to 2006. In 2005, Somasundaram and Vivek joined as stewards and Somasundaram remained connected for a long time with the farm even after moving to another Auroville community.
A careful planning of resources including energy and finance was made and plants that required less intensive care like bananas, papayas, cashew trees, casuarina were planted. With the arrival of Pierre to Buddha Garden in 2007, there was a growth in educational activities of the unit including programs for students, courses for girls from the Rajiv Gandhi Home for Disabled Girls in Puducherry.
In May 2009, the Centre for Sustainable farming was inaugurated. This unit serves as a centre for information and research on sustainable/organic farming for not just Aurovilians but also for local farmers/food growers. A weekly workshop "Introduction to Sustainable Farming' was introduced then and is still being continued.
With more funds coming in, the farm was developed in 2010 with more brick raised beds, a proper fencing around the Buddha Garden being constructed and the addition of more forest space.
Jalabhoomi or 'Land of water' was developed, where with the help of Kireet, water catchment ponds were created. In late 2015, Pierre created 'Shambala' an area now with a large nursery, vegetable beds for lettuce, rocolla etc and a processing area as part of his 'Taste of Nature' activity. Pryog orchard with a wide variety of fruit trees with information boards help visitors to learn about local food producing trees.
Early 2016 saw the development of a series of activities called 'Earth to Eating' to educate participants on growing and preparing local food in Auroville.
Buddha Garden remains a vibrant and constantly evolving ecosystem for those associated with it and helps in their spiritual practice through collective work. These experiences are shared with others to encourage them.
As Priya says, "When I came here, I made certain decisions about the farm. First of all, I wanted it to be collective where the focus is about work. Somehow when you work together, it's very powerful for me. In Buddha Garden, anybody can come. You come and see, and it's either something you want to do or you don't. It's up to you." The garden has now expanded to about 4.5 acres dedicated to intensive vegetable growing, 2 acres of indigenous orchards, 1.5 acres for water conservation and 1.5 acres of forest land. Now after 20 years, Buddha Garden has 4 full time stewards of the farm, including Vivek, one of the few people in India with a PhD in organic farming.
https://www.youtube.com/watch?v=7J1mgc9XtIw
Enter the video url
More Information
Call for Action
Further Reading
Media
Audio links