Bharat Nivas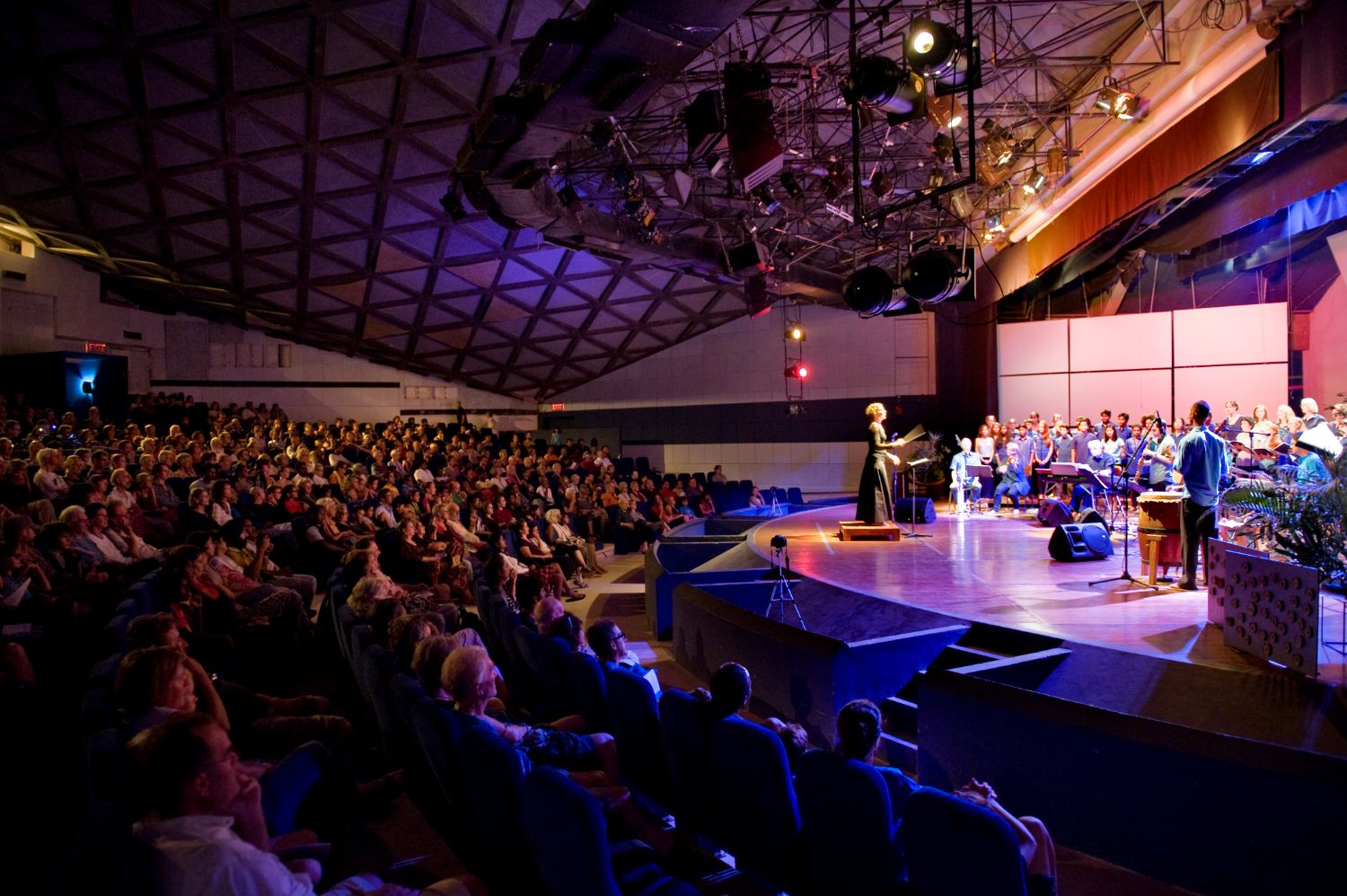 For the last several years, BHARAT NIVAS has been serving the physical and cultural necessities of the community of Auroville as a whole.
Fostering these activities has always been seen by the Bharat Nivas group as its dayitva, our commitment to the ideals of Auroville in the light of Indian ethos and culture. Now that Auroville is growing and as the new infrastructure of buildings is available for more permanent spaces for these services and units, Bharat Nivas has some more breathing space as well, as it readies itself in renewed purpose to play the role of Indian Pavilion as envisioned by the Mother.
Bharat Nivas is committed to playing a role of catalyst in the life of the Auroville community, as part of the International Zone of Auroville, where the local, bioregional, national and the international dimension of its work will find its space.
History and Conception
The Pavilion of India, Bharat Nivas, in Auroville's International Zone, was the second great development that The Mother undertook in July 1971. Earlier in the year, she had set in motion the work on Auroville's soul centre, the Matrimandir.
It was an all-India competition that led to the selected design of India's Pavilion. She had launched a national competition, inviting architects from all corners of India to come up with a design. The final model of Mr. Chakrapani of Chennai, won the first prize and The Mother selected this model. A study of the original layout and design plans demonstrates clearly the physical size as well as the intended scope of Bharat Nivas. It appears as the anchor and hub of the other cultural pavilions yet to come.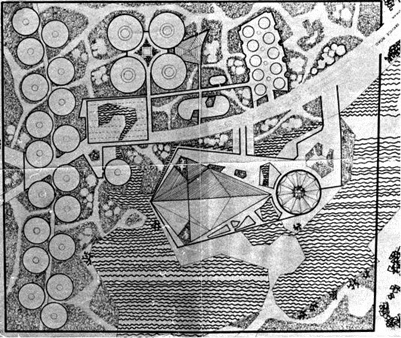 Moving Towards Completion
From Mother's recorded conversations what emerges is the deep significance she attached to the material contribution of India's Government in the building of India's pavilion but also the Government of India's continued participation in its further growth and action. Bharat Nivas was intended to become a model centre where that which is to be learned from India's glorious past would be presented, even as it would offer a living experience of Sri Aurobindo's vision of India's future which has been so comprehensively delineated in his 15th August 1947 public message to the newly independent country.
None of the original buildings could be completed. For many years these large structures lay half built. Yet, in spite of their largely unfinished conditions, for more than 2 decades, these buildings served Auroville's organising bodies as the only available office sites. As each of these groups and institutions vacated Bharat Nivas to shift to their permanent homes, it has become possible to attempt a recreation of a little of The Mother's original intention for India's pavilion. Ever since the passing of the Auroville Act in Parliament, it has been the generous support of the Government of India that has helped to bring Bharat Nivas to its present shape. Today there is a visible acceleration towards completion.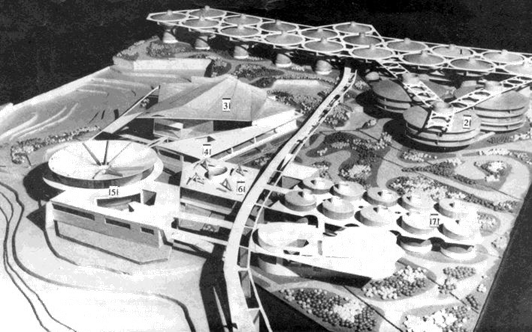 Below are the various units of Bharat Nivas - Pavilion of India. Bharat Nivas has seen momentous changes in recent years. What follows is a brief summary of significant developments.
Sri Aurobindo Auditorium
This is one of the main buildings and activity centres of Bharat Nivas, the Pavilion of India, situated in the International Zone of Auroville.
Like other buildings of Bharat Nivas complex, it strives to reflect Indian culture in the light of Sri Aurobindo's vision.
Although situated in the pavilion of Indian culture, the Sri Aurobindo Auditorium offers a platform to the diverse cultures of people living in Auroville – to share with the community the particularities, richness and possible blending of these cultures.
It is a place which wants to encourage and promote original works based on research to find new contents and means of expression, by artists from within and outside Auroville, in the field of performing arts. It also aims to support creativity that endeavours to reach beyond the ordinary.
Web Page: https://auroville.org/page/sriaurobindo-auditorium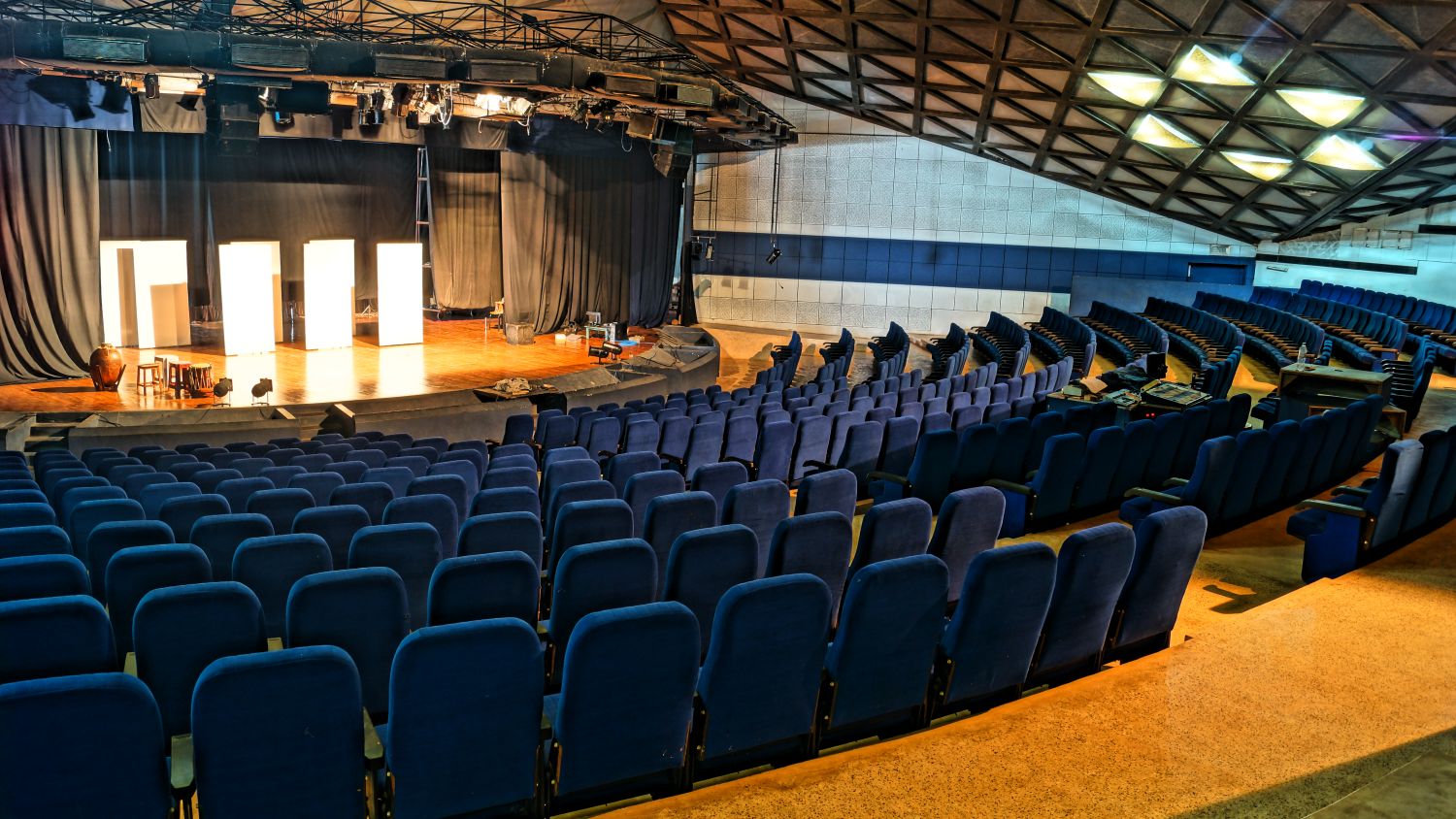 Kala Kendra Gallery: Centre for Visual Arts
This 50-year-old centre consists of five art studios for artists to use during the day.
There is one guest room for artists in residence (Independent, fully equipped and furnished, with kitchen, attached bathroom, and work space) as well as four gallery spaces for exhibitions. It has one office unit and attached storage space for art related materials and an outdoor small cafeteria named Annam Kitchen that offers regular lunch and snack facilities for the use of Bharat Nivas community residents and participants in campus events.
For more information, write to:
bharatnivas-kalakendra@auroville.org.in
Phone: (0413-2622488)
The Sri Aurobindo Centre for Studies… India and the World
The campus of Bharat Nivas envisaged a space for study / research in the works of Sri Aurobindo and The Mother, in its many forms and dimensions.
Old timers will recall how this took the shape of the Centre for Research in Indian Culture (CIC) and Centre of Indian Studies in 1984 in one of the unfinished buildings of the Campus!
Since 2016 this work now has a permanent abode in a new building constructed for this purpose. The new Centre, following up on the work done by Centre for Indian Culture and Centre of Indian Studies since 1984, has opened to further vistas –
It serves as a place of study/research on the works of Sri Aurobindo and The Mother – and hosts work that takes its inspiration from their vision for future innovations. It has two main facilities:
• Bhumika Hall – seats 100 persons, for talks, seminars, meetings, workshops, webinars, presentations, film projections and Hindustani & Carnatic music concerts, etc with a provision for a projector, sound system and power back up.
• Resource Library, especially about India's classical texts, arts, contemporary work, etc. This offers a space for small group 'rencontres'.
Other components of this centre include:
Progress Hall which is used for a number of classes in Indian music, dance and yoga asanas.
Harmony hall is a place for collective gatherings big or small. It is also used for classes in Indian Dance.
Shilpa Kendra is a centre for display of crafts from various states in India.
India Space is a new exhibition-event space for the whole of India, in Bharat Nivas.
Kalakendra Reception Office for Visiting Groups
Students & Guests: Schools of Architecture wishing to visit Bharat Nivas, are requested to write by mail for permission to visit its campus and various buildings.
e-mail: bharatnivas@auroville.org.in
Phone: (0413) 26222488 or (0413)-2623250
Donations are welcome to maintain the 50-year-old campus and its infrastructure.
One of the Bharat Nivas Members will receive the groups and show around. Prior appointment must be taken.
Sri Aurobindo World Centre for Human Unity (SAWCHU)
This space, built during Sri Aurobindo's 125th Birth Anniversary, is dedicated to the Community of Auroville for its meetings, rehearsals, programmes, etc. As the main welcoming space at the entrance of the Bharat Nivas, it has been designed for and will house the future reception of The Pavilion of India.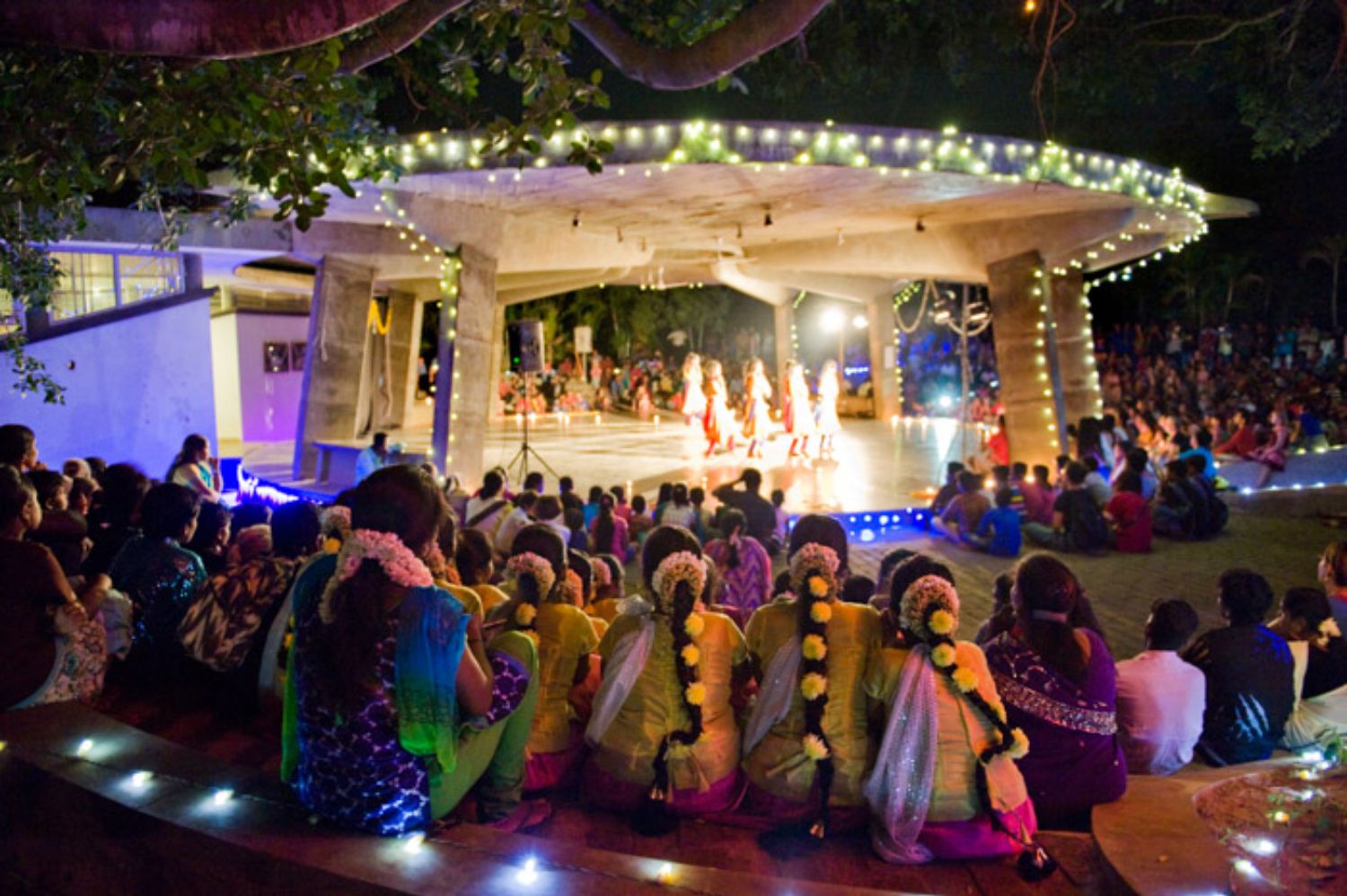 India Space
India Space is a new exhibition-event space for the whole of India. This space has found its footing in the basement of the Auditorium, in Bharat Nivas.
As the International Zone is a place of cultural collaborations, India Space offers this learning platform for a creative research in India's diverse culture, its history, spirituality, philosophy, society, art and architecture and their contemporary directions through exhibition-events, accessible to all.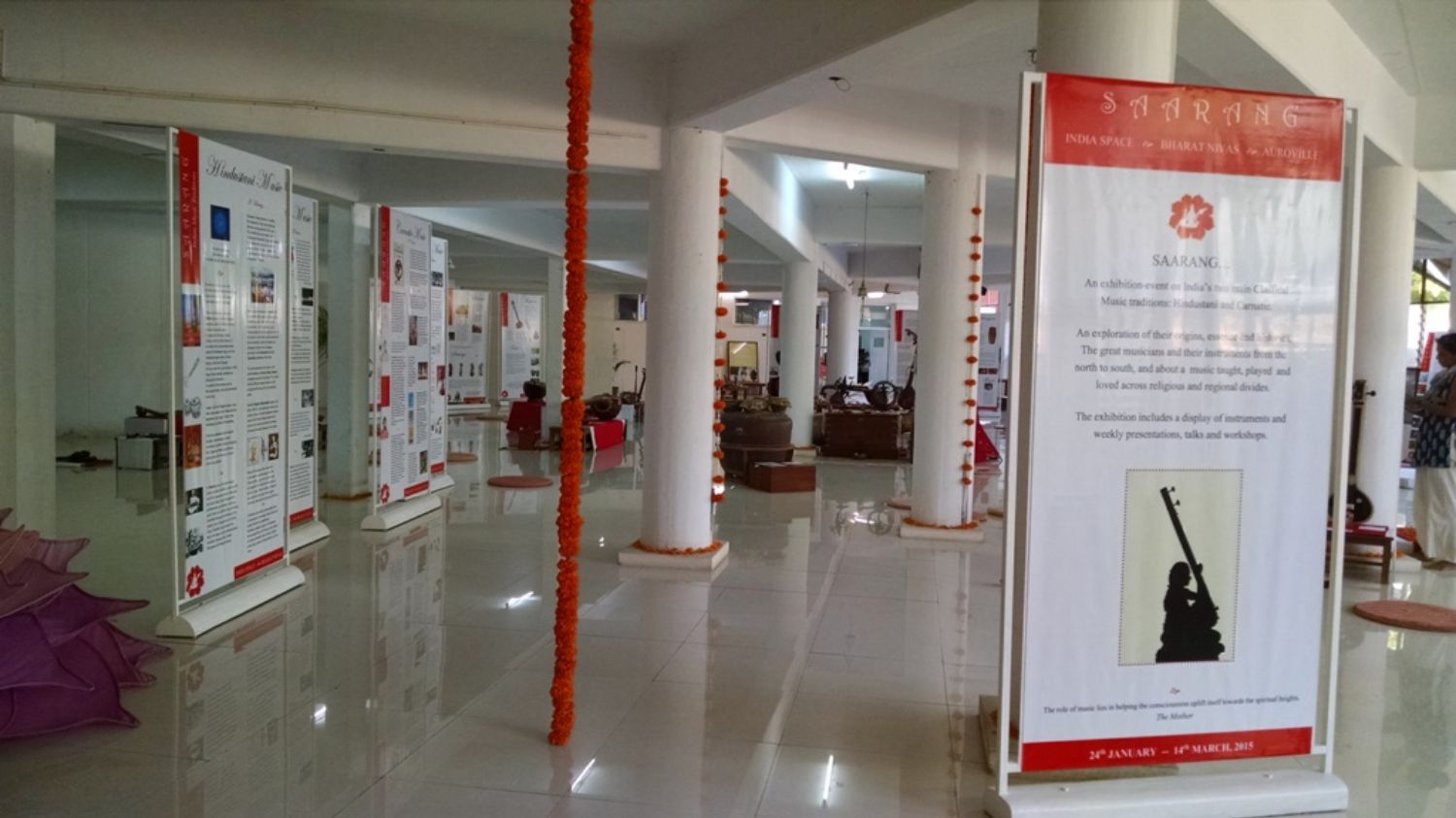 Guest Houses
Atithi Griha is one of the two Auroville Guest Houses located in Bharat Nivas Campus and maintained by Bharat Nivas Trust. It is situated in the centre of Auroville, between the Matrimandir, and the Auroville Visitor Centre.
The aim of the guest house is to provide a memorable Auroville experience to the visitors and guests who come to visit and explore Auroville from India and all over the world. It also houses groups of students, artists and researchers, who visit Auroville.
Sharnam Guest House: This is another facility of the Atithi Griha guest house. This accommodation is specially created to host volunteers and students on a very small contribution.
Swagatham Guest House offers special facilities in the form of suites with air conditioner which includes a sitting room, a large bedroom and an attached washroom. Breakfast is served and other meals are provided on request. Priority of accommodation is given to the guests and members of The Auroville Foundation.
Email: swagatamguesthouse@auroville.org.in
Eateries
Annam kitchen: Daily South Indian lunches are offered at an affordable price. Write to annam@auroville.org.in – For Visiting Guest Groups above 5, three days advance booking is required by e-mail. ph: 8903049770