Last updated: 13 Jul, 2021
Auroville Culture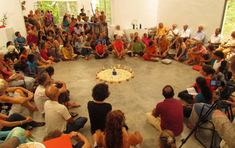 Invocation
Auroville is a culture still to be invented.
At present many cultures intervene in an environment that is rural, set in southern India. English is heard in many accents - French, Italian, German, Tamil, American, Bengali, Russian, Korean, etc; sometimes even British. One can wake up at 6 am to village music and go for a ballet class at 9. Have sambar for lunch and work on the computer till 5 pm. Discover that the motorbike has a puncture and either push it for two kilometers through the forest till the next workshop or find a bullock cart to take it into Pondy. In the evening there could be a talk on Future Poetry or the Vedas. Or one could go to a jazz concert, hear a rock band from Chennai, a Dhrupad recital, Bauls from Bengal, or Bach. There could be an all-night theatre festival in the village, Waiting for Godot at the auditorium, or a dance performance in a temple lit up magically with lamps.
Auroville is a culture still to be invented.
There are bonfires at the amphitheater for New Year, silent gatherings on Auroville's birthday, firecrackers for Deepawali, or cakes during Christmas. People tend to wear shorts and T-shirts for any occasion. Some wear elegant dresses and designer kurtas. Others cool trousers, lungis, or saris with jasmines in their hair. It all depends on how you're going to get home: by bicycle in the dark? by motorbike over the speed-breakers? in a car? or walking if the moon is out?
Life in Auroville, we dream, will one day be completely artistic. Each one will have the capacity to appreciate all the arts and crafts, its architecture and design, and have a spontaneous need and affinity for beauty in all things. The future, we dream, will be a city where we can become conscious. Where new forms, new sounds, new movements, new structures, and new writing will emerge to give life to this consciousness in all its freedom, beauty, joy, and simplicity.
Research is the catchword no artist here can avoid, because Auroville is a culture still to be invented. Glimpses of this being quietly yet dynamically nurtured can be found in occasional compositions of music, an art exhibition or an installation, in experiments in dance or theatre or multimedia, in a poem, or in a new design. Something that makes us dream of a greater space inside ourselves. Something which will be able to draw us from the present richness and variety of the world, towards a manifold richness and a lightness of being that a universal consciousness has still to offer.
French version here.