Auroville Botanical Gardens
A concerted effort towards conservation and preservation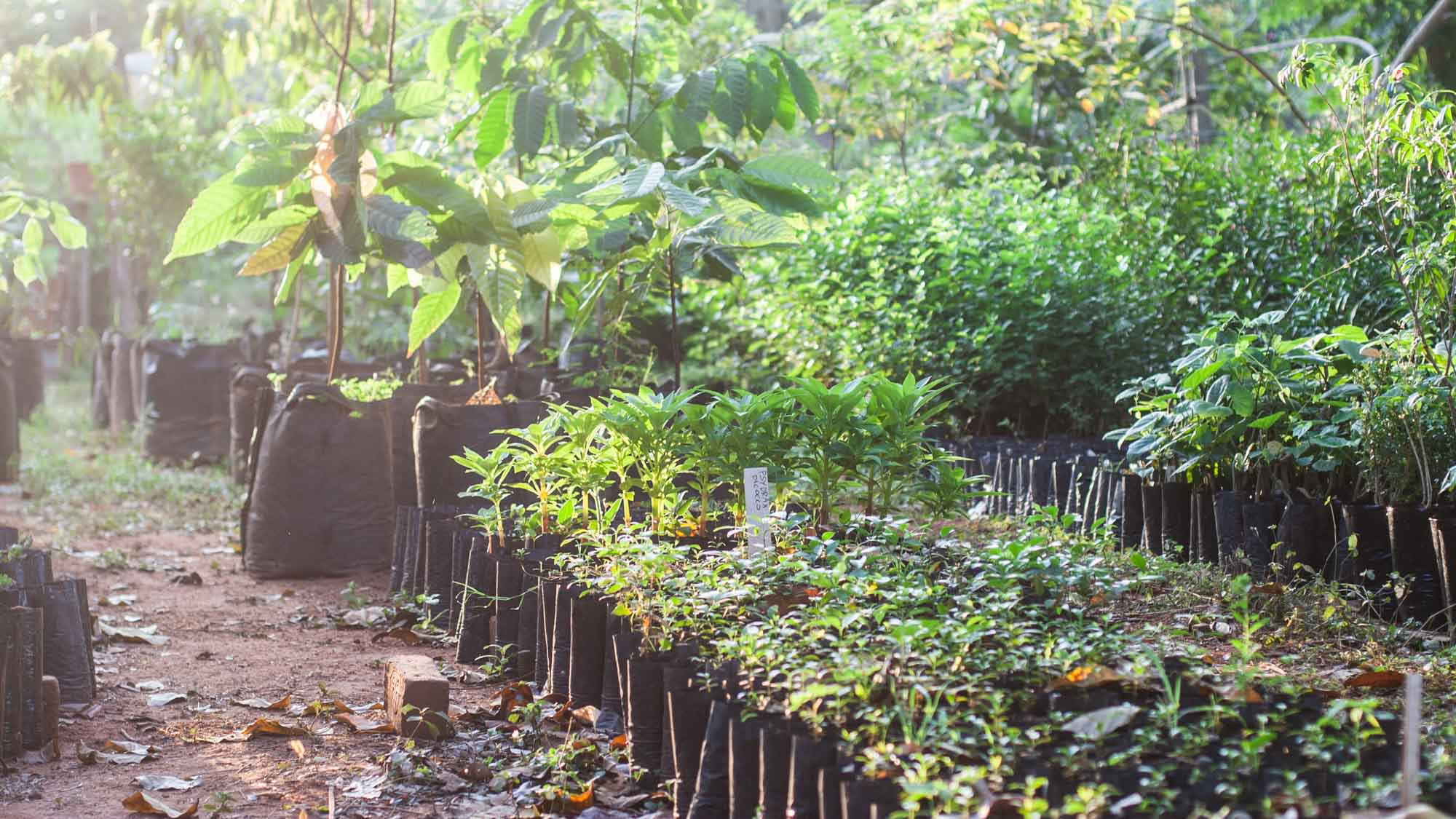 Established in 2000, the Botanical Gardens cover 50 acres and now have a collection of over 1,300 plant species displayed in a number of thematic gardens. We also have a herbarium, a plant nursery with 100,000 seedling capacity, and several facilities where we host workshops and training.
Environmental education programs run at the gardens for local school children and we have had over 50,000 children visiting us. We implement eco-restoration projects around South India, especially in old cement quarries where we restore the landscape using indigenous species.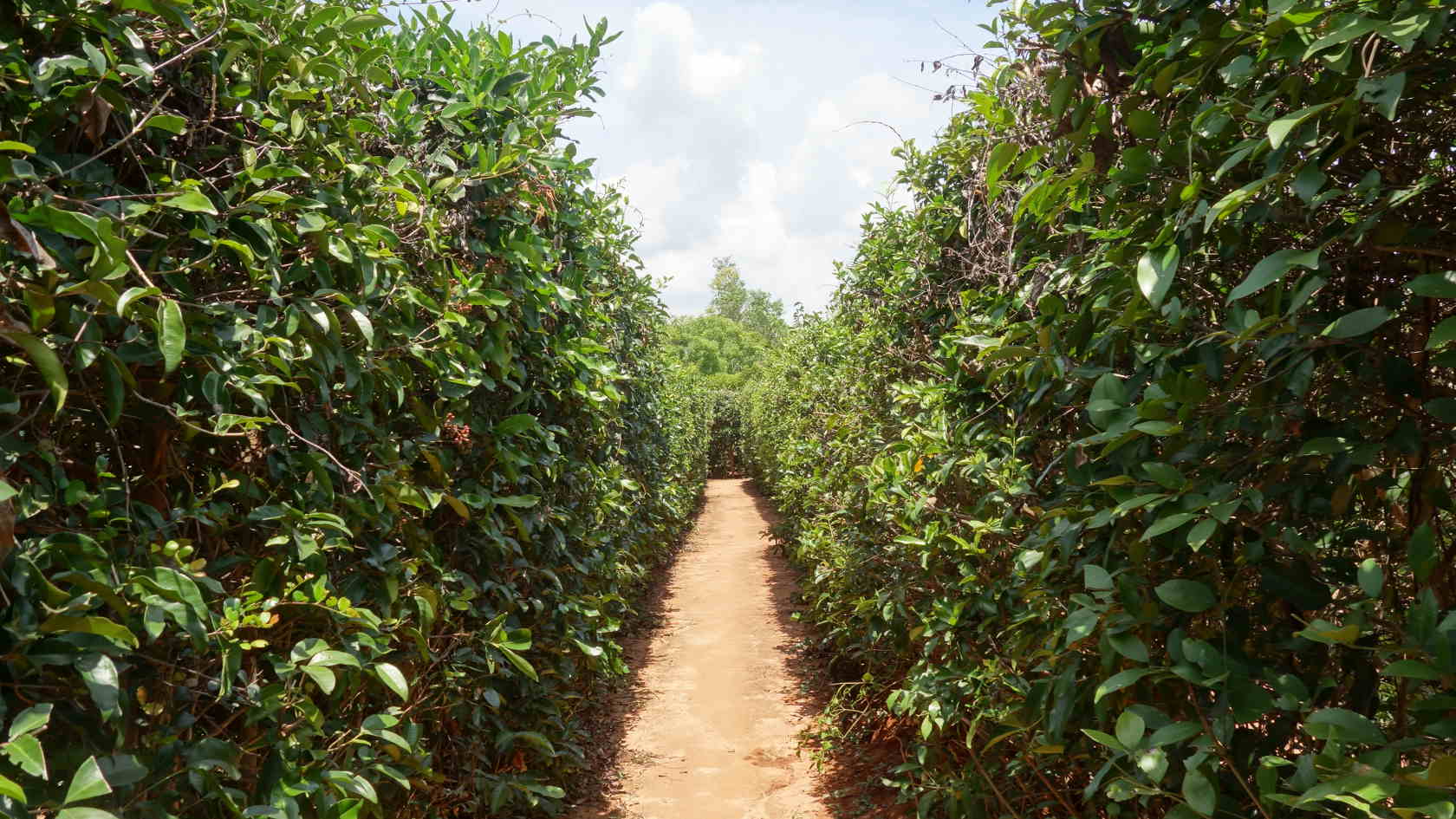 Our Journey
The Auroville Botanical Gardens started in August 2000 on 50 acres of old cashew farmland rescued from the threat of real estate development. The gardens have seen a remarkable growth since then. The site has been transformed into a luxuriant landscape that serves as an area for research into environmentally sustainable approaches to land management, as well as a location for environmental education.
More than 310 tree species have been planted in the 25-acre arboretum, 5,500 specimens have been planted in the 10-acre conservation forest, and a TDEF plant nursery has been created, capable of producing 50,000 seedlings per year to promote the re-introduction of the indigenous flora of the region.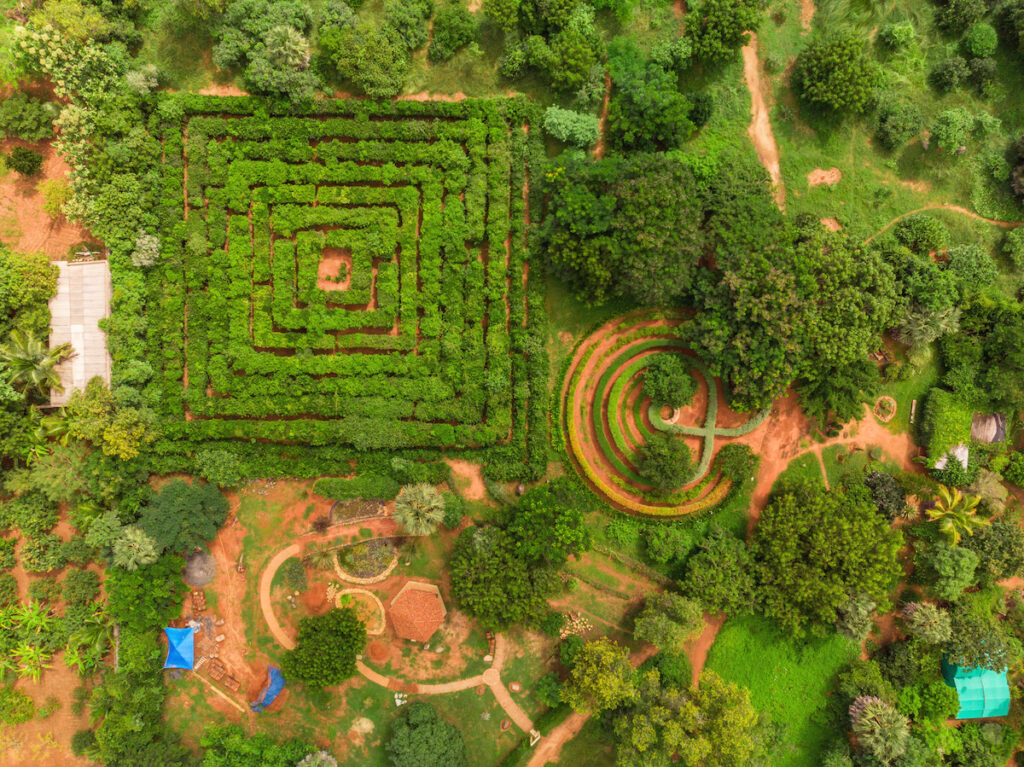 Our Mission: Conservation and Preservation of TDEF
Conservation and preservation of the Tropical Dry Evergreen Forest (TDEF) is the Botanical Gardens' special mission. Since Auroville's inception, teams of green workers involved in the reforestation work of Auroville have been making trips to sacred groves to collect seeds of the native TDEF species. Despite this, a recent survey done by the Botanical Garden has shown that sacred groves are still rapidly shrinking in size. Encroachment is rampant. Fortunately, with Auroville now having all the native TDEF species, seed collection happens within Auroville itself.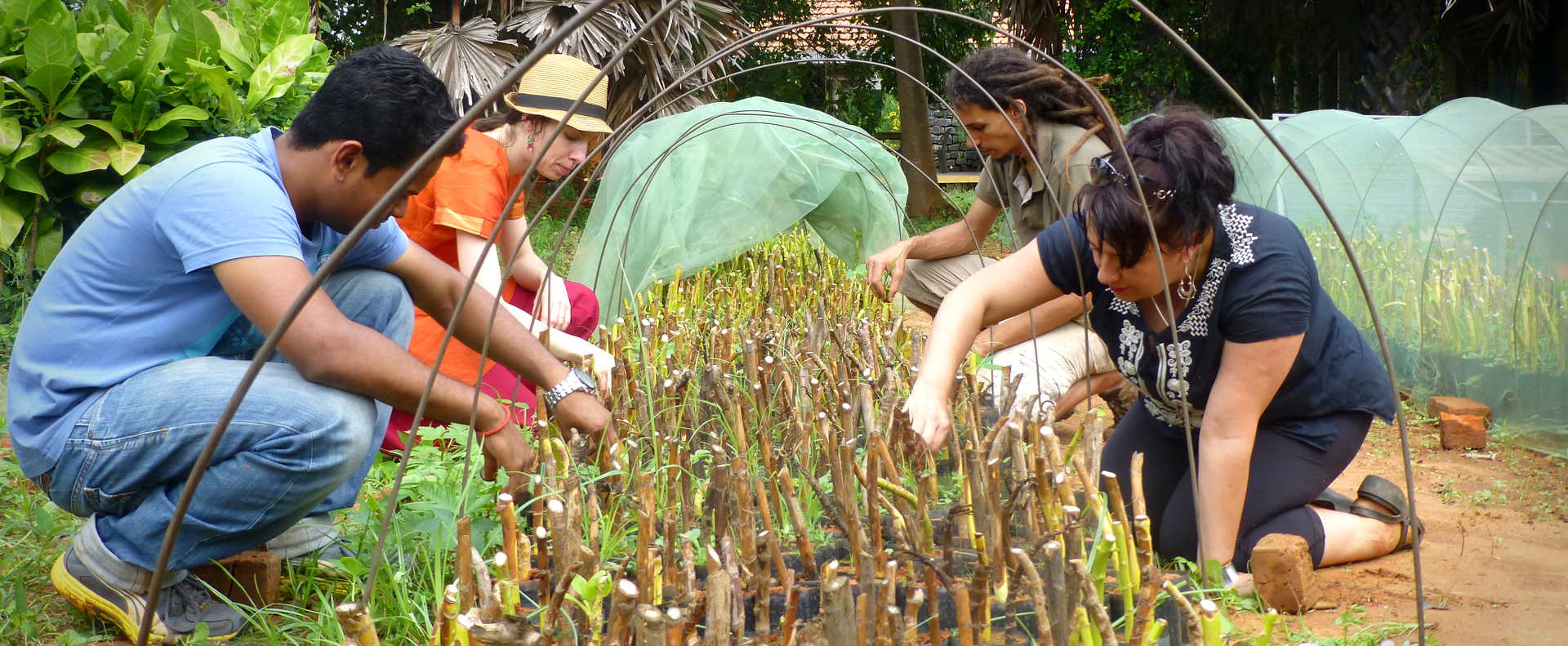 Botanical Services
Botanical Services is the commercial unit of the Auroville Botanical Gardens, dedicated to bringing ecologically sustainable solutions to the commercial, private and government sectors, drawing on the cumulative experiences of the Auroville Township, as well as the past years' experience of creating the Auroville Botanical Gardens, in how to create beauty in an ecologically vulnerable area.
Educational Programmes


The programmes of the Botanical Gardens are designed to awaken local school children's interest in a range of environmental issues, including an introduction to local TDEF flora, through a visit and educational activities at the Botanical Gardens.
The school's visit aims at introducing local students to a range of environmental topics, eventually creating a model visit package for future replication at other centres, with the following goals:
to provide an environmental education programme for local school children in five different age groups.
to create awareness of biodiversity, conservation and local environmental issues among the school children.
to nurture a 'clean and green consciousness' among students through various innovative methods.
to involve Eco Club students in open-orientation programmes in schools and public areas.
to offer to local schools an experience that is innovative, informative and curriculum based, enhancing and complementing the existing educational programmes.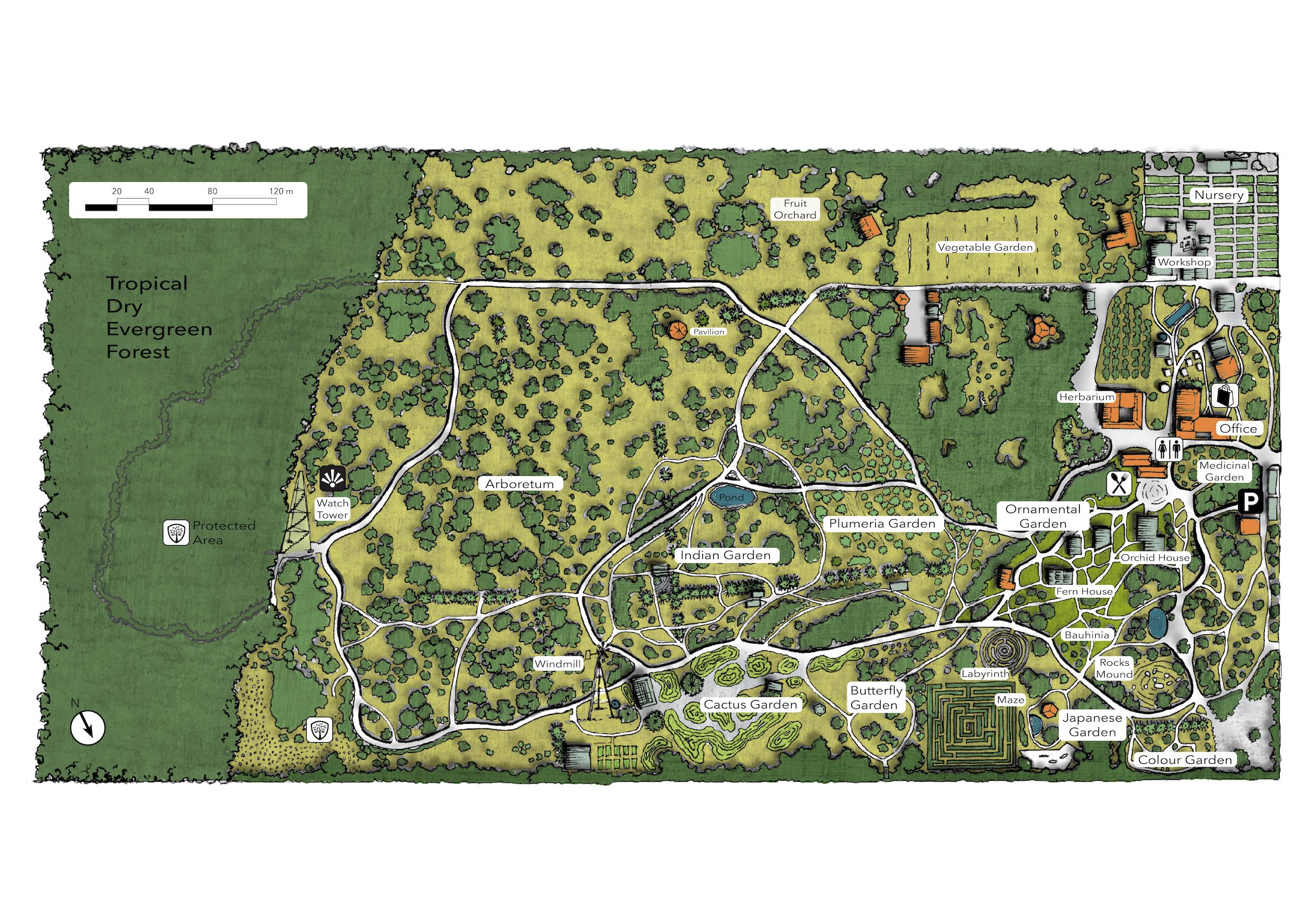 A General Overview of the Gardens


The gardens cover about 50 acres and are divided into six main categories:
Area of infrastructure: covers approximately 5 acres and is situated on the western side. This will include various buildings of which the seed center and the environment education building are completed. In the future other developments are planned such as a laboratory, and accommodations for visiting students and trainee teachers.
Formal gardens: covering about 2 acres these are under development at present. These will be well-landscaped areas with ornamental plant groups and various small specialist gardens (e.g. orchids, ferns, cactuses, medicinal plants and butterflies).
Vegetable seed conservation gardens: These gardens cover over an acre and are dedicated to the conservation of heritage vegetable seeds. The gardens are also a demonstration area of organic practices and drip irrigation techniques.
Arboretum: the largest part of the Botanical Gardens covering 25 acres and containing 300 different species of tree as well as many shrubs from all over the tropical world with similar climatic conditions to ours. The trees are spaced widely to allow each tree to develop to its full potential.
Tropical Dry Evergreen Forest Conservation Area: covers 10 acres on the eastern side, adjoining a larger forest sanctuary area, providing the public with an opportunity to experience the natural vegetation of this region, something that is near to extinction in the wild.
Plant nursery: This covers approximately 1 acre and produces around 50,000 plants per year which are used in the gardens or sold to outside projects which are interested in utilizing drought tolerant species of the TDEF.