Last updated: 14 Jul, 2020
Ursula (Loose Tuschkewitz)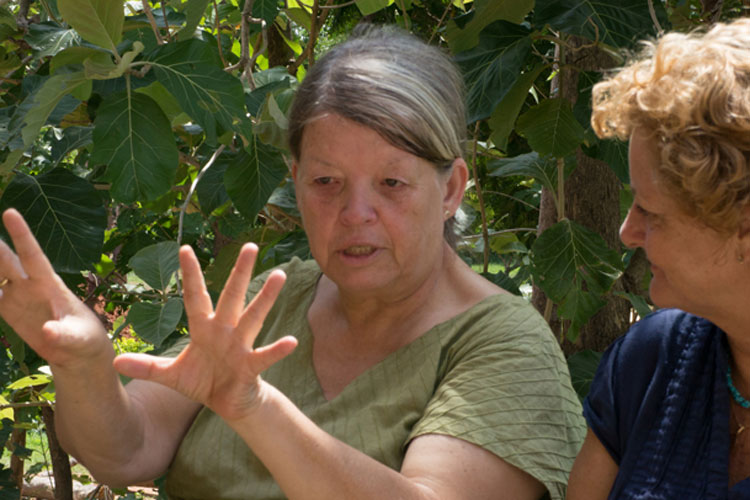 Ursula, Aspiration Program September 2012
In the early morning of 15 July, our Aurovilian sister and friend Ursula (Loose Tuschkewitz) of Gratitude passed away in PIMS at the age of 69. She had suffered from cancer (lymphoma) affecting her spine. After a short stay at PIMS, treatment in Chennai during March of this year could not prevent progression of paralysis of the legs while cancer progressed. She returned to PIMS, where additionally she got several minor strokes.

Ursula joined us from Germany in 2011 and, having worked as an accountant for a large German carmaker, she was readily welcomed to look after financial matters here in Auroville, half time for City Services, half time for Varuna. Though she could be at times somewhat strict, friends and colleagues much appreciated her often quaint German use of the English language, her great sense of humor, friendly goodwill and hard-working stance in life.
Ursula lived in a small, completely open house in the Gratitude community of which she had grown very fond, and where she will be deeply missed. Cats were another love of hers: she was an internationally well-respected juror for pedigree cats and traveled once a year abroad to attend international cat shows in that capacity.

As one of her doctors mentioned, she was a model of a life-oriented and affirming patient throughout the process.

Now she is free. Auroville's love and prayers accompany her to the Light.

Ursula's remains were brought to the Farewell center where friends could bid her goodbye. The cremation took place at Auroville's mandapam in the afternoon of Tuesday 16 July where friends and colleagues honoured her with flowers and incense, and quietly stood by.
* * *
From Holger Vonhof (Ursula's cousin):

Last time I met her was in September 18 when she visited Germany. She wanted to see my father, her uncle, who was very ill at that time. When she left, she gave him the instruction to watch out for his health so that she could meet him again this year. Now they have met earlier than both of them thought. Rest in peace.
Add your recollections
If you would feel like, you can send us your recollections or photographs, so they can be added to the page in order to commemorate years of dedication to Auroville and its ideals.
This page has been published in order to create a space of remembrance for all of those who lived, struggled and enjoyed in Auroville, making a conscious effort to manifest the Dream of Human Unity that is in the process of emerging.

We have started posting obituaries here in May 2019 only and have now added names of our comrades who departed before that time this year. Hence the seeming disarray.
Honouring Participation: