Last updated: 25 Oct, 2016
"The Unicorn Collective creates experiences as magical and ephemeral as a unicorn sighting at an unexpected moment."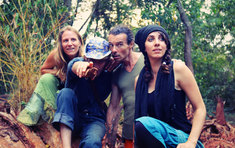 The Unicorn Collective is based in Auroville, south India. We are an interdisciplinary collective, striving towards collab
orative work of high artistic excellence that ignites the imagination of ourselves and our audience. Transformation of the ordinary to the extraordinary. Our members come from the worlds of physical theatre, music, puppetry, dance, and journalism!
The collective is like an amoeba, expanding and contracting depending on the needs of the project. We have two main tracks of work, one which engages the community to create wonder and magic in our everyday surroundings, while on the other track we dive into deep research of theatrical work. Site-specific and multi-lingual work, particularly that which actively engages audience members, is especially dear to our hearts.