Last updated: 15 Nov, 2022
The Mother's symbol in multiple languages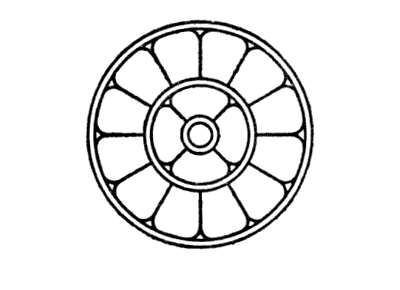 The Mother on Her Symbol
1954, November 10th: During Her Class, Mother answers two questions on Her symbol:
Collected Works of the Mother, Volume VI, Questions & Answers, p. 395.
Q.: Mother, in your symbol the twelve petals signify the twelve inner planes, don't they?
It signifies anything one wants, you see. Twelve: that's the number of Aditi, of Mahashakti. So it applies to everything; all Her action has twelve Aspects. There are also Her twelve Virtues, Her twelve Powers, Her twelve Aspects, and then Her twelve Planes of manifestation and many other things that are twelve; and the symbol, the number twelve is in itself a symbol. It is the symbol of manifestation, double perfection, in essence and in manifestation, in the creation.
Q.: What are the twelve aspects, Sweet Mother?
Ah, my child, I have described this somewhere, but I don't remember now. For it is always a choice, you see; according to what one wants to say, one can choose these twelve Aspects or twelve others, or give them different names. The same Aspect can be named in different ways. This does not have the fixity of a mental theory. (Silence)
According to the angle from which one sees the creation, one day I may describe twelve Aspects to you; and then another day, because I have shifted my centre of observation, I may describe twelve others, and they will he equally true.
Mother's symbol has been translated into 46 languages, including the four languages of Auroville, i.e. Tamil, French, Sanskrit and English, as well as indigenous languages and those used across the world, including Afrikaans, Amharic, Arabic, Assamese, Bahasa Indonesia, Bulgarian, Chinese, Croatian, Czech, Danish, Dutch, Esperanto, German, Gujarati, Hebrew, Hindi, Hungarian, Italian, Japanese, Kannada, Korean, Lithuanian, Macedonian, Malayalam, Marathi, Nepali, Niugini Pisin, Norwegian, Odia, Persian, Polish, Portuguese, Punjabi, Romanian, Russian, Spanish, Swahili, Swedish, Telugu, Tibetan, Ukrainian, Urdu.
Please see PDF files of the 46 symbols, as well as translations of Mother's symbol and Her Powers (with quotes for each Power) ready for download.
Have it in your language?
If your language is not on the list above, would you like to have it translated into your mother tongue and/or other language(s) of proficiency by volunteering yourself or recommending someone else?
Please write to Anandi Zhang at symbol-in-translation@auroville.org.in.
Mother's symbol exhibition
Exhibition of Mother's symbol in a growing number of languages is ongoing at Indian Space, Sri Aurobindo Auditorium, Bharat Nivas.
Celebrating our Unity in Diversity.
Gratitude to Her Grace and to all who inspire, help and participate.
Mother's symbol and Her Powers (with quotes for each Power) in multiple languages for download:
Mother's symbol in multiple languages for download: