Last updated: 13 May, 2016
Sven Ulsa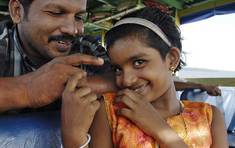 Sven, Scandinavian-Australian nationality, in Auroville since 1988.
Before coming to Auroville Sven worked as a photographer specialising in dance , but presently he is best known for his Joy postcards which are sold all over India. He says:
"In the beginning of my stay here in Auroville, I was working with Auroville's Village Action group in the villages around Auroville and saw these beautiful people. Being a professional photographer by background, of course I started making photos and so the idea of postcards came up. I never think of it as a business, it's just my love for these people.. I take photos all over India and, no, there is no need to speak the language if you want people to open up to you. It is a matter of wanting to communicate, that's always understood; people feel that and respond, certainly here in India."
From time to time Sven travels around India for some weeks, his camera ever at the ready. "If something is moving, is beautiful, I just record it..". He started out with photos of village deities and scenes of India's spiritual life, but people didn't seem interested in those subjects, so he broadened his scope to appeal more directly to the foreign tourists who come to India and are his main market. They prefer scenes of things they have seen, done and liked themselves in the country. Sven has been shooting postcard photos for ten years now and over 100 of his cards are in circulation all throughout India.
How is it to be on the road and work in India?
"Well".., we get here a somewhat weary grin, "It's challenging.., exhausting.. and inspiring..! I never think of going somewhere else. There's something extraordinary here, and at the same time, something extremely tough.. It's like living between the devil and the deep blue sea.."
He smiles...