Sakura Sushi
A cosy and family friendly restaurant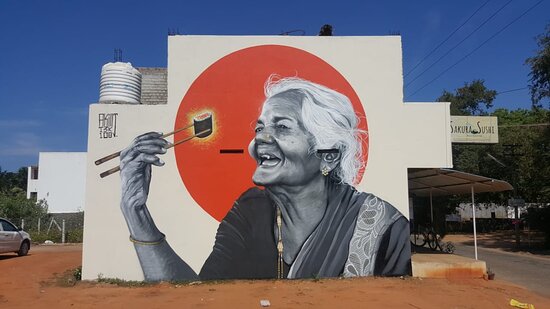 "SAKURA SUSHI" is a cosy and family friendly restaurant. We love sushi and feel that it is a nice enrichment for Auroville.
For all sushi lovers we offer a variety of Japanese sushi, as well as makis, nigiris, and miso soup. Our sushis are not only for non-vegetarians. We have an even bigger variety for vegetarians and vegans.
On the menu and for take away you will find besides the sushis some fermented dishes and some delicacies only to be found at our place: bread spreads, sauerkraut, products with different beans, some East-European snacks, marinated fish, etc.
We would also like to make "Sakura Sushi" a meeting and sharing place, with a small library of good books and wi-fi.
What is sushi:
Sushi is vinegared rice topped with other ingredients, wrapped around nori (seaweed sheets).
Sushi is a light, though still satisfying dish. It is a traditional Japanese dish and it is believed it is one of the reasons why the Japanese are among the healthiest people in the world. Sushi is the very definition of a low-fat meal.
Rice and various toppings are tasty and serve as source of energy that provides a supply of protein.
Seaweed: concentrated mineral contents & rich in iodine, copper, calcium iron and magnesium.
Ginger helps to boost the immune system as an effective antimicrobial and antiviral agent.
Wasabi radish is packed with antioxidants.
Our opening hours:
Closed on Thursdays.
All other days 12 to 3 pm & 6 to 9 pm.
We also offer a home delivery to any Auroville community for dinner.
Where to find us:
On the Auroville Main Road, the one going down to the beach, opposite of New Era Secondary School.
For orders and information call or whatsapp: 94873 86172 and 94880 47368
email: sakurasushi@auroville.org.in
fb: https://www.facebook.com/sushiauroville/
Sakura Sushi is a brand of Auroville Unit "Aurora".
We accept account and aurocard payments.
Download Sushi Menu (pdf - 695.6 KB)