Raman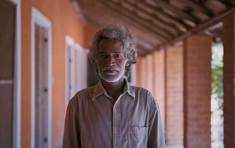 My journey began in the fields of Auroville, then a small village in Tamil Nadu. My father was a farmer and this lead me to work on the farm and learn the skills involved in this field. In my high school years, Auroville began. A small community then, I made frequent visits to the community to interact with foreigners. Subsequently, my father started working in Auroville Amphitheatre construction, which led me to start working there too, doing the odd job here and there.
Journey Through Varied Passions
I was gifted at drawing and sketching from a very young age and continued it as a hobby even later. A friend who enjoyed watching me sketch one day took me to an architecture firm at Aspiration where Roger and his team were working.
This led me to start my first stint into architecture. I worked along Roger and the team for 2-3 years learning the field of design using models and sketches to express one's ideas. The firm was called Auroville Future.
After a few years a lot of large scale projects arrived which the French team could not tackle alone leading to collaborations with planners and architects from Chennai. I involved myself learning and seriously understanding the language of the architects-technical drawings. After a feud between the management and the residents the firm abruptly broke.
With no job prospects, I went back into farming with a friend of mine. A lot of experimentation in farming, leading to an understanding of landscapes.
The Matrimandir picked up pace and construction ensued bringing me back to work at the site for the outer structure in 1980. Work happened for 9 years, I really picked up the skills to execute a building from working at the Matrimandir under Piero and team.
In 1990 Roger came back to Auroville and started working at Bharat Nivas. I joined him, but this time my perspective of the construction business had changed and differed greatly from Roger's style of design. I got into working on using sustainable material and designing structurally low cost but efficient designs to suite the needs of all members of society.
A shift in perspective led to leaving Roger and starting something on my own. Two others joined in Dharmesh Jadeja and Anupama Kundoo. The firm was called Kolam, which was in business from 1991 to 1996. A fine amount of very interesting projects was worked on from residences to offices spaces to commercial units.
As time moved on Kolam slowly came to an end, after 4-5 years of working, life just changed direction. A new passion came in- Photography and Videography.
I worked in a commercial film shot in Tamil Nadu of foreign production. I was assistant art director, the money from this film and a few new skills were put to test for making a film of my own. The stint was successful in its own ways, but the profession didn't bring in enough money and the passion faded.
The next few years leads to the current times. A job at the administrative side for 4 years for the working committee leading to a construction job from the secretariat of Auroville building up to construction in the bio region and other areas of Auroville brings us to current day Raman Construction. From 2014 onwards we have been involved in various designs and construction projects in and around Auroville.
The one thing I did do throughout my days was that I replied to every calling that ever came to me. An opportunity was never missed, A passion never resisted.
Website - https://www.rcauroville.com/