Last updated: 10 May, 2016
Poetry in Auroville: Meenakshi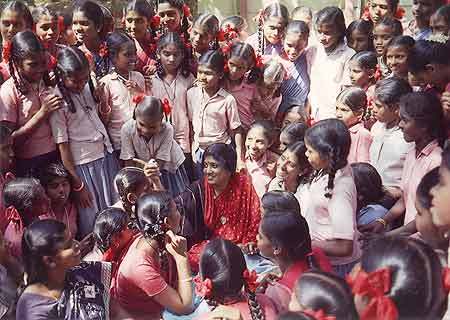 Mrs. Ramachandran, or "Meenakshi' as she is better known in Auroville, hails from Madurai, Tamil Nadu, and joined Auroville in 1976. She is a professional social worker, experienced university-level teacher, writer, translator, magazine editor, counsellor and guide. She is also a well known educationalist in Tamil Nadu in the field of innovative methods of teaching, particularly for the non-schoolgoing children and child labourers.
Poetry and Writing
Meenakshi is a well-known modern poetess of India. To her credit she has published four books of anthologies of her poems in Tamil under the titles 'Nerunji', 'Sudupookkal', 'Deepavalipagal' and 'Marupayanam', the last with English translations. Her poems have been included in the multi-lingual National Book of Poems by the Indian Centre for Cultural Relations, Ministry of Human Resource Development, Government of India. Some of her poems have also been prescribed for the university students in Tamil Nadu, and Penguin has included her poems in two of its English books, 'The Women poets of India' and 'The New Writing in India'. 'World Poetry' published by W.W.Norton & Company, New York, as a compilation of 1,600 verses from the past 4,000 years, also includes her poems, as one of the five poets of the 20th century chosen from India.
Meenakshi has received the prestigious Coimbatore Devamagal award for her contribution to Tamil Creative Writing in 1998. She has also been honoured as a leading educationalist and poetess by Soundaraja Endowment at Chennai, and was awarded the Dr.Henrich Award by FAO German Action Group, Germany, for her active contribution in the field of rural youth work in the year 1978.

"Another Journey", 1998 (Tamil and English)
http://www.auroville.org/contents/3726

"Mozhi Valampera"
http://www.auroville.org/contents/3672

Some Poems from "Another Journey"

Lone tree in Last School
In its early morning dreams
the tree is shedding leaves
ripened brown.
In the day
the tree stands still
and silent
in its inward journey.
In the evening,
the tree stands adoring
the flying clouds
and the blossoming birds
with a gracious look.
And during the dark hours
when the whole town sleeps,
the tree is wide awake,
carrying the light,
even in its eyelashes.
This lone tree
is learning all the time.


This, me
I watch red stemmed jasmine,
carrying the honey
within their fingers breath
as they measure the space
to make a new home.
Golden green beetles
pass under rain
dripping from leaves
as if trying to wash away
the black dots on their backs.
The schoolgirl in me
springs out,
makes balls of red soil,
playfully throwing them
on the palmyra tree
that has just enjoyed a nice bath.
Rain again.