Last updated: 4 Sep, 2023
Poetry in Auroville: Abha Prakash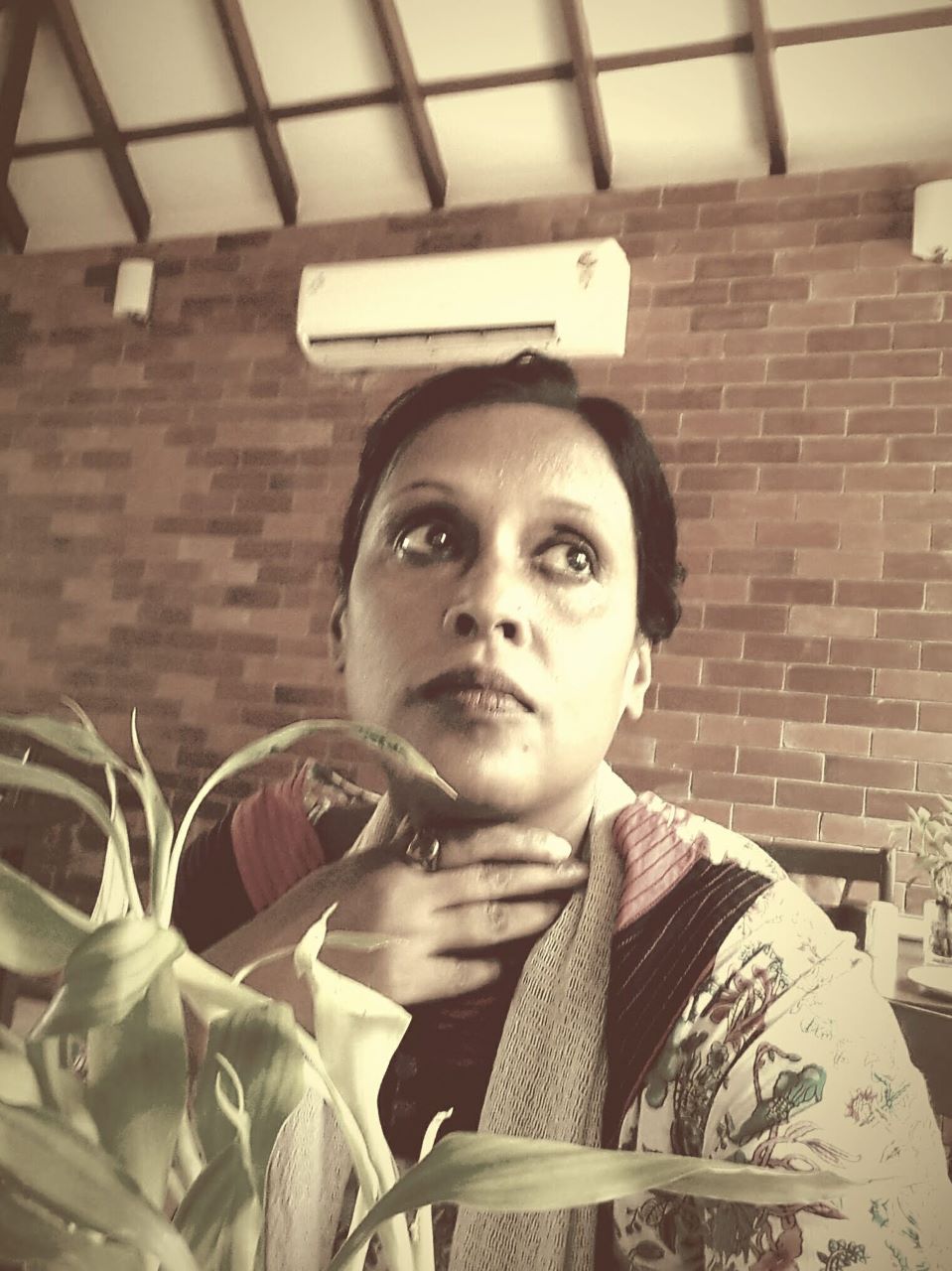 Abha grew up in Delhi and pursued her post-graduate studies in Canada in the 1990s. After teaching English Literature for two years at St. Stephen's College, Delhi University, she joined Auroville in 2002. She is a former IGCSE/GCE/IAL teacher of English at Future School where she taught from 2004 to 2022. Abha views her poetic pieces as extensions of her inner and social self, rooted in her specific space and time. Apart from writing poetry, she also likes to write memoir and flash fiction. She is currently a part-time editor with Auroville web service.
A few of her poems were published in the anthology:
"Devotion: An Anthology of Spiritual Poems", 2007
http://www.auroville.org/contents/3773
Selected Poems


Quiet
Sometimes whole mornings pass by.
Unspoken words flutter between us,
rustle under dry hedges,
fanned by the swaying casurinas.
Conversations, unlived, relived,
carry themselves across imaginary fences,
while our eyes remain shaded
beneath burdens from the past.
They do not remain quiet and heavy for long;
they speak, mainly in whispers,
shift blame, engage with forces --
that once born, never die.
(Published in Devotion anthology, edited by Lloyd Hofman, 2007)
Change lanes
As I speed down the East Coast Road,
my car filled with two weeks' worth of fish and petrol,
Momentary light from the lead laden sky pours over the bay,
Glistening its water, topping the waves with silver caps.
I slow down, change lanes, to be closer to the sea.
Fill my eyes with its vast, sliding beauty that cannot be framed in one glance.
To blink becomes an afterthought, a chore.
Only when the weight of staring becomes an ache, I shift to the view on the right and the traffic ahead.
Up above, the monsoon-filled clouds spread like hillocks,
Dark grey hills
portending afternoon downpours, slushy mud paths,
wet laundry that will not dry
for at least three more days.
For now, I have this blissful view
Steering me along.
(https://waxpoetryart.com/india/published.html)
Auroville child
Birdsounds glide into his mind
And then escape, leaving little notes behind.
He chants an alphabet,
A baby babble, a bird song
That stirs the whiskers of the sleeping cat.
Along the dusty path, he picks up old goat droppings,
black beads too conspicuous to ignore.
Feels their oval plumpness
caress his little fingers.
He smiles. His way of mapping
this world is not mine.
Samadhi (Pondicherry Ashram)
Devotees, scores of them,
circle the flowered mound, smooth the marble
edges of their soul, then settle like silent Buddhas,
along the verandah, under the tree on the rough brick floor.
Glances float up to your window,
Then glide down.
Leaves fall like so many prayers
fretful in the shade.
Men and women in white move,
or stand still like fragile gateposts.
Order beckons here with just a simple look,
a wave of the hand.
A measure of calm comes,
quietly questioning.
Can the flowers bear the touch?
Do your eyes still wander through the green?