Last updated: 15 Apr, 2021
Menaig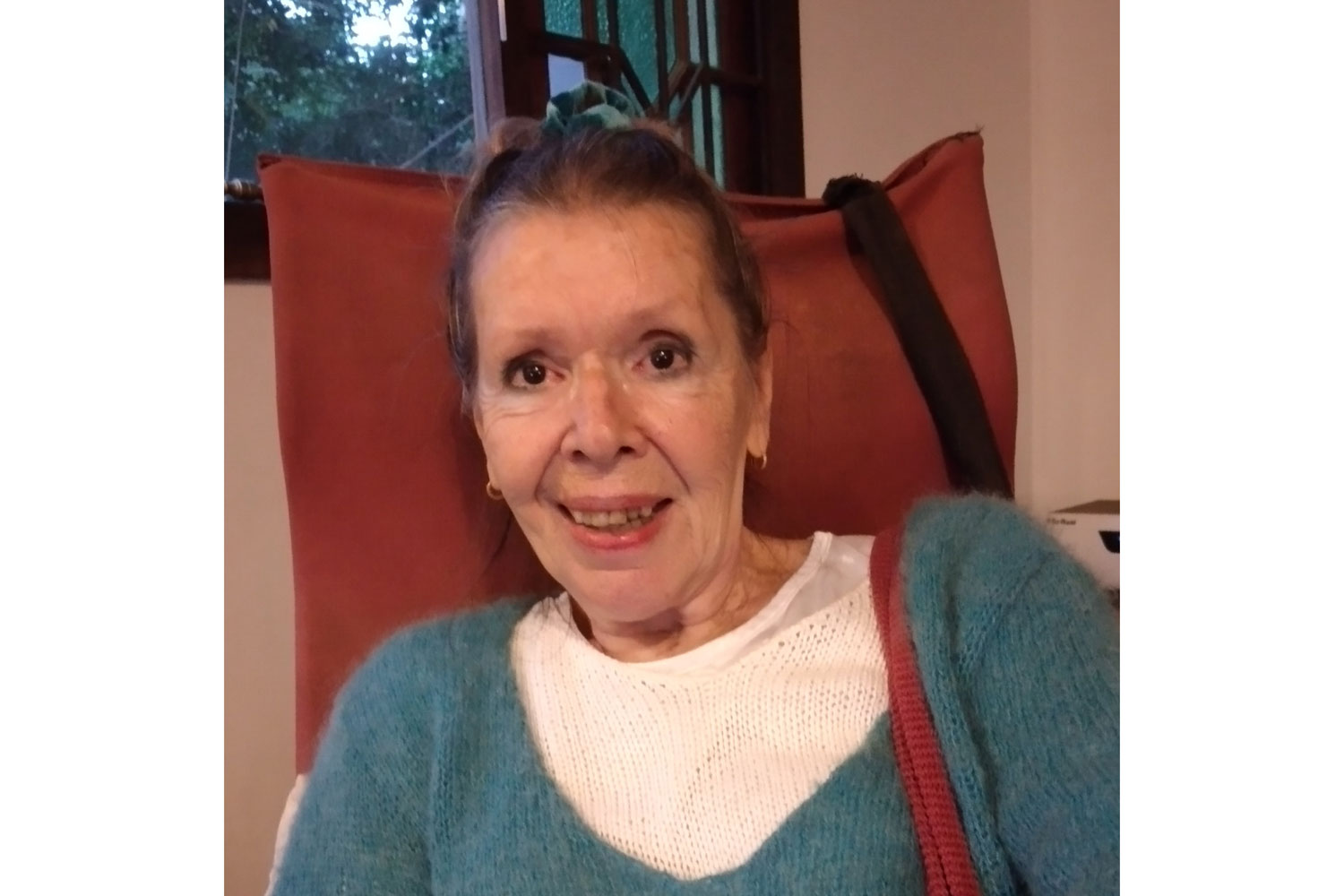 In the late evening of 26 March, long-term Aurovilian Menaig Renouf passed away at PIMS' ICU due to multiple organ failure leading to cardiac shock. She was 73. Menaig suffered from TTP, a rare hereditary auto-immune blood disorder and used to say she "lived on borrowed time" since her mother died of the same at a much earlier age. Throughout her many years in Auroville she would have strokes and hospital treatments because of this but, being a lively, courageous and sprite personality, she always bounced back. This time she knew that she wouldn't since she "was really tired" as mentioned to her friends during her birthday in February this year.
Menaig ‒ a Canadian, born in France ‒ first came with her little son Gandalf to Pondy in 1979 and joined Auroville in 1980. For a short while they moved in with Judith in Kottakarai and pretty soon built a house with Hero where now Celebration is. At the time her artistic qualities started expressing in beautiful batiks on cloth and canvas. In 1984, during an Auroville summer holiday school trip in Yercaud, young Gandalf stumbled during a climb in the mountains, fell from a height and died. Whole Auroville was stunned and mourned with Menaig this terrible, sudden loss.
Not long after that, the couple moved to Centre Field. A new life started and work at Matrimandir intensified. Throughout the eighties she worked on the structure and in the workshop, wherever needed, overseeing the meticulous and delicate work of painting of the twelve columns, the cleaning and placement of marble in the Chamber etc. Her joy, humour, total commitment and passion for the work was a true strength for the team and will never be forgotten.
In the nineties, Menaig started working with Auroform in Pondy, using her skills in providing artistic touches to the company's interior designs through wall paintings, curtains, bed covers, – all pieces of art. At the same time, living alone, she made and gifted paintings to her friends, took full part in community meetings and events, and managed a little guesthouse on the side of her house. In these last years, Menaig's health started slowly, gradually deteriorating, leaving her at times confused and at a loss.
Having arrived with a difficult karma, she lived through it with a free spirit, chutzpah and a colourful outlook, leaving good and loving memories behind.
Go paint the heavens, dear Menaig! And thank you for having been with us…
OM~
* * *
From Savitra:

A humble hug for our sweet sister Menaig... ~Savitra
Add your recollections
If you would feel like, you can send us your recollections or photographs, so they can be added to the page in order to commemorate years of dedication to Auroville and its ideals.
This page has been published in order to create a space of remembrance for all of those who lived, struggled and enjoyed in Auroville, making a conscious effort to manifest the Dream of Human Unity that is in the process of emerging.
Honouring Participation: