Last updated: 31 Aug, 2021
Janet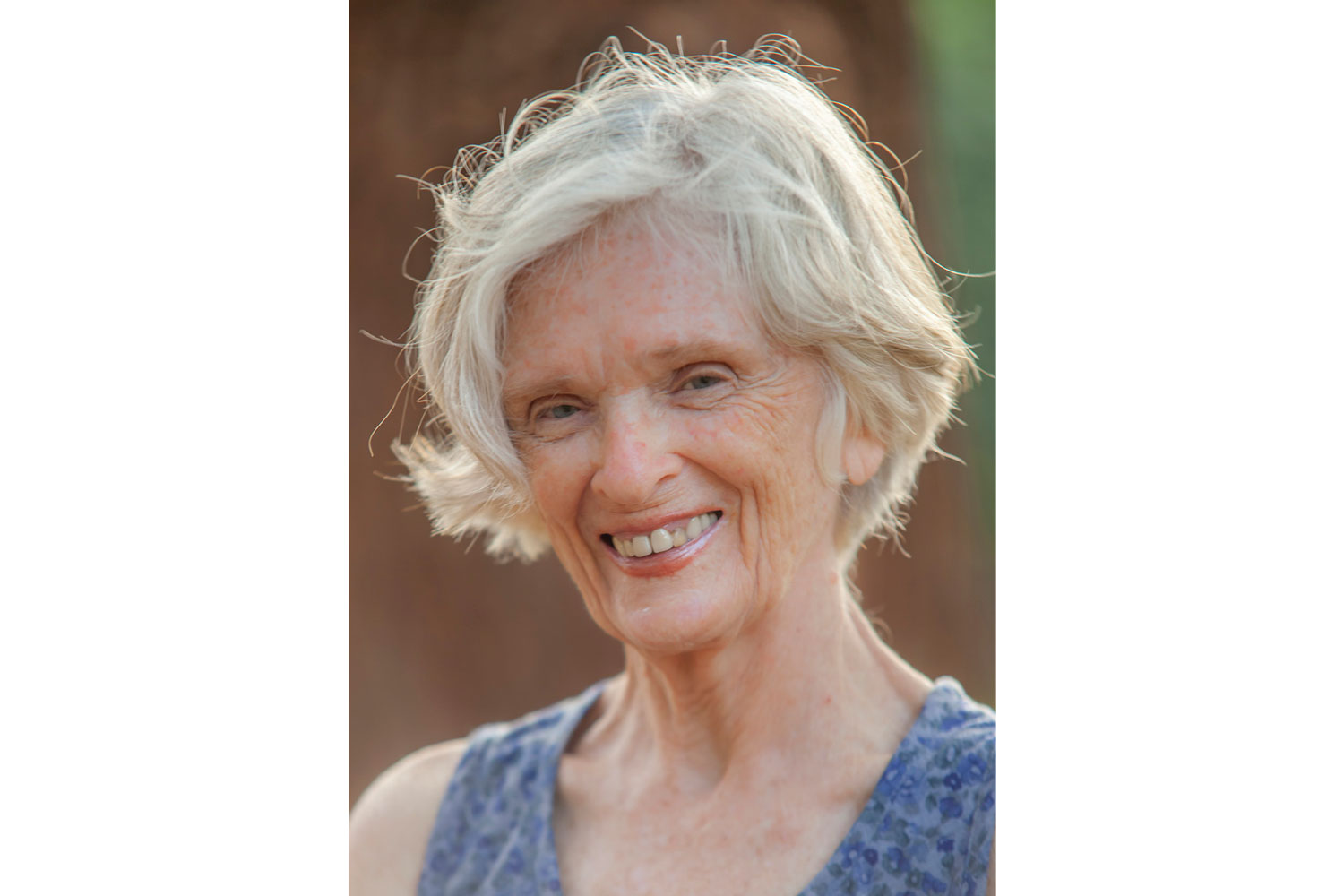 On Sunday 8 August at 7.20am, our dear friend and sister, long-term Canadian Aurovilian Janet Fearn quietly and peacefully slipped away from her body after weeks of gently fading during which loving contact with family members and friends always remained. The transition took place in her own Arati home with L'aura and Raji by her side. Janet had been encountering cancer for 2.5 years; she would have been 80 in September.
In her own words:
"I discovered Auroville in 1968 following a year of traveling, and a few months in the Sri Aurobindo Ashram. After spending a day in Auroville helping a friend build his house, I moved into a hut with 2 other people situated where the Matrimandir Gardens are now. A little later I asked the Mother if I could stay and when she said yes, I built my own hut where the MM Nursery is today. I lived there for 2 years, surviving, planting trees and learning about the villages."
In 1970 Janet went to Canada to raise funds for a well, returned in '72, and moved into the Centre Field house that had come free at the time, enlarging it throughout the years to accommodate her various activities. While naturally also working at Matrimandir, in 1973/74 she cycled every day to Alankuppam and Pettai to show village women how to crochet. Just before Sukrit was born in 1975, she built a workshop next to her house so the women would come there to work. Her Joy Handicraft workshop (named Joy after the name that Mother had given to her original house) eventually focused more on knitting and continued until 1992. It was then turned into a backpacker guesthouse which catered as 'College guesthouse' to students from Living Routes and other international student groups. Janet ran this guesthouse until 2008. Later daughter L'aura would live in the place.
Meanwhile "I became interested in Auroville's organization in the 80's and was on the "executive council". This was before the Auroville Foundation Act was ratified in 1988, so there was no Working Committee. Later the Working Committee replaced the executive council, and many of us felt that something was needed to look after internal affairs that did not concern the Auroville Foundation directly, and the Auroville Council eventually came into being. I was very active in organizational work at that time, and many different things were tried."
Since 2005 Janet was also a very active member of the Aikiyam School Support Group, enabling the school to considerably develop over the years and having great joy in seeing how school, teachers and children thrived in the happy environment. It was only when her health situation demanded it that she left the school.
Throughout the years Janet had become involved arbitration and conflict transformation, and wrote in 2017: "Over the years my understanding of how we need to be organized has changed as I have observed the gap between Working Groups and the rest of the community. This gap does not seem to be related to who is on the groups. A certain mindset seems to takes over when one feels entrusted with a lot of responsibility, which does not encourage the growth of collective intelligence or respect the potential of the community at large. I think we need a systemic change to a kind of organization where the distribution of power is more equal. . . . I believe that if Auroville wants to become more leading edge it must be organized with more shared power and have structures that encourage the growth of collective wisdom. I think Restorative Circles is one way of contributing to this change so it is where I intend to focus my energy for now."
Just these last years during her illness, Janet has been steadily working on her "Memories of Auroville 1968 – 1973", now posted online and hardcopy to be published soon. Her always upbeat and defiant approach toward obstacles in life, refined style and innate anchoredness in the Mother, combined with her close relationship with both L'aura and Sukrit, helped her come through these last years with stubborn courage and grace.
We salute a true pioneer on her way to the Grace. As one Aurovilian wrote: "Your quiet, confident, unflinching and focused contribution to the organisational structures and policies of Auroville will never be forgotten."
Our warmest condolences go out L'aura, Sukrit and Aurosylle, and granddaughter Ishana.
OM~
Add your recollections
If you would feel like, you can send us your recollections or photographs, so they can be added to the page in order to commemorate years of dedication to Auroville and its ideals.
This page has been published in order to create a space of remembrance for all of those who lived, struggled and enjoyed in Auroville, making a conscious effort to manifest the Dream of Human Unity that is in the process of emerging.
Honouring Participation: