Last updated: 26 May, 2020
Introduction to the Integral Yoga of Sri Aurobindo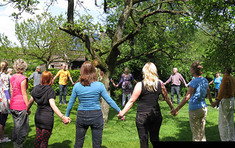 A One-Day Inner-Work-Study
Introduction to Integral Yoga

Overview with multimedia presentation

Discussion: Questions and Answers

Practice in Daily Life

Creative Arts, Interactive Games

Complimentary Concentration Exercises

Introduction to Reference Books

Life of Sri Aurobindo and the Mother
These depth studies are conducted every Tuesday, each week with a different focus. Each subject presents an independent approach to Integral Yoga.
Study, play and creativity go hand-in-hand with various inner exercises.
Led by Ashesh Joshi
Time: 9 am (Please be present by 8.50 am)
at Savitri Bhavan, Auroville
Contact: 0413 2622922
Fees: Voluntary Contribution
All are Welcome
The latest schedule
http://integralyoga-auroville.com/programs/workshops-in-auroville
Attention: all events, therapies and workshops in Auroville are suspended until further notice.
www.youtube.com/embed/AP0e-2htWQg?rel=0
Enter the video url