Last updated: 13 Oct, 2021
Gerard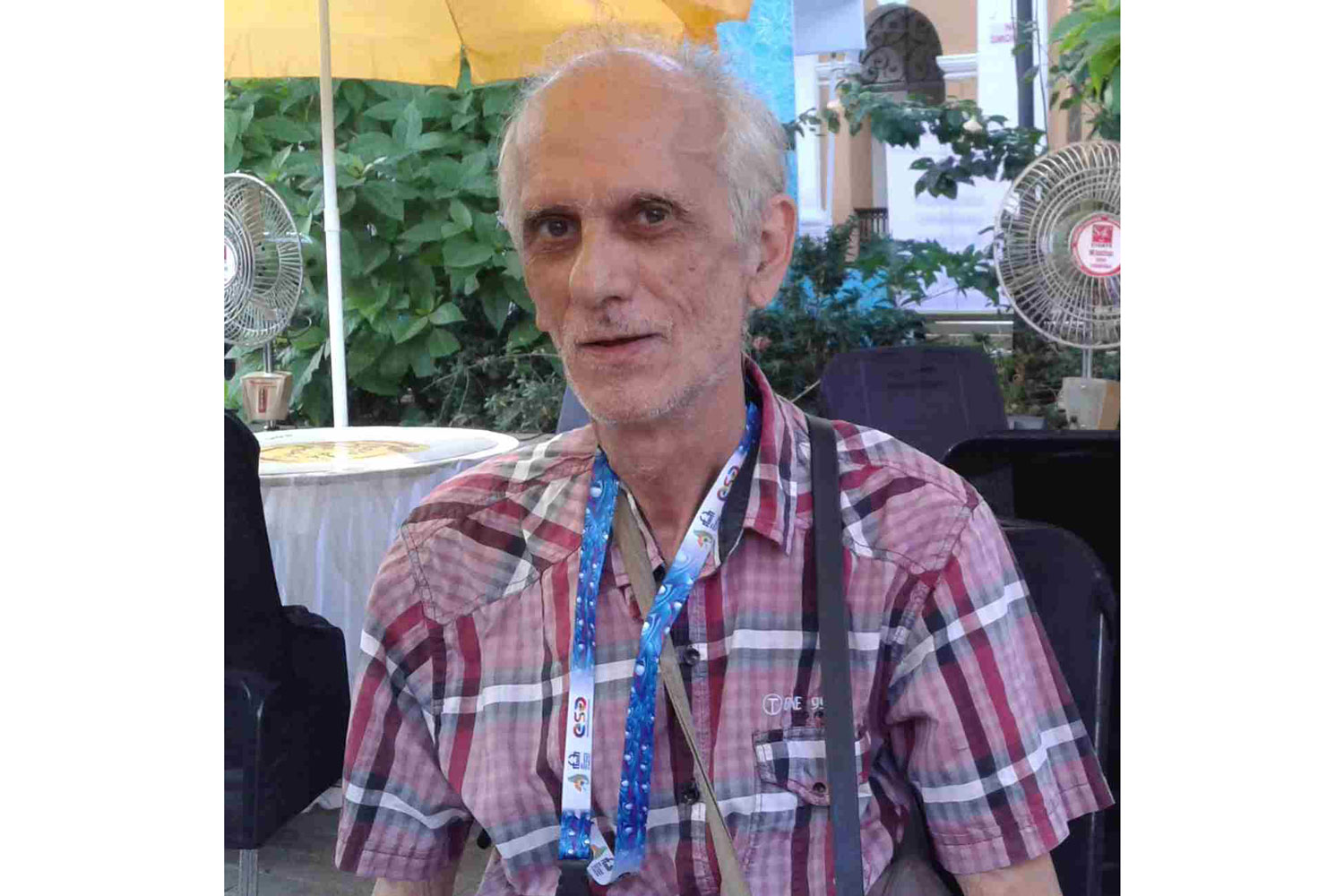 At noontime of Sunday 10 October, our dear friend and brother Gerard Carabin passed away in his room at Marika House due to issues related to Parkinson's Disease. He was 73 years old.

Gerard was born in Paris and came to join Auroville in 1973 at the age of 25 after watching J.P. Elkabach's documentary on Auroville, which includes a Darshan of the Mother... A musician, bass player in the Paris music scene, he arrived in Auroville where he was offered to work at the construction of Auromodele with Pierre Elouard and Cristo, for this was the need of the time! A film lover and passionate about Cinema, soon enough he started to organise film screenings in Auroville. First in 16mm, then with a set of two 35 mm portable Russian film projectors in Aspiration, and then in different places, like Certitude, the Auditorium at Bharat Nivas, and Fraternity, all under the umbrella of the service he created with friends and called Aurofilm. They would also do film screenings in the neighbouring villages with Poppo, assisted by some young Aurovilians like Selvaraj, Raman and others! SAIIER was created in the early 80s under the inspiration of Shri Kireet Joshi, and Aurofilm was an obvious inclusion.
At Aurofilm, apart from doing research in Cinema and presenting films to the community, Gerard made a number of short films, from documentaries to fiction and poetic or experimental expression. In 1986 he went for a trip to Paris to make a film on Pondicherian Bharata Natyam dancers Pichaya and Vasanty Manet, and there he also worked for nearly a year as projectionist at the French Cinémathèque (equivalent to the National Film Archive).
Sri Aurobindo and Mother have always been his inspiration.
In the early 80s, during the 'fight' with the SAS, he was one of the Aurovilians going to jail, wanting to help Auroville to stay free from these 'forces'. But in 1988 the Auroville Foundation was about to be created and the Government was taking over. Like some other Aurovilians, Gerard (along with his then partner Surya) left for France, only to return at the end of 1994, for good: whatever the situation, Auroville was his home and dream! Gerard and Surya restarted the film screenings in the Sri Aurobindo Auditorium, upgrading the film projection with good professional 35 mm machines made in Pondicherry from an Italian model! These "Friday movies" are since a few years now happening at MMC, which welcomed Aurofilm when the Auditorium at Bharat Nivas was closed for long lasting repairs. Gerard always took great care of the choice of films screened in Auroville, choosing them from all over the world, classics, recent, "difficult" or "slow", entertaining, and with an emphasis on presenting the richness of Indian Cinema. Regular Film festivals have been conducted every year thanks to his initiative ! His film selection was always aiming at quality and a possible way to uplift our human condition.
The current Aurofilm team will strive to keep up this goal, but already misses him a lot. Since a couple of years, Gerard had started developing Parkinson's Disease and little by little withdrew from the office and screenings. Last year he moved from his simple studio in Citadines to Marika Home where he was welcomed and gently taken good care of, and where he passed away on Sunday 10 October in the mid-day, quite prepared.
Our love goes out to him, a "peaceful warrior" as a good old friend wrote about him, and we wish him a good journey onward, fully with Mother's care and smile.
OM~
Add your recollections
If you would feel like, you can send us your recollections or photographs, so they can be added to the page in order to commemorate years of dedication to Auroville and its ideals.
This page has been published in order to create a space of remembrance for all of those who lived, struggled and enjoyed in Auroville, making a conscious effort to manifest the Dream of Human Unity that is in the process of emerging.
Honouring Participation: