Last updated: 30 Nov, 2015
Edible Weeds and Naturally Growing Plants in Auroville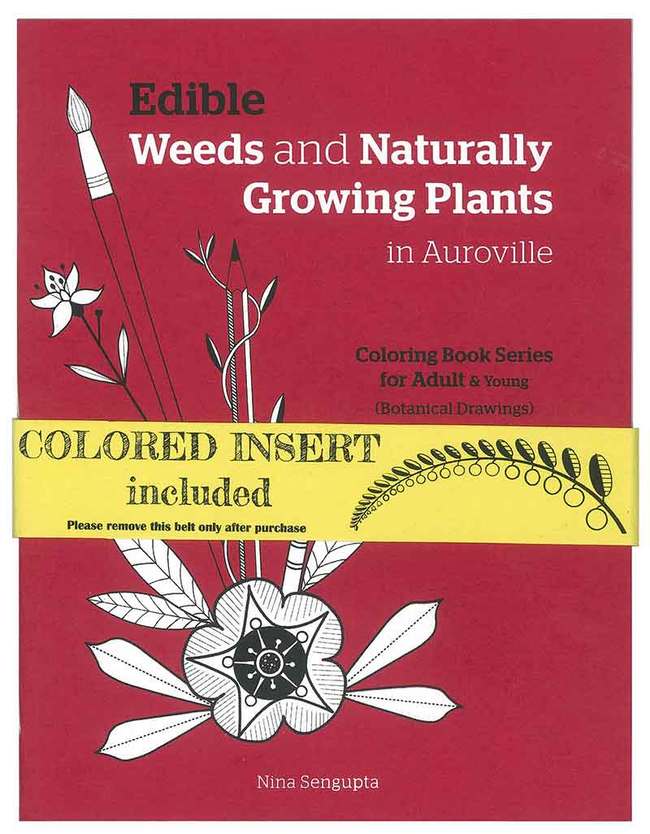 Coloring Book Series for Adult & Young (Botanical Drawings)
by Nina Sengupta
ABOUT THE BOOK
This book took shape underfoot, literally, as the author went about her daily life in and around Auroville, the sea-kissed experimental city of the future, located near Pondicherry that is also a nature lover's paradise. Growing appreciation of the tiny weed flowers along pathways or little clumps of greens sticking out of concrete, led the author to wonder: who were they, where did they come from, what were their names? As an ecologist, knowing the little wonders, kept her on her toes. As an ardent doodler, keen on science communication, sharing her finds visually made sense. As a foodie, she picked out the plants that could enrich the palate and the plate. Here are a set of 40 plants, mostly found across India and the tropics, in the form of a coloring book, complete with an insert of color and information guide that adults can relax over, learn from and, most importantly, have fun with. What's more, even the young can dig in and enjoy.
COLOURING BOOK FOR ADULTS
This book is one of the first of its kind in India: a coloring-in book for adults. A totally new experience, this new genre is hitting best-seller lists around the world—US to Brazil to France—tapping the creative craze in all of us, from all walks of life. In the world of publishing, this genre is being touted as one of the most rewarding to appear in the last several decades. Coloring books are also recommended by psychiatrists and neurologists as an effective and mindful antidote to stress and anxiety for time-strapped professionals.
ABOUT THE AUTHOR
The author and the illustrators all reside and work in Auroville. The author has a Masters in Ecology and PhD in Wildlife Conservation.
CONTACT : coloringbook@auroville.org.in
Published by: Sri Aurobindo International Institute for Educational Research (SAIIER)
Format: Softcover - hand bound with handmade paper cover
Dimensions: 27 x 21cm
Language: English
Pages: 56 (44 pages of B&W line drawings in scale for coloring + 12 page colored inset – as a color and information guide)
ISBN: 978-93-82474-04-3