Dynamis
Sustainable & Conscious Growth Consulting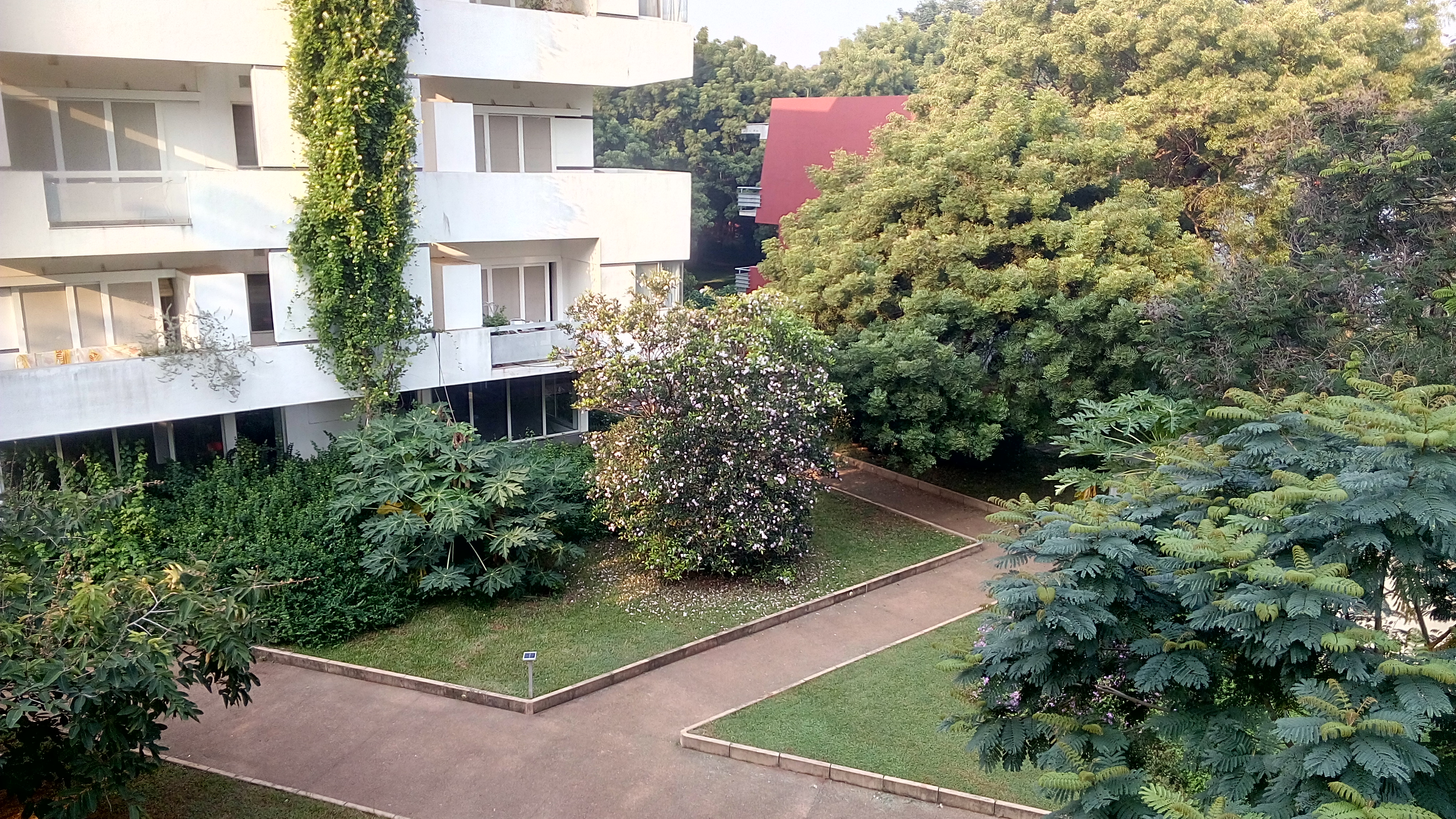 Dynamis is a consultancy unit of Auroville Foundation under Swagatam Trust. Its mission is to assist development initiatives, in India and abroad, in the transition towards sustainable and conscious growth.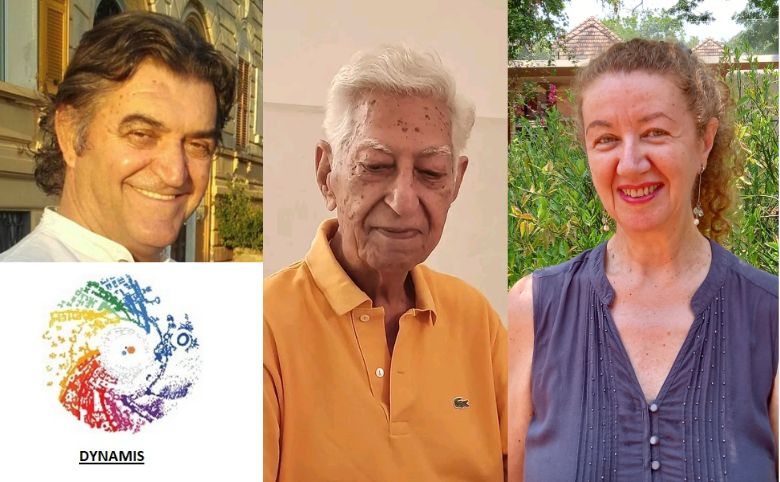 History of Dynamis
Dynamis was created in 2019 to give substance to the aspiration of its first two executives, Prakash (Pashi) C. Kapur and Luigi Zanzi, to work for humanity and for Auroville to create, design and implement programs which lead towards a progressive-sustainable ecosystem.
Pashi Kapur is an engineer who has worked as a Senior Manager in multinational engineering companies from 1957 to 1973. He was also the founding director of Auroservice (1970-1974). He has been involved in various projects in Auroville over the years, leading, collaborating and mentoring.
The late Luigi Zanzi had 34 years of experience in landscaping and environmental regeneration. He had been in charge for 4 years of the management of Matrimandir Nursery. He implemented the landscaping of 23 gardens in and around Auroville.
Giacomo Colomba also collaborated with the unit for some time: he is a columnist for Italian publishing houses and has worked with projects related to Sustainable City Planning.
Projects & Consultancies of Dynamis
Dynamis developed different projects and consultancies: one of these for example was Gogamukh Solid Waste Management, a project started with the collaboration of Mising Autonomous Council, a tribe council of Assam, together with various units in Auroville, such as EcoPro, Wasteless, Ecofemme and Upcycling Studio, to create, design and implement a system of waste management with Auroville's expertise. The project tackled waste in three main aspects: Education, Management and Technology. According to the Clean India Mission, a nation-wide campaign was established in 2014-2019, to create a cleaner and a better India. Dynamis' aim has been to carry this initiative forward.
Current Leadership in Dynamis
After Luigi's death in May 2022, Anna Bianca Torraco (Bianca) took his place as the new executive, bringing a new enthusiasm to the activities, skills, and to develop and expand the potential services.
Bianca has been for 25 years an international consultant in the field of tourism and strategic marketing working for governments and public institutions all over the world on the strategic choices they make for the development of their territories.
She also coordinated for 12 years, in the position of Secretary General, an international non-profit organization named "Women of the Mediterranean", created by governments and public and private institutions of the Mediterranean countries, She's been working for six years as a Life Coach, helping people to find within themselves the right answers and their great resources to face the various problems and challenges that life places on their path.
She has published several books: one in the field of tourism, a book of poems, and some e-books on personal development.
Our Aims & Objectives
With 50 plus years of field experience in planning and building the Universal Green City of Auroville, Dynamis is bolding springing towards new ventures in the fields of urban and rural sustainable planning, eco-friendly architecture, innovative engineering (BIM), creative landscaping, total water management, green and blue infrastructure, urban and rooftop farming, organic and solid waste management, informal education, fair socio-economic growth and wellness activities.
In order to achieve excellence in each of these fields, Dynamis collaborates with the best specialized units and experts from within and outside Auroville.
Innovation, conscious growth and reliability are our strengths.
Services Offered
Consultancy
Conscious Tourism
Architecture and Planning
Urban Farming
Conscious Events
Marketing
Wellness Activities
Conscious Globalisation- The Goals of Dynamis
● SUSTAINABLE DEVELOPMENT: Development and urbanization are nowadays considered opposites of sustainable and environmental friendly activities. Dynamis bases its vision on a development that can be totally sustainable on long experience of its experts and constant research, both theoretical and applied.
We envision a new paradigm of sustainable development that includes all facilities that life needs.
● SOCIAL ORIENTATION: Our attitude is defined by the several social oriented collaborations with a strong educational aspect. Women's empowerment, waste management, new curricula for schools, carbon footprint calculation are some aspects that can be included under this.
One of our goals is to make a change and walk with the local reality with whom we are working on a daily basis.
● LONG-TERM COMMITMENT: Real changes don't happen overnight, so we at Dynamis are always ready to establish long-term partnerships, set up local teams, be accountable and walk together with our clients.
● DOTS OF EXCELLENCE: Dynamis aims to connect different network pools with each other to create a service to the world, from where technologies to education to culture are exchanged and connecting is much simpler and easier.
Unity through Conscious Globalization in true form is what Dynamis aims to achieve.
Current Activities & Offerings
Urban Farming
Urban farming is the practice of cultivating, processing and distributing food in or around a village, town, or city. Urban agriculture can also involve animal husbandry, aquaculture, agroforestry, urban beekeeping and horticulture.
Urban farming provides more direct access to fresh vegetables, fruits, and meat products and can improve food security and food safety.
Auroville Urban Farming was started by a collaborative initiative of Auroville Green Practices and Auroservice to provide training to Indian students in May 2014. It was started because of the shared inspiration to start organic vegetable and fruit cultivation within our living space, in an urban/peri-urban location through community allotments within the field of Food Security in Auroville, finding a need for community city farming as a means to connect and grow together.
The first vegetable garden was created behind the SAIIER building, then came Citadine rooftop garden and creepers climbing to Citadine and Town Hall walls in order to protect them from heat.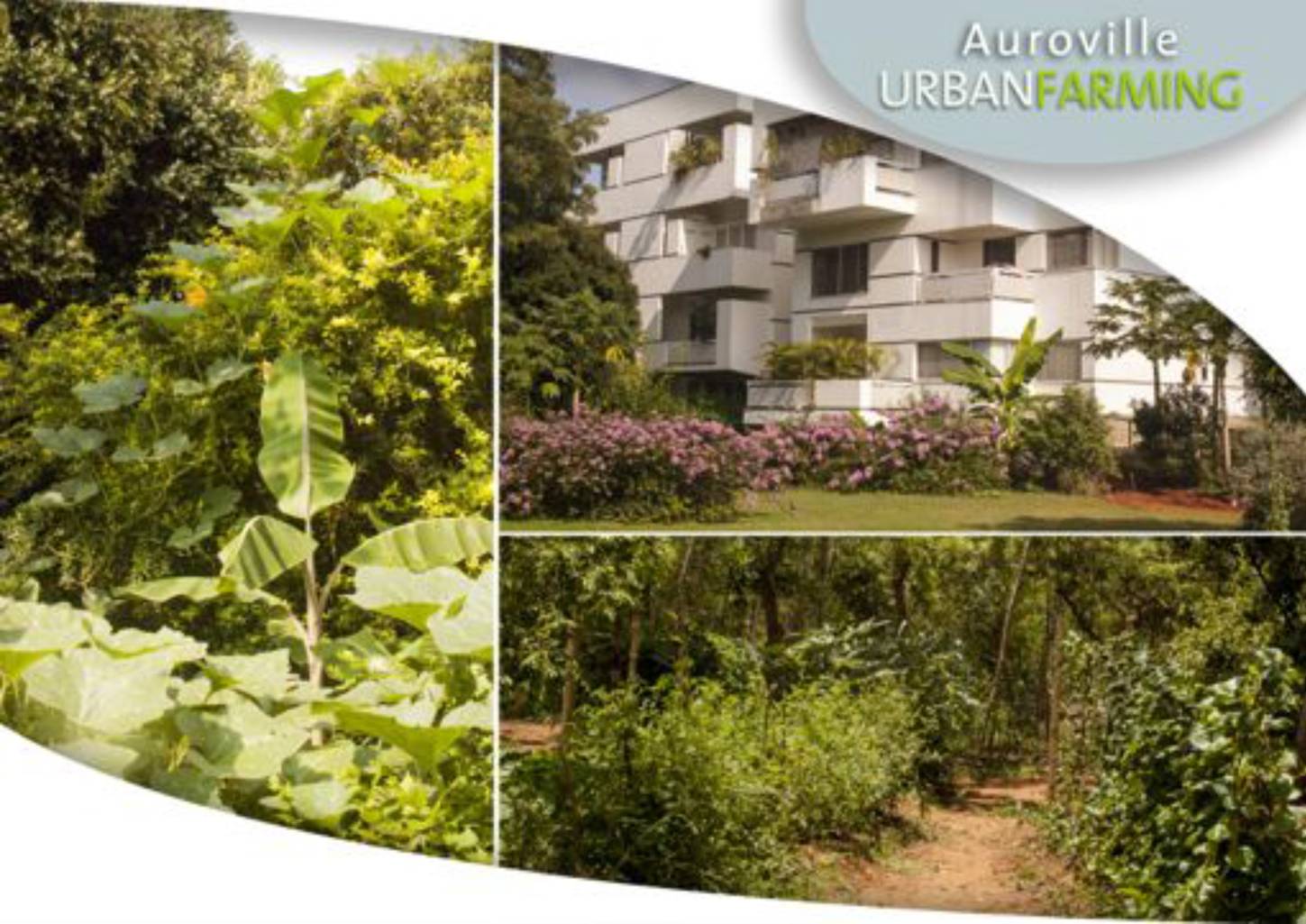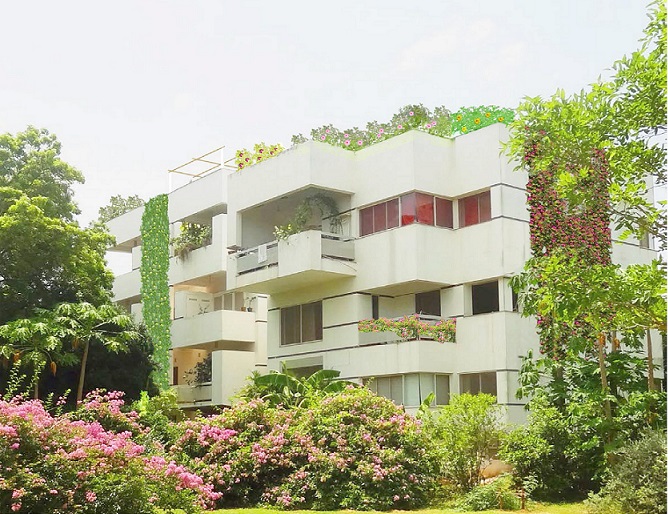 Objective of the Program
The idea is that, if the majority of people are engaged a little bit regularly in growing food,we would have a new awareness about the implications of our lifestyle and indirectly aid our food system to become more secure. The aim here is to enrol individuals into farming, starting from their doorstep, leading to the establishment of a more differentiated production and perhaps increase the number of dedicated farmers in the long run.
An indirect objective of the program is to reduce the dependency of Aurovilians on external food markets, aiding efforts towards self-reliance.This would be reached by educating part of the residency about food-production, skills that would become a priority in case of a sudden food shortage.
Finally, by showing a coherent central neighbourhood in Auroville, our hope is that visitors would be inspired to replicate their efforts in their native place. Work in PERMACULTURE is the way of living agriculture that better fits within urban spaces.
Activities to Develop
1.TO CREATE A PILOT EXAMPLE FOR URBAN FARMING PROJECTS:
To create a sustainable and easy technique of cultivation through permaculture standards in small spaces, on rooftops or terraces, using recycled materials.To define and structure a model that can be well exported everywhere in the world.
2.TO CREATE AWARENESS IN CITIZENS ABOUT AUROVILLE CULTURES:
To stimulate Aurovilians to use what is locally grown in order not to waste food produced by Aurovilian farmers and help Auroville to become more and more independent from external food supply (during Covid, the importance of being as self-sustainable as possible has become a major necessity).
To further this aim we want to organise walks around the Urban Farming sites, as well as presentations of local cultures, workshops, other events.
All these activities will be given to Aurovilians for free as educational social work to implement the community awareness on self-sustainability, low environmental impact, use of local food, recycling ideas, etc.
3.TO TEACH AUROVILIANS HOW TO USE AND COOK THE DIFFERENT LOCAL CROPS:
To organise a schedule of free tasting (can be in front of Solar Kitchen and/or in other places) of recipes prepared with "unusual" and "different from what is known" Aurovilian farm products, together with educational participatory moments for adults and children to experience local crops.
4.TO COMMUNICATE THE AIMS AND ACTIVITIES OF THE PROJECT THROUGH DIGITAL TOOLS:
To use social networks and the blog to keep residents informed on how to grow their own food, giving all the useful details and help regarding the sowing calendar in Auroville area, vegetable crop yields, crops spacing, watering, composting, etc.To publish small pamphlets with recipes and ideas (that can also be sold to tourists to sustain the project).
To develop curiosity and to attract followers by organising physical and online workshops to teach directly the people interested in supporting Urban Farming ideals.To create multimedia contents (videos, games and other instruments) also with QR code technology to share online.
5.CREATE A STAFF TO COLLABORATE WITH SCHOOLS, UNITS AND COMMUNITIES THAT WANT TO DEVELOP THEIR OWN URBAN VEGETABLE GARDEN:
To find trained and specialised persons who will help in projecting in the field of permaculture, planning of cultures, watering techniques, etc., to offer consultancy in Auroville and outside.
To help residents of Auroville to grow their own food, whether by consultations, hands-on help in their garden, or by providing them with seeds and/or information on seasonal food in order to empower them to run their own gardens.
6. TO CREATE A SUSTAINABLE BOTANICAL/HORTICULTURAL PATH:
In all areas intended for urban farming we will put a tag with a QR code in front of each plant to describe them and their use (for kitchen, medical, decorative etc.).
Volunteering and Collaborations Opportunity
From writing blog posts, to hosting events, to managing social media profiles, web development, to film making and financial management, within the Urban Farming project, Dynamis is often on the lookout for extra help and collaborations.
Who can volunteer/collaborate:
Anyone willing to volunteer with our unit must be willing to learn new skills.
One must be willing to commit for a minimum period of 6 months.
Pease send your profile/resume to: dynamis@auroville.org.in