Last updated: 25 Feb, 2021
Birgitta Volz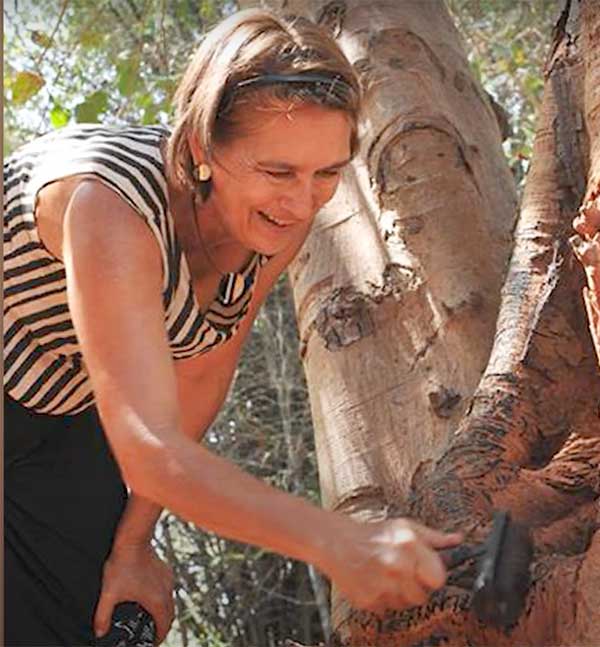 Vision
I wish to open people through the beauty of nature, which is a continuous theme in my artwork.
My aim is to create a consciousness which guides the observer above mere decoration and perhaps some viewers will be able to gain access to the spiritual aspects of nature.

Birgitta Volz, an artist and designer with major international recognition, can be credited with nearly 100 solo exhibitions, more than 150 group exhibitions, and work in 18 different countries. Beginning her career in 1985 as the youngest member of the Association of Professional Artists in Nuremberg, Germany, Birgitta received her BA from Würzburg College and her MA from the University of Modern Arts in Kassel. Between 1996 and 2000, she lectured at art colleges in India, Portugal, and Ghana. Drawn to India, she settled in Auroville in 2005.
Recipient of numerous international awards, fellowships, and artist residencies, Birgitta's wood prints, bark prints and botanical prints are kept in many public and private collections.
A recent article by "The Hindu":
https://www.thehindu.com/entertainment/art/this-artist-makes-tree-bark-prints/article33925073.ece
Birgitta's art studio can be visited by appointment only.
Her unit showroom MatriGold can be visited during regular opening hours.
Art Work: www.birgittavolz.de

Jewelry Design: www.matrigold.in
email: matrigold@auroville.org.in
https:www.youtube.com/embed/EnW5OSW29YE
Enter the video url