Last updated: 13 May, 2016
Auroville Video Production: Doris and Francis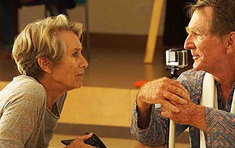 Doris and Francis
Francis and Doris are the Auroville Video Productions team which, for the past ten years, has been documenting the history and unfolding of Auroville.
They have created series like
'Children of Auroville'
,
'Born at the Right Time'
, about the life and growth of youth in Auroville.
Francis: We are documenting Auroville's happenings for the present and future generations. Now we have about 70 interviews of Aurovilians that could be turned into other history videos.
Doris: There are enough people out there covering Auroville events. We do this as well, but we are more interested in people's perceptions of what is happening, and how this changes over time as they change.
Doris: Among other projects we did Paul's musical, Sorcery at Sea, the Sacred Groves project and, most recently, the Retreat.

Francis: When you are doing this work you get to look at Auroville from a little bit of distance and with greater clarity. And what you see is not always pleasant. In the last ten years of doing this work, I have learned that the baseness of human nature is much more extensive than I had conceived of beforehand. In fact, I feel that the project of Auroville has become secondary to individuals' needs. Perhaps it has always been like that, but I was too immersed in it before; when you see it through the lens, you get a bit more detachment. Again, looking at the unbelievable quality of life that everybody is experiencing here, something that brings tears to the eyes, I wonder why there is not more gratitude.

Most recent realization is a documentary on the Matrimandir gardens, titled "To Thee homage", previous ones include "Building Matrimandir, a labour of love", reportages on the yearly Auroville marathon, etc...

https:www.youtube.com/embed/_GbJZznFogY
Enter the video url
https:www.youtube.com/embed/p2sJaSZGkbU
Enter the video url
https:www.youtube.com/embed/gJh3WCN7MB8
Enter the video url