Last updated: 19 Dec, 2022
Auroville Planner 2020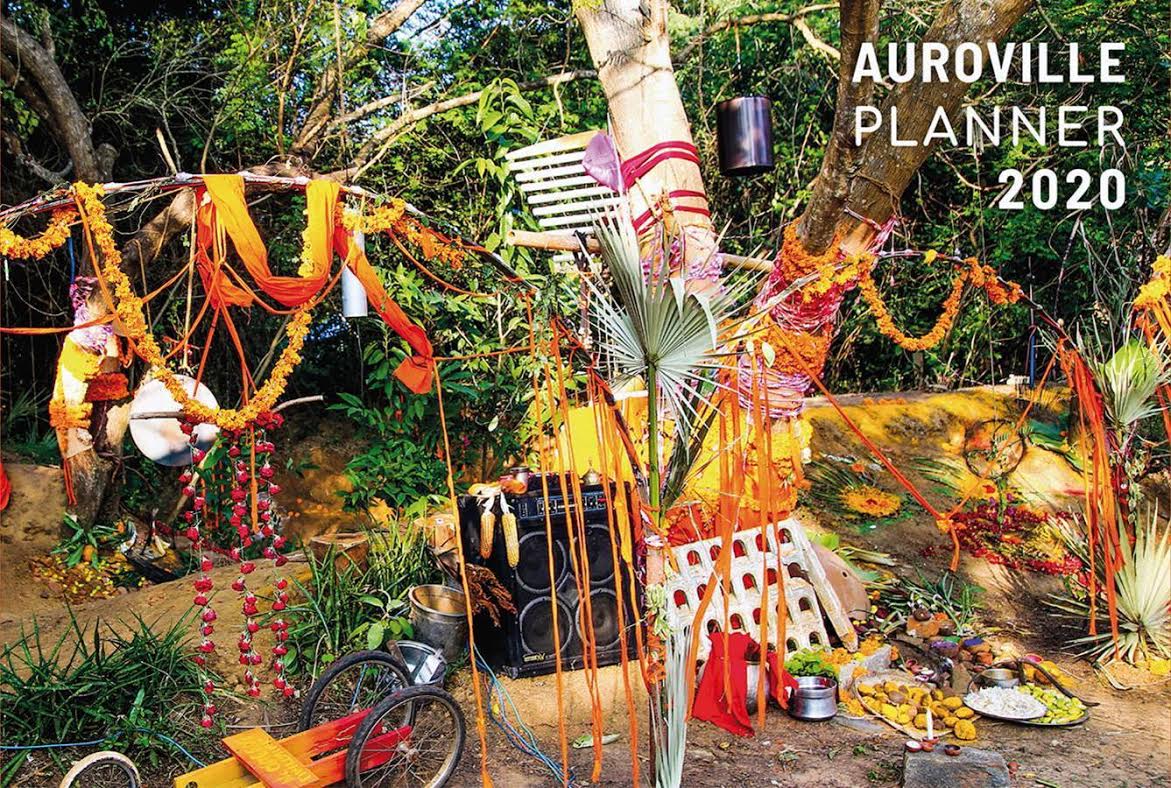 Here is the double cover of the Auroville Planner 2020 showing a decorative scene at the Solitude Farm Festival in January 2019.

Each month is introduced with a color photo depicting a variety of daily life in Auroville: The Trashion Show at Kalabhumi, a meditative dawn photo in the Amphitheater, Activities in the Youth Center, more photos from Solitude, RERS horse tournament in Brihaspati, the lotus pond and celebrations at the Matrimandir, VAST – dance/theater performance at Bharat Nivas, and "Odd Eye See" contemporary theater performance by the Unicorns in the Visitors Center.
Below each photo is a short quote by the Mother or Sri Aurobindo.
The double photo page appears before each full month without breaking the weekly lay-out. Darshan days, holidays and full/new moon days are indicated. The laminated cover is printed in 4 colors on thick 300 gsm art card. The inner pages are printed in a light brown earthy color.
The format of the Auroville Planner 2020 is the same like last year: 11 x 16 cm; you can easily note down your appointments. The Auroville Planner 2020 consists of 170 thin pages - 90 gsm white, section bound and spine stitched, the 12 double page 4 colors are printed on 130 gsm matt art paper.
The price is Rs. 210.- (a little bit cheaper than last year) excluding postage;
Shops will add taxes and commission to this price.
Photos by Piero Cefaloni and Tine.
DTP work by Bhakti and by Prisma, Auroville.
Printed at Reegan Maple Printing House, Cuddalore Main Road.
The entire profit of the Auroville Planner 2020 will be donated to the Matrimandir.
We hope you will enjoy your new Auroville Planner 2020 as always ! Thank you !
Published and distributed by
Tine, Aurogreen, Auroville 605 101, TN, India;
Email tine@auroville.org.in
Mobile +91 890 3938 649
Mobile +91 9843 98 4181 (what's app)