Last updated: 3 Dec, 2022
Ramalingam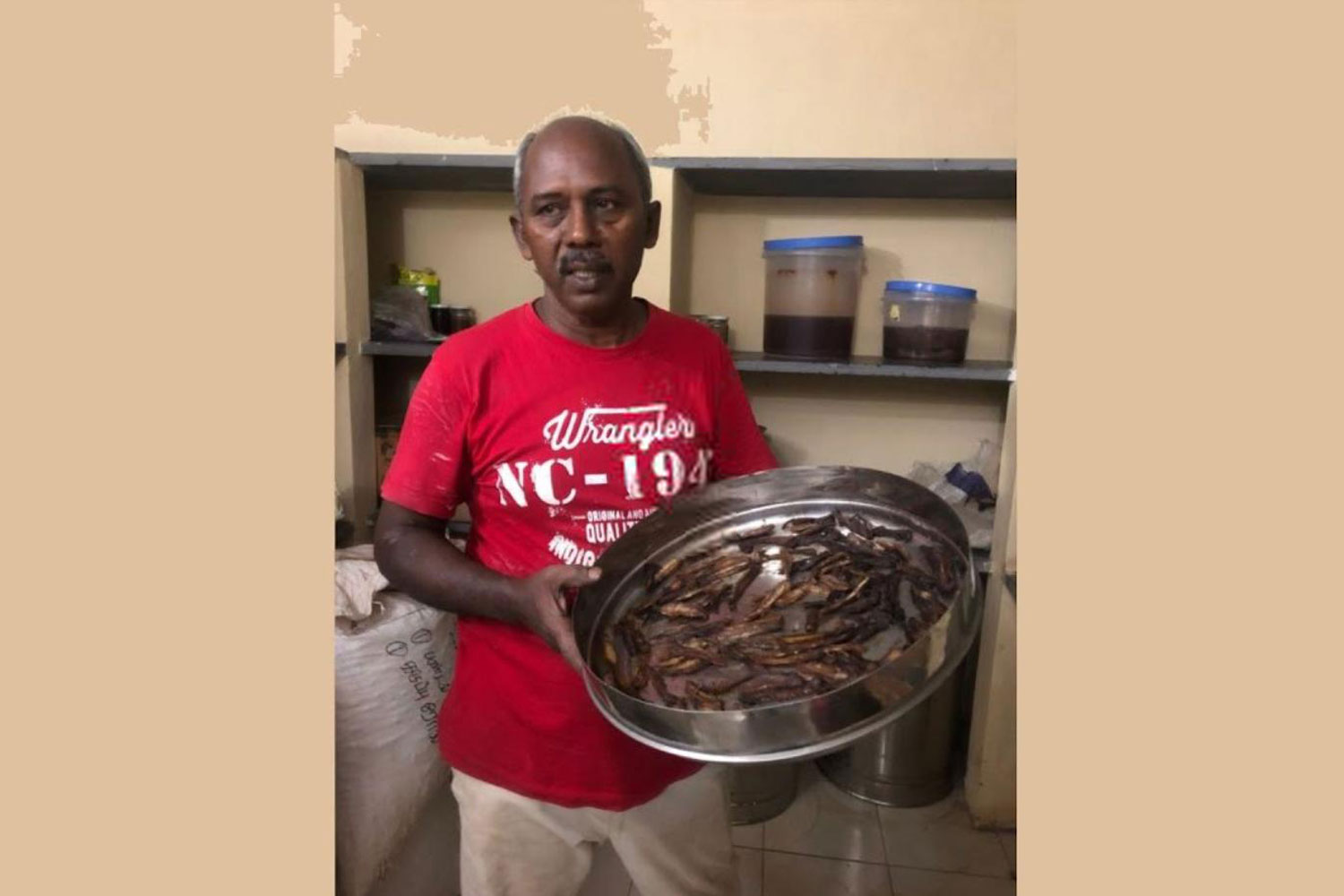 This is to inform the community that our long-term friend and brother Aurovilian Ramalingam Ramachandran of Sustenance Farm left his body in JIPMER at 12 am on Tuesday 29 November, due to post surgery complications. He was 62.
Ramalingam was a person of deep inner quest, has been blessed by The Mother and entirely committed to the Divine. A lot could be said of him and his journey.
He was born in Kuyilapalayam and was involved in Auroville right from its beginnings. He evolved as Auroville evolved. Initially he joined Auroville Polyester as a worker at the age of around 12. In 1982, he became an Aurovilian and lived in Fraternity.
He offered his service as a manager of the "Community Kitchen" (now called the Solar Kitchen) located at Bharat Nivas in its initial days.
Later, he associated himself with the Auroville Boutique in Pondicherry. While being in-charge there, he also helped Auroville with the land encroachment at Quiet. He was at the forefront of safeguarding that Quiet space for Auroville.
Soon after, he was involved in protecting another adjoining land and personally took care of it. He has played a major role in creating the Gokulam Farm in collaboration with Perumal.
Ramalingam has been involved in Auroville's organisation and was a member of different working groups and committees.
After the tsunami Ramalingam was among first Aurovilians, who voluntarily gave the land of their stewardship for an exchange within the Master Plan. Going beyond personal interests, he devoted himself to the collective cause.
Ramalingam was a multifaceted person with diverse talents in various fields. He had a great affinity for Thiru Pugazh, a form of devotional singing, and was part of the traditional theatre group. He would often travel to far-off places to take part in Thiru Pugazh programmes.
Later he moved to the Sustenance Farm, managing the farm and farm's kitchen to the very last moment. He has been learning for 14 years under the guidance of the head of the Sri Aurobindo Ashram Farms. Even when he started the kitchen at Sustenance Farm, his main objective was to provide affordable quality food to everyone.
Being quite active within the Farm Group for a while, he concentrated lately on his far-reaching project to transform the farming in Auroville from businesses into the "Service for community". He was just about to start a training platform at Sustenance Farm for everyone interested to learn about organic farming in theory and practice and to take up farm lands for stewardship after the period of education.
This was the last project Ramalingam dreamed and waited for a long time, which hopefully will be continued by like-minded residents and collaborators of his.
We lost a gem of a being, and for many who knew him, this is an irreparable loss. May he reach the realms of Thiru and sing His Pugazh forever!
Ramalingam's remains were cremated at Auroville's Burial and Cremation grounds in the afternoon of Tuesday 29 November, with many attending.
Our sincere condolences and prayers to his wife Shakila, son Vishnu Vardan and further family.
Submitted by his friends
For a recorded talk at Savitri Bhavan in August 2022, seehttps://www.youtube.com/watch?v=w3duDHhxecc