Last updated: 22 Dec, 2021
Peggy Rustomji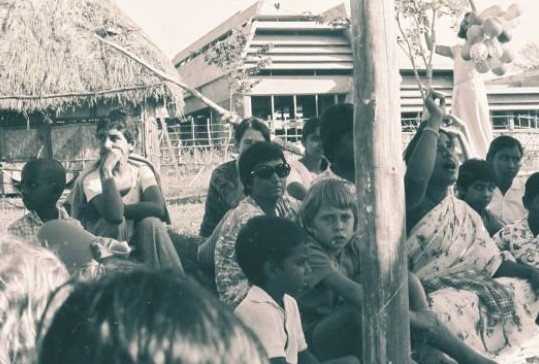 Peggy in dark glasses at the Kindergarten near the Auroville Health Center.
In the early morning of 15 December, Peggy, the mother of Jehangir and Rishad Rustomji, first generation of students of Auroville, passed away in her home in Kodaikanal. Both her sons were with her during the time of transition.
Some of us affectionately remember her sitting in the school bus that would bring students and teachers from the Ashram and Pondicherry to Auroville in the seventies, - in those halcyon days when we embarked on the Auroville adventure on an empty canvas.
OM~
Add your recollections
If you would feel like, you can send us your recollections or photographs, so they can be added to the page in order to commemorate years of dedication to Auroville and its ideals.
This page has been published in order to create a space of remembrance for all of those who lived, struggled and enjoyed in Auroville, making a conscious effort to manifest the Dream of Human Unity that is in the process of emerging.
Honouring Participation: