Last updated: 11 May, 2016
Nuria Casanova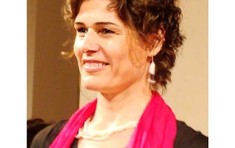 Singer, choir director and music teacher. I studied classical singing, piano and musicology at the University in Barcelona. Throughout the years I have continued studying with teachers specialized in different musical styles.
Since 1991 I have performed as a classical singer and in recent years I have expanded into the jazz field.
Since 1992 I am conducting the Auroville choir and the Auroville Children choir. Our repertoire includes classical and popular music, and musicals.
I have been teaching in Transition school since 1994.
contact:
e-mail: nuria@auroville.org.in
https:www.youtube.com/embed/jxYXR2DqGHU?rel=0
Enter the video url