Last updated: 13 Nov, 2021
Matthias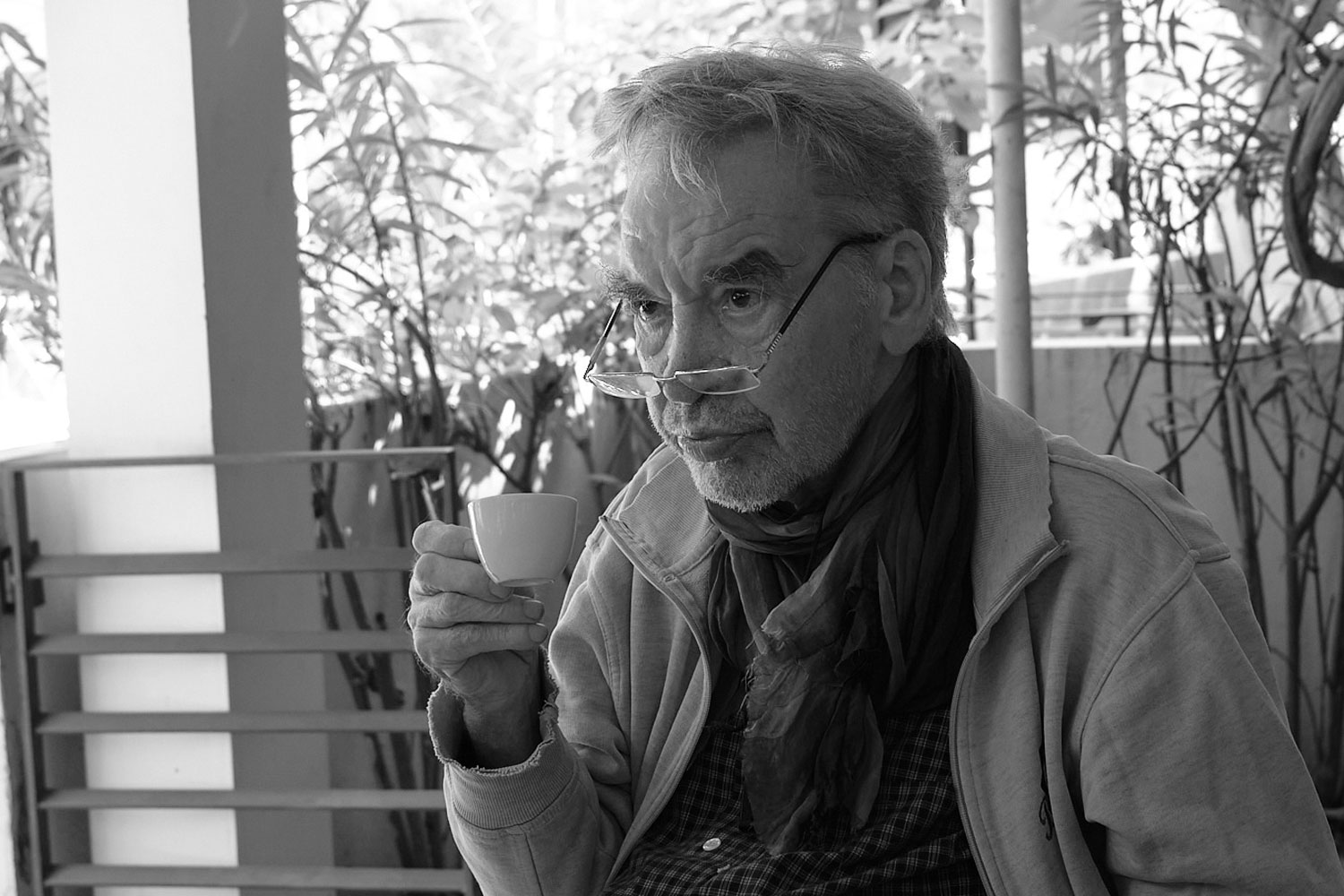 In the morning of 30 January, our dear friend and longtime brother Matthias Achenbach passed away in his room at Mahalakshmi Home, ending a year-long process with cancer metastases in lungs and brain. He had just celebrated his 74th birthday a good week ago with all his close friends attending.
Having completed his studies in Physics and Pedagogy at Frankfurt's Main University, Matthias started out as an electro-mechanic in Frankfurt to then pretty soon create his own 'Achenbach Sprachlehranlagen' company which manufactured language laboratories for Lufthansa, Bosch, Siemens etc.
In his own words: "Very early I developed a fetish for all things technical and I liked to play guitar and double-bass and joined a pop-band and later a jazz-band, where I fell in love with the singer and she became my first wife. Then I became a private and commercial pilot, and started my first own company producing language-laboratories.
In 1977, when I had just become 30 years of age, I travelled for the first time to India with a German jazz band (Barrelhouse Jazzband from Frankfurt – they still play!). I very much liked it there and inquired how one could live there. We were playing for the German Cultural Institutes and it happened just then, that they needed a new Regional Engineer for South Asia. I immediately applied for the job and by end 1977 I was posted to New Delhi with the Goethe Institute (Max Mueller Bhavan) for the next 5 years."
While stationed in Delhi, Matthias with his (second) wife Marusch got to know about Auroville and at times Aurovilians would stay in their house. The result was that the pair joined Auroville on 28 February 1984, and soon Matthias gravitated towards Aurelec where computers were made. Having worked there several years, he formed his own 'Altecs Energy Systems', which produced solar-charge-controllers, PL-lamps and inverters enabling more than 100 totally self-sufficient solar houses in Auroville. The unit manufactured its own Inverters from 80VA to 5kVA and installed solar-pumps in and around Auroville. For this, he thoroughly taught and trained a large team of young aspiring Tamils who still see him as their guru. On top of that, Matthias built the multi-storey Altecs building in Auroshilpam where he lived with Dodo, as well as the Kailash Youth complex on the Crown Road. He later moved to Hope.
Naturally, being the open, good willing and authentic person he was, Matthias has been approached till the very end for his knowledge and expertise in electronic and other matters, and which he always readily shared. In the beginning of 2020 his physical problems started, and after a first operation he quietly moved to Mahalakshmi Home where he was warmly received. Very often surrounded by close friends, with whom he had good communications and understanding and who helped him prepare for this challenging phase of his life, he was clear-headed, ready and faithful to go.
Thank you for having been with us, Matthias, you definitely left a footprint and will so often be remembered. Our warmest condolences go out to Marusch, Dodo and Ingrida, as well as to his sister and brothers in Germany, and all his other close friends. He's now in the Light.
OM~
Add your recollections
If you would feel like, you can send us your recollections or photographs, so they can be added to the page in order to commemorate years of dedication to Auroville and its ideals.
This page has been published in order to create a space of remembrance for all of those who lived, struggled and enjoyed in Auroville, making a conscious effort to manifest the Dream of Human Unity that is in the process of emerging.
Honouring Participation: