Last updated: 25 Jun, 2020
 Joan Tomb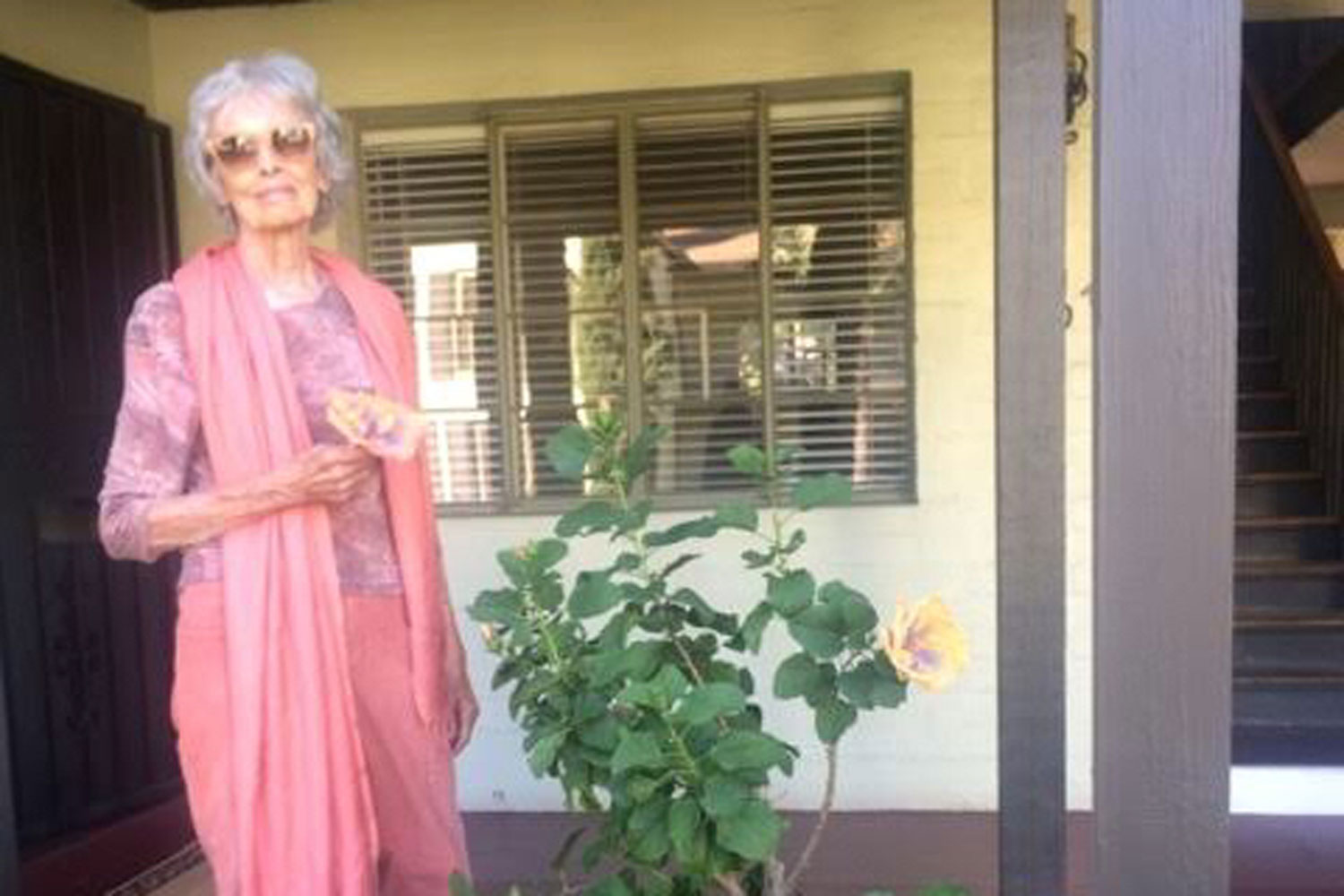 A friend, mentor, and guardian angel to many in Auroville. Joan was a strikingly beautiful, generous, strong, independent woman.
Joan heard of the Mother through Dietra (Claire Worden), and in '71 she and June Maher traveled together to India to meet the Mother.
On 2nd April 1972, June excitedly phoned Joan and read out this message from Mother:
"It is the hour to be heroic. Heroism in full sincerity."
"Heroism is not what it is said to be, it is to become wholly unified."
"We are here to prepare the way for the new creation. For centuries and centuries humanity has waited for this time. You are here at this moment, that is to say on earth, because you chose it at one time. You do not remember it anymore, but I know it. That is why you are here. Well, you must strive, you must conquer all weaknesses and limitations, above all you must tell your ego: 'Your hour has gone.' It is the Divine Consciousness which will allow the race to develop itself and the supramental being to take birth."
Joan later wrote, "Not sure how June received this. We were both very moved. It strengthened the bond that we both felt....and affirmed that 'YES', we took birth so as to participate in this work, this process. Not really knowing what it actually meant....to be wholly unified with the new Consciousness.... [which was ] part of the inner process."
"A year later in '72 I left with 3 of my 4 children by ship as a spectacular pink/orange sun set behind us over the San Francisco bridge. Later I learned that color was the shade Mother designated as the Auroville hibiscus." It became Joan's favorite color to wear.
In the early years, Joan drove a small moped from Pondy to Auroville. Staying stretches of time in Forecomers, she soon moved to Auroville as a resident. Living in her treehouse, she worked with Pierre Elouard to design and build her house and named the place Recueillement. She always had an open door and a big heart. There were toys in the guest room for children who visited, food in the kitchen, and a comfortable chair to sit on.
For many years, she travelled back and forth from the US to Auroville, and in early 2011, Joan came back to Auroville for the last time, cleared out her house, and handed over the keys to the housing group.
Shortly before her 80th birthday Joan wrote, "Although I miss the babies born in Auroville and the close expressions of spiritual family there, here is the best home for me now. My spiritual family in Auroville live forever here in my heart wherever I reside. I feel the Mother's presence at work, arranging even details of my life, which was my experience in Auroville as well. So, while the outward has changed, my inner life is the same."
Joan, at the age of 85, left her body at 3:30 pm on June 23 in her apartment in Tucson Arizona with 3 of her 4 children by her side. She leaves behind 4 children (Laura, Leslie, David, Libby), 4 grandchildren (Pavan, Varun, Ezra, Anna), her son-in-law (Leo Katz), and a great grandson ( Leo Dennis Katz Costa), a grandson in law ( Nic Costa), and 2 life companions (Paul Pinthon and Zach).
Thank you Joan for being a profound part of this spiritual family. We wish you light and joy in your next adventure. Remain close to the Mother.
https:www.youtube.com/embed/9Rz6vJALKxQ
Enter the video url
Add your recollections
If you would feel like, you can send us your recollections or photographs, so they can be added to the page in order to commemorate years of dedication to Auroville and its ideals.
This page has been published in order to create a space of remembrance for all of those who lived, struggled and enjoyed in Auroville, making a conscious effort to manifest the Dream of Human Unity that is in the process of emerging.
Honouring Participation: