Last updated: 13 May, 2016
Dominique Darr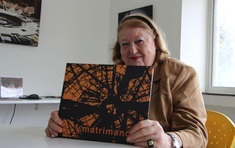 Paris-based photographer Dominique Darr's book is at once a visual treat, a compelling story of the making of the Matrimandir and a loving tribute to the stellar spiritual emblem in Auroville.
The book, 'Matrimandir,' published by Archana Press New Delhi, is coming out as a bilingual in French and English.
The work capturing the evolution of the spiritual is to be launched at the Le Centre d'Art des Citadines in Auroville on Saturday.
The book reflects a labour of love of over five years over which the French photographer worked with several people, reviewing and selecting from thousands of images. The 200-page book will present the best among the visuals which also number about 200 black-and-white and colour photographs.
During the 1970s, on one of her regular visits to India, Ms. Darr met a core group of individuals involved in the design and construction of the Matrimandir, the soul of the Auroville township.
From the following year, she started photographing the Matrimandir workers manifesting the Soul of the Township, from the breaking of the ground and installation of the gold discs to the completion in 2008.
What accumulated from these efforts was a wealth of archival material of over 40 years which is stored in the Research and Art Center in Auroville founded by Ms. Darr.
(From an article by M.Dinesh Varma on The Hindu newspaper)