Last updated: 26 May, 2016
AuroTejas Hemsell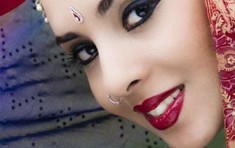 Tejas performs and teaches Odissi and Semi Classical Bollywood Dance. She has dedicated her life to the study of Bharathanatyam and Odissi.

Tejas has also studied Kathak, Bellydance, African dance, Ballet and Salsa, which gives her a unique style that she incorporates into her Bollywood choreographies. Tejas travels the world teaching and performing Indian Dance, her greatest passion.
Her motto is: Dance as though no one is watching.
workshops/classes:
AuroTejas created the Shakti Dance School where she offers Odissi, East Indian Classical Dance Instruction & Performance.
contact:
e-mail: tejas@shaktidancetroupe.com


link:
www.shaktidancetroupe.com
FaceBook page:
https://www.facebook.com/aurotejas?fref=ts

https:www.youtube.com/embed/bAA30PeEQ6I?rel=0
Enter the video url
https:www.youtube.com/embed/PfN5SwM5ECM?rel=0
Enter the video url