Last updated: 17 Jun, 2015
Arumugam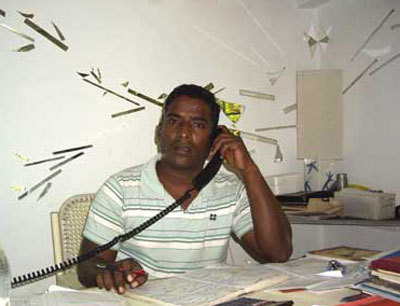 Arumugam
I was born in the year of Auroville's inauguration in the village of Kuilapalayam . At a very young age I participated in Auroville's sports programs, which at the time took place in Aspiration. This gave me the opportunity to have the Mother's balcony Darshan in Pondicherry .
Later on I continued my studies in Pondicherry , but kept a close contact with a few Auroville friends. After that, coming back in the Auroville region, I worked in my first Auroville unit, a garments production and export company.
My father at that time had a dairy business and this brought me in contact with Giovanni, who just founded La Ferme Cheese. Starting a new unit from zero attracted me, so I decided to join.
We started in 1988 with just 30 liters of milk per day, without storage facility.Having contributed to the fact that today (2009), we process over 600 liter per day with all the necessary equipment in a building constructed with the company's funds, I feel I have put my energy in the right place.
For what we are doing here the word business is maybe not appropriate and we should call it something else.
We are in between; it is some mixture of business and service. In one way this can be confusing, on the other hand, for me it is a challenge. It brings along a more difficult financial picture.
First: a substantial part of our production is donated to Auroville. Secondly we sell about half of our production in Auroville and on these sales we do not make profit, the profit being made from sales outside Auroville.The challenge is to deal with this situation which came about in a way that was not really a logical choice businesswise.
It is a consequence of the idea to provide a rich, healthy food product at affordable price to Aurovillians, an idea which provides the main motivation for my work. In this way I hope to contribute to the ideals of Auroville, at least to the best of my possibilities.