Last updated: 10 Aug, 2022
YEPweek for kids aged 7 to 12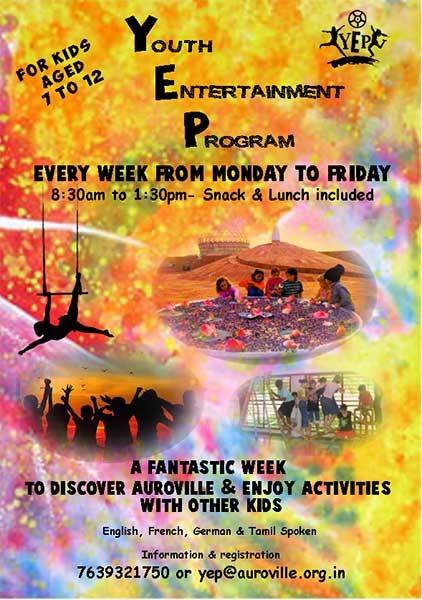 YEPweek is specially designed for guest kids aged 7 to 12, to discover & enjoy their stay in Auroville in an authentic way.
From place to place, the kids will participate in activities facilitated by Aurovilians, visit farms, gardens, forests, units, be involved in community life, as well as enjoy the beach or the swimming pool, play interactive games, and have fun with other kids. Every week, this program offers, over five days, a balance between visits, activities and free-playing time and, throughout the month, the possibility to follow up on some activities regularly and discover more about Auroville.
The kids will be taken care of from monday to friday, 8:30 am to 1:30 pm, including snack & lunch, transport and activities.
Av YEP Childcare Network & Informations for families
YEP is also facilitating the access to accurate & updated information about activities for kids & families in Auroville and the connection between families and babysitters with the Av YEP Childcare Network.
Information & Registration on TF: 9626565134 Mirrabelle