Last updated: 12 Oct, 2020
Life Education Centre for underprivileged girls between the ages of 14-21, from villages in the region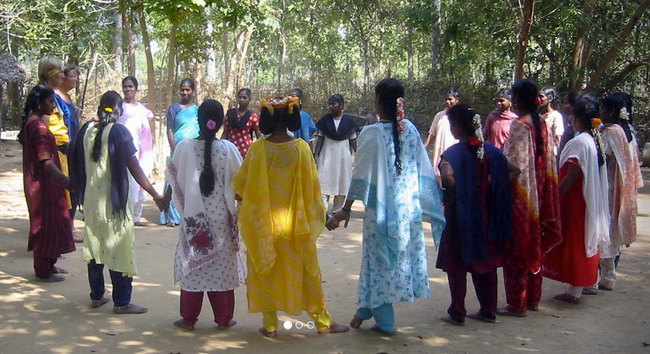 Life Education Centre
Having begun in 1991, Life Education Centre (LEC) is an ongoing programme to train young, underprivileged girls between the ages of 14-21, from villages in the region around Auroville. The Centre was created with a focus on children ignored by conventional education systems – drop outs because they were socially, economically or academically backward. Initially the Centre allowed both girls and boys to attend but before long LEC changed to an all-female environment.
Vocational training that is provided for the girls helps them to develop the skills necessary to be successful both in their future homes as well as in finding a suitable job. However, LEC is essentially a therapeutic learning community, where much emphasis is placed on various self-development tools. Education at LEC is individual-based, where the needs of every student are evaluated and addressed; one of the most important interactions at the school is between the students and counselor-coordinator, which naturally takes place on a one-to-one basis. This is time consuming and means that not more than 18 students can be addressed adequately at a time. This ensures a better quality of education, smoother and healthy interaction amongst the group, plus the possibility to visit families of the students from time to time and to establish rapport with the parents when they attend parent-meetings. These include participation in group discussions, diary-writing, and expression through various art forms on a regular basis. The regular group discussions provide the girls with the crucial space needed to think for themselves, to reflect and hear other diverse views, to widen their perspectives, and to share and to analyse. The emphasis is on examining our own current existing attitudes on societal and cultural norms and see for ourselves, how much we are contributing to the problem and giving us the opportunity to decide what is possible for us to do to change the situation.
The girls at LEC are assisted by a very talented and committed crew of 6 women staff. The campus is on a half acre of land on the Auroville periphery near the villages, and includes four small buildings.
Skill-Based Activities
This specific programme consists of a 2-year training in
functional skills in Mathematics, English and Tamil,
vocational skills in tailoring, crochet, typing and computers,
empowerment skills like core-quality assessment sessions and
social awareness – human interactive skills using group discussions, personal counselling, diary writing, study tours, health classes and culture-related open sessions.

Specific Projects
We do specialized projects on a time-bound basis. These are the Education Project, Mother and Daughter Project, Skills Management and Livelihood Project, Laboratory for Learning base (mutual learning with social-work interns visiting mostly from Germany and/or USA), regular visits to students' families, regular workshops on health, body movement and music. Education Project Over time, the situations of the young women entering LEC have improved slightly; originally coming to the Centre with one to five years of education, young women are now coming to LEC with eight or nine years of basic education. This improvement in local regular schooling has led to an increased interest in these students to take their high school and/or typewriting exams that will allow them to re-enter the mainstream of society from where they have dropped out. The Centre not only provides the fees of the exams for the girls as well as ample time to practice and study.
This needs persuasion, encouragement and constant counselling. Simultaneously we need to be in contact with parents to ascertain their support and their assurance to encourage the daughter for this important step in her life. While there is a lot of in-built pressure on the student, the environment of LEC is caring and supporting the student.
Mother and Daughter Project
Still in the early phases of implementation, the Mother-Daughter programme is an innovative new project designed to expand support mechanisms for LEC's young women. This includes group and individual counselling sessions for the current young women at LEC and their mothers. The young women receive their counselling during the normal school days and their mothers are being invited to frequent informal gatherings where they will participate in a safe and open environment, discussing the issues that weigh heavy on the mother-daughter relationships. The programme will start to bring in Tamil speaking professional women to provide advice in the areas of health care, financial literacy and legal issues.
The Mother-Daughter programme hopes to bridge the disconnect occurring between India's mothers and daughters, helping the two generations to understand and empathize the other's situation and break the cycle of gender discrimination.
LEC hopes to have the mother-daughter project become a staple experience of LEC. Every girl who comes through the Centre's doors could and should benefit from having her mother behind her should times get hard.
Skills Management & Livelihood Project
This is also a new initiative of Life Education Centre where, the existing skills of some senior girls shall be harnessed to produce commercially viable products and then marketed through appropriate outlets in Auroville and/or outside. The most important positive spin-off of this venture would be to provide good livelihood possibilities to the girls in the long run, that becomes a tool in their empowerment process through their financial independence in their families.
LEC depends solely on donations for its operation, currently. Through this project, the girls shall finally utilize the skills that they have acquired at the Centre to develop & produce commercially viable items that shall be sold. The funds thus raised could eventually ease the burden of raising funds needed for the running expenses of the Centre.
The process of utilizing their skills for commercial purposes and thereby supplementing their income, would add to the self esteem of the girls, who would realize that they are not only able to earn a good livelihood but in fact, supporting the education of other girls. Also, by doing this we hope to provide an exposure to the discipline and rigors of work to the girls who have spent a longer time at the Centre, and do not want to leave – in order to work outside in a factory or commercial unit.
Ph. 0413 2622082
E-mail: lec@auroville.org.in