Last updated: 17 Mar, 2022
Auroville Safeguarding & Child Protection (AVCP)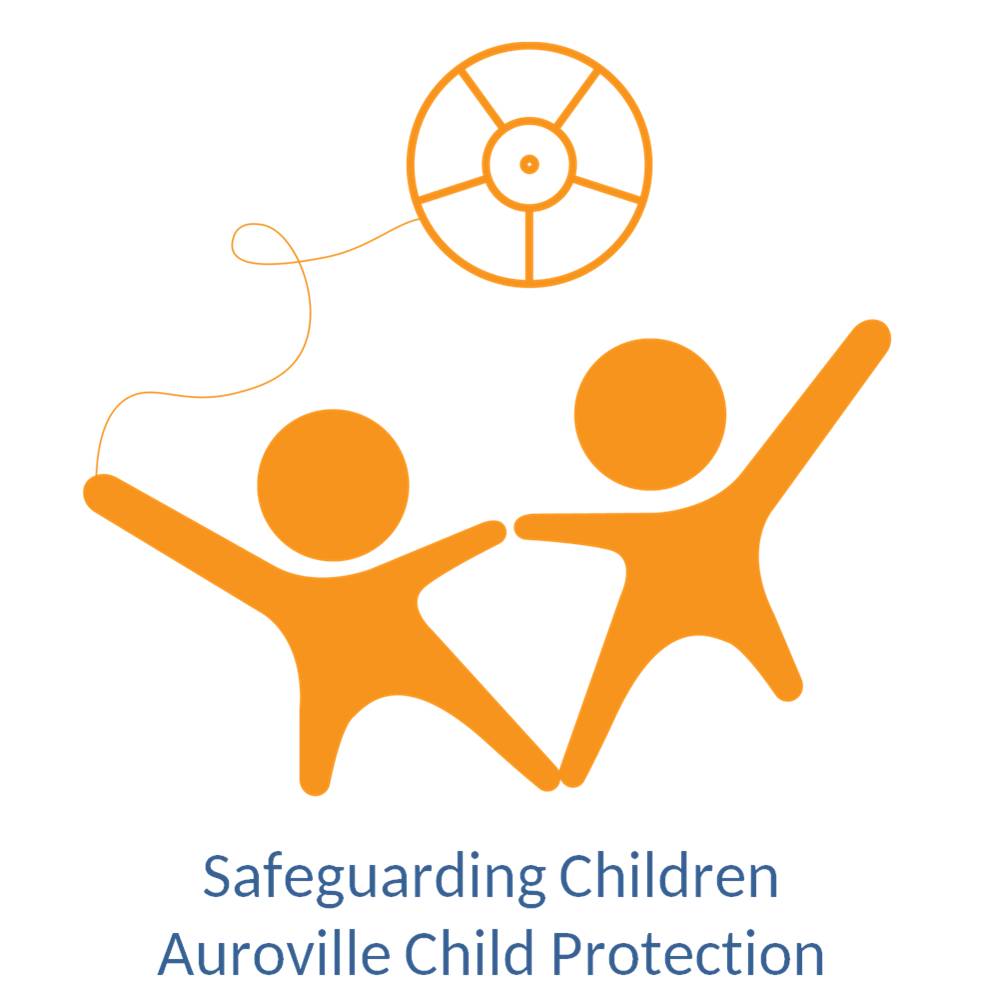 AVCP is a community-based child safeguarding network that focuses on prevention measures such as awareness & capacity building (notably through schools) as well as response (case management). This work aims to be endorsed through the development of a policy which is in process.
Our Team
Currently the core team consists of Angela R., Honor, and Leela. The local support group includes Bridget, Davaselvy, Marion and Kalsang, and the international advisory group includes professionals in the field of child protection as well as educators, and legal experts.
Our Aims
AVCP aims to work towards ensuring both safety and wellbeing for Auroville children. Our work focuses primarily on:
● Child protection policy
● Awareness and sensitisation (teacher training, children's curriculum and parent support)
● Facilitating response to abuse (case management)
Why do we need 'child protection' in Auroville
Children are our future; ensuring that they are safe and nurtured in their growth is crucial to the realisation of their full potential.
"The aim of education in Auroville is to offer an integral education centered around the awakening of the psychic being, the perfecting of the mental, vital and physical natures, and an opening to spiritual consciousness, so that people from different cultural and ethnic backgrounds can grow together in an atmosphere of protected freedom and harmony, and feel that we are citizens of one world, aspiring to manifest a truer and higher life on earth." excerpt from the SAIIER Code of Conduct, 2019.
Despite these ambitions, like everywhere in the world, children in Auroville can face situations that threaten their safety, wellbeing and development. Addressing these cases is a shared responsibility of concerned parties (child, perpetrator, services such as AVSST and Mattram, Safeguarding Leads in schools, working groups, outside authorities (where required)) and the community as a whole. AVCP plays a role of facilitating and coordinating this response.
What does AVCP do?
AVCP works towards preventing and responding to cases that threaten the development, safety and wellbeing of children in Auroville.
Primarily by working with schools, AVCP engages with capacity building and teacher training to foster an environment where information on child protection is part of school culture and personal safety education is incorporated into school curriculums.
Additionally, AVCP facilitates and coordinates response to cases of child abuse and exploitation. AVCP forms an 'ad hoc' Case Management Team grouping relevant resource people to make carefully considered, child-centered decisions for required action. This may involve referral to appropriate services (such as therapy, mediation, working groups), reporting a case to outside authorities, and ensuring follow up.
Finally, AVCP is working towards developing child protection policy in schools, to outline a safeguarding framework for the protection of children in Auroville. By setting out values, principles, responsibilities and procedures, policy brings clarity and guidance for teachers on their duty of safeguarding the children in their care.
AVCP takes a child-friendly and child-centered approach, ensuring that the best interest of the child is always the priority.
What about the law?
India ratified the United Nations Convention on the Rights of the Child in 1992 and thereby, 'shall take all appropriate legislative, administrative, social and educational measures to protect the child from all forms of physical or mental violence, injury or abuse, neglect or negligent treatment, maltreatment or exploitation, including sexual abuse, while in the care of parent(s), legal guardian(s) or any other person who has the care of the child' (UN Convention on the Rights of the Child (1989), Article 19).
By living in Auroville, we fall under Indian law. India has an increasingly comprehensive legal framework addressing rights and protection for children.
National child protection legislation notably includes:
● the Child Marriage Prohibition Act (2006);
● Right to Free and Compulsory Education Act (RTE Act, 2009)
● The Juvenile Justice Act (JJAct, 2015)
● Protection of Children from Sexual Offences (POCSO Act, 2012). See the helpful POCSO handbook by (NCPRC, 2017) for simplified guidance.
More recently, the POCSO rules (2020) stipulate that state governments implement:
● Requirement of a police verification and background check for all school staff.
● Requirement of provision of training for teachers and all persons coming in contact with children to sensitise them about child safety and protection and educate them regarding their responsibility under the act.
● Each state shall formulate a Child Protection Policy which shall be adopted by all institutions, organizations, or any other agencies working with or coming in contact with children (POCSO,2020: Art.3 (5)). See the Tamil Nadu State Child Policy draft (2019) drafted by the Tamil Nadu Commission for Protection of Child Rights.
Why do we need to get involved?
It takes a community to raise and protect a child! Child safety and wellbeing is everybody's responsibility. Research shows that community based child protection mechanisms can be most effective at ensuring child protection. This is particularly important because despite the increasingly comprehensive legal framework in India, poor implementation due to inadequate human resource capacity and quality prevention and rehabilitation services remains a key challenge.
Contact Information
Email: avcp@auroville.org.in
Phone: +91 9443730370