Last updated: 28 Apr, 2022
Aurofilm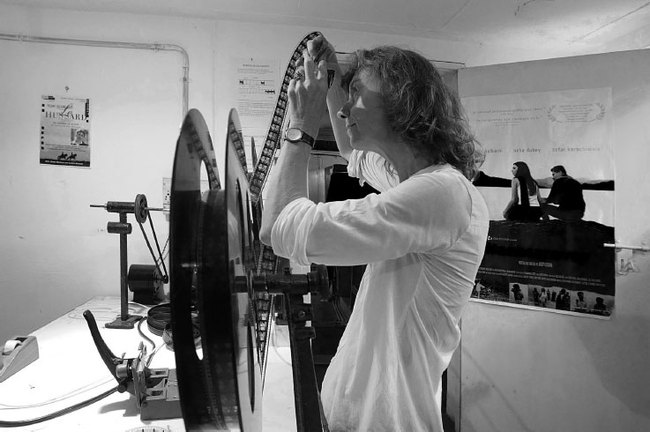 Aurofilm
Aurofilm is an Auroville's cine-service under SAIIER. Its purpose is to do research, study and promotion of the best values of Cinema and by doing so open the audience to discernment and widening, and possibly operate a change in our human nature... For that every Friday evening we offer a film screening at MMC, Town Hall with films selected from a large range of categories (international, Indian, recent, old, "classics", children's films, documentaries, experimental, etc. Our work place/studio is located in Kalabhoomi in the Cultural Zone of Auroville. There we produce films and propose regular classes: film appreciation ("Cine-master-class"), history of cinema, a special program on Animation and other related issues. Once a year (in February or March) Aurofilm organises a 3-day film festival with the presence of film directors, actors, technicians, film critics...
History
Aurofilm, the oldest cinematic film department of Auroville, was started in the end of the seventies with the late Gérard Carabin, an Aurovilian of French nationality with a passion for Cinema! Gérard started to organise the screening of films in the communities (the name we give to the Auroville settlements) of Aspiration, Certitude, Bharat Nivas and Fraternity. In these early days, the available equipment was 16mm film projectors brought by a German Aurovilian, then a new 16 mm Indian projector was added (Photophone). Film prints were borrowed from Cultural centers, Embassies and High Commissions in India. Aurofilm was also registered in the Federation of Film Society of India. This portable projection equipment was also used sometimes by Aurovilian volunteers for educational documentary film screenings in the surrounding villages.

When SAIIER (Sri Aurobindo International Institute of Educational Research, 1983) was created under the inspiration and fantastic energy put by Sri Kireet Joshi and a dedicated team of Aurovilians around him, it was only natural that Aurofilm joined as one of its activities. With this move, Gérard could equip the service with a set of 2 sturdy portable 35 mm Russian projectors. The choice of film titles could thus be greatly increased -35 mm being the professional gauge or format for film projection. From that time only could we access the film library of the NFAI, the National Film Archive of India in Pune, with all their collection of Indian and worldwide classics (many Bergman, Kurosawa, Antonioni, Eisenstein, some Godard and Truffaut, etc. some rare films like the silent Japanese classic "The Island" and of course the Indian masters like Satyajit Ray and Ritwik Ghatak or G. Aravindan. The NFDC, National Film Development Corporation in Mumbai, was also a great source of rarely seen (because not widely distributed) productions of the contemporary Indian Cinema. Thanks to NFDC we could all discover the work of Adoor Gopalakrishnan, Shyam Benegal, Mani Kaul, Gautham Ghose, Aparna Sen, and so great actors like Om Puri, Naseeruddin Shah, Smital Patil, Shabana Azmi and many others… The American companies based in Chennai would sometimes and suddenly provide a Woody Allen, Terrence Mallick, Akira Kurosawa or some other more commercial but screenable films for our discerning eyes, among their usual action or romantic recipe fares… Gérard was very choosy: no vulgarity or "commercial" compromise was allowed!


Film Projection and Production
In the mid-1990s, Aurofilm's brought back the programs to the large Auditorium, Bharat Nivas, where celluloid films continued to be screened once weekly (in 16 and 35 mm). Our small team also annually organised Film Festivals and Retrospectives with the invitation of film personalities whenever possible (like Mr. PK Nair from the NFAI, Adoor Gopalakrishnan, Girish Kasaravalli, Shaji N. Karun, actor Rajit Kapur, film critic Saibal Chatterjeee, Finnish animation film director Katariina Lillqvits ...)
It was in the late nineties that we finally could acquire a rolling type screen (4×8 M) and a set of 2 professional, fixed 35 mm film projectors (Westrex/Cinerama) for the Sri Aurobindo Auditorium [photo with Gérard]. All this changed our life drastically as our Friday film screenings became somehow much more easy to handle… (we were basically a team of two people, handling everything by ourselves, from research, communication, administration, accounts, fund-raising, the film projection itself, electrical and other repairs, setting up of the heavy screen structure on the fully multi-purpose stage of the Auditorium, organising rent and transport of film cans to and from Pune, Delhi, Chennai, etc. etc.…! However it was during our 6th Panorama of Contemporary Indian Cinema in 2014, that we did screen our last 35mm film print and put it back in its cans & transport box. Interestingly, it was a beautiful and rare film, Ko:Yad (A Silent Way) a film in the Mishing language by the great Assamese writer and film director Manju Borah [Panorama poster photo]. From then on we have only screened films in digital format. With gratefulness and some amount of melancholy, we did acknowledge that a new era had come, and have surely embarked on its wave!
Aurofilm did participate in the production and the making of several films shot in Auroville since early time (like "Learning To Be" by Italian director Davide Montemuri in the early 80s). Then little by little, under the direction of Gérard, our team gathered some equipment and could shoot its own films -processing and printing them in the famous Prasad Laboratories in Chennai. We had these legendary (donated) 16 mm Paillard Bolex and Beaulieu cameras with their sets of lenses plus a few studio lights. Renting equipment in Chennai was also organised for the shooting days! [photo of Voyage d'Aurémie shooting]
With the "millennium" we bought our first digital camera (a Canon because of its interchangeable lenses). Some years later with the support of SAIIER, another camera (Sony), mikes and basic lighting equipment were purchased. Since then, Gérard and Aurofilm did produce a great number of short films of various genres and styles. This is now little by little put on display on our Aurofilm Peertube and YouTube channels for all to discover!
Film appreciation, Cine-Club, "Cine-master class" …
In addition to that, we hold bi-monthly "Cine-master-class"/film appreciation sessions. We also have restarted Film Appreciation and Animation classes for students of Auroville's schools. We usually hold these activities in our premises, Aurofilm in Kalabhoomi where we have arranged our large half open-air film studio for this purpose (screen, black curtains, chairs for 30 people or so -much more if/when we change the set up and use the room, verandah and the garden)
Other Activities
Pre-covid era… we used to organise every year one or two film festivals in Auroville, with a focus on a particular theme or filmmaker. For many years we have put a special emphasis on the new or "Contemporary Indian Cinema". Over 10 such "panoramas" have been presented, with whenever possible, the invitation of personalities from the film world to give talks and/or present their films during the 3 day event. The Aurofilm team also used to attend International Film Festivals in India as it is useful for public relations, to stay updated with the recent film productions and select films for our weekly programs and the annual festival, to be able to attend retrospectives of important film directors and also some master classes... [photos Shaji N. Karun in Aurofilm and Vasanth Sai in MMC and 1 or 2 film posters Bharat Nivas, IFFI Goa...]
Post-covid era… things have changed a lot as everybody knows. However, we have happily restarted our regular screenings, organised different festivals (a "Mini Indian Panorama" in 2020 and an "Animation Film Festival" in March 2022.) [jpg posters] We continue to work at improving our work place in Kalabhoomi as it hosts more activities. We are also getting ready to set up there a sort of film museum, showcasing our good old film/cine-projectors and other film equipment to inform, remember and teach about where Cinema comes from ...
Our purpose is always to promote quality cinema and provide information and education about the 7th Art in a spirit of discovery and creativity.
Ph. 0413-2622037
E-mail: aurofilm@auroville.org.in
https:www.youtube.com/embed/EnW5OSW29YE
Enter the video url
Temple tree : a recent video production by Marko Bosko for Aurofilm.
With the support of SAIIER, we Aurofilm team & Ann R. invited and hosted the visit of reputed Ladakhi film director Stanzin Dorjai Gya, who is also a great ambassador for Ladakh, sharing their culture and the environment issues they are facing.

In Auroville from 6th to 11th of December he presented several of his movies at Cinema Paradiso and some in Auroville and Outreach schools, with Q&A sessions. We also organized his visits to some units and Auroville projects linked to environment, which he appreciated a lot.
We are happy to share here a collage of pictures and also a link to an Auroville radio interview with Stanzin!
https://www.aurovilleradio.org/interview-with-stanzin-dorjai-gya/
Gratefully
Aurofilm team
_________________________________________________________________________________